from the table to the pot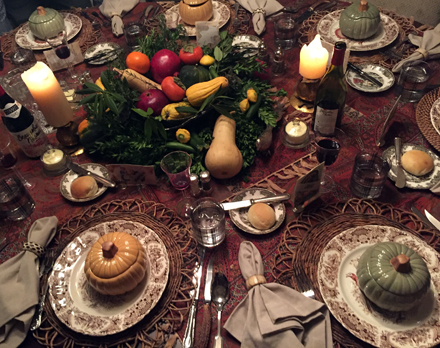 It is always a good idea to use seasonal produce in a centerpiece, especially on a Thanksgiving table. After all, the holiday is all about bounty and nothing looks more bountiful than beautiful fruits and vegetables.
Of course, we don't want to be wasteful either, so using that produce for meals in the days to follow is a must!
Our Thanksgiving centerpiece consisted of pomegranates, tangerines, persimmons (later used in a salad) baby zucchini, and pattypan squash (sautéed as a side dish that weekend) along with the winter squashes of butternut, acorn, and delicata, used for the following soup recipe.
The recipe is the same one I used for a cooking class last Wednesday at Les Gourmettes Cooking School. The only difference was that instead of seven cups of mixed squash, I used 3 cups of butternut along with red bell peppers and sweet potatoes.  The variation for that soup is included.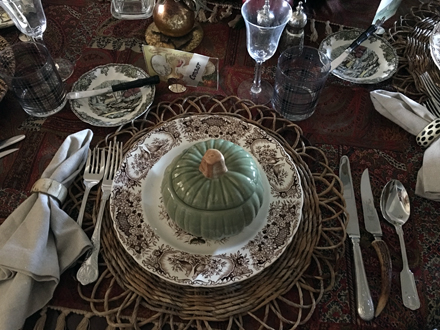 Here is one more photo from our holiday dinner – one of the place settings.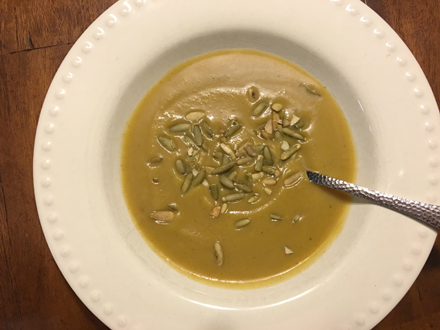 Centerpiece Squash Soup
7 cups peeled, seeded, and chopped winter squash
1 garlic clove, peeled and minced
1 tablespoon olive oil
1 teaspoon five-spice powder
1 teaspoon ground cumin
1 teaspoon minced fresh garlic
1/2 teaspoon salt
4 cups chicken stock
1 cup water
Roasted pepitas, for garnish
Preheat the oven to 400 degrees.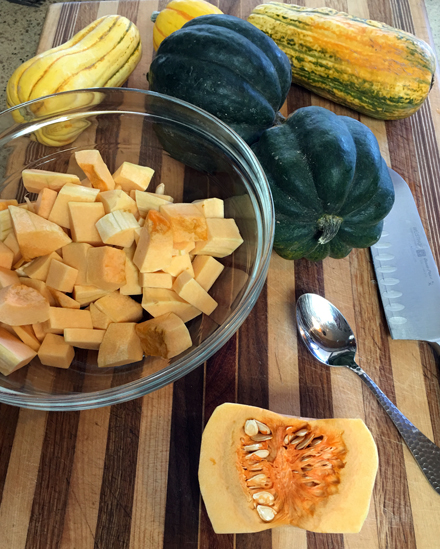 Combine the squash, garlic, olive oil, five-spice, cumin, and salt in a large bowl, and toss well.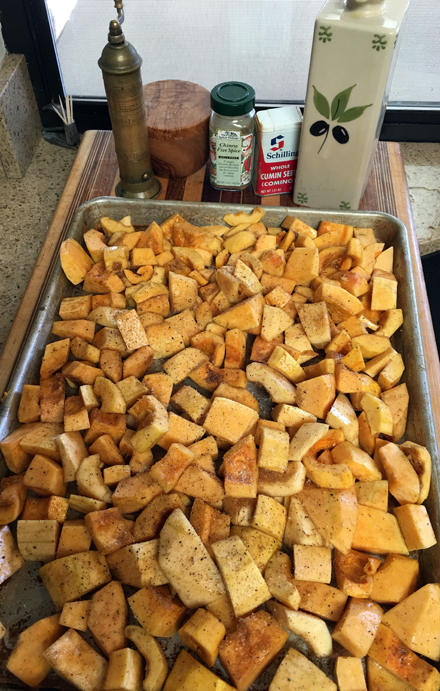 Place squash mixture in a single layer on a baking sheet. Bake in preheated oven for 30 minutes or until tender, stirring once.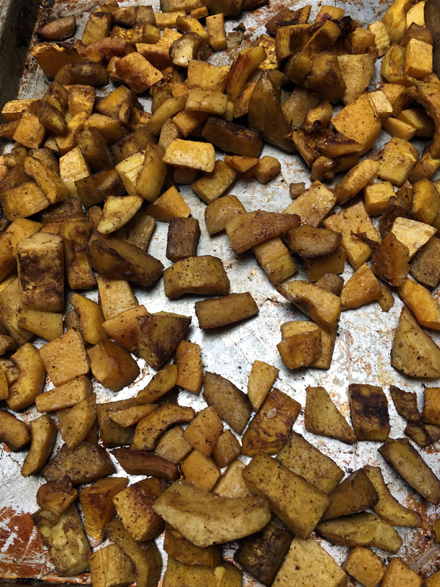 Transfer roasted squash to a pot and add the broth and water; bring to a boil. Reduce heat; simmer for 5 minutes.
Place half of the mixture in a blender. Remove center piece of blender lid (to allow steam to escape); secure blender lid and place a clean towel over opening in blender lid and process until smooth. Pour into a large bowl. Repeat procedure with remaining mixture.
Return to pot and keep warm until ready to serve.
Ladle into bowls and sprinkle with pepitas.
Serves 6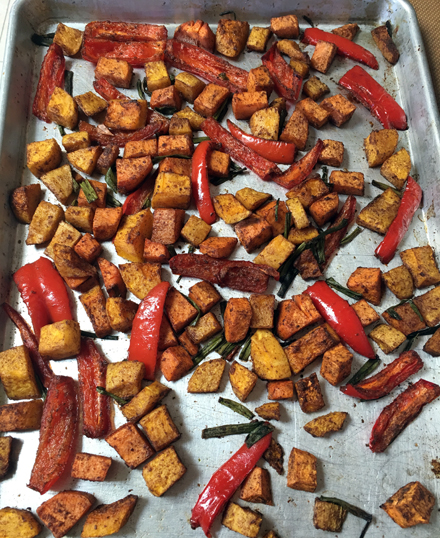 *Alternately you may use 3 cups butternut squash, 2  1/2 cups chopped red bell pepper, 1  1/2 cups chopped peeled sweet potato, and 1 bunch of green onions, roughly chopped – in place of the 7 cups of winter squash.