food flags for the fourth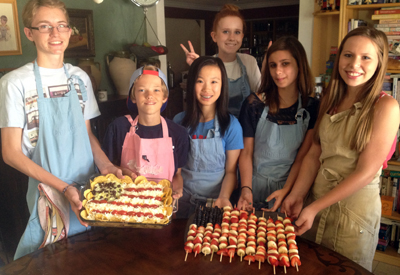 The 4th of July is two weeks from today. It's not too soon to start planning the menu for your party or the dish that you plan to bring to that party you're invited to.
Even if the "party" is just you and the kids waving around sparklers in your backyard, you need some fun festive food.
I've got just the thing for you.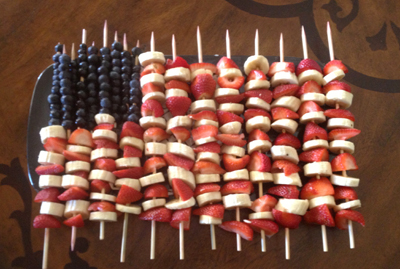 I am in the middle of a week-long set of private cooking classes. We made a super simple Fruit Flag for dessert. Obviously, no recipe is needed!!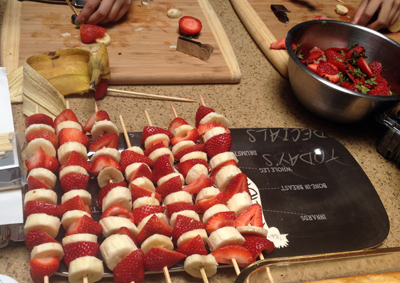 Skewers + Strawberries, Blueberries & Bananas = USA Flag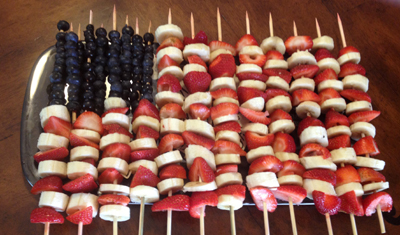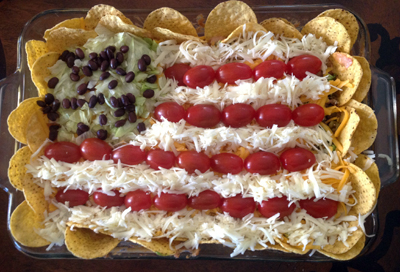 For the appetizer food flag, use your favorite layer dip recipe and top it as shown here.
Or follow the recipe below. Either way, your colors will be flying high.
American Flag Layer Dip
1 can refried beans
1 package round corn tortilla chips
2 cups cooked taco-seasoned ground turkey or beef
1/2 cup mayonnaise
1/2 cup sour cream
1/2 cup salsa
1/2 teaspoon ground cumin
4 Anaheim chilies, roasted, peeled, seeded, and chopped
4 green onions, finely chopped
3 avocados, peeled and diced
2 cups grated sharp cheddar cheese
1/2 cup shredded iceberg lettuce
1/4 cup whole black beans
2 cups grated Monterey Jack cheese
1 container grape tomatoes, each tomato cut in half lengthwise
Evenly cover the bottom of a 9 x 13-inch baking dish with the refried beans.
Use the round tortilla chips to make a double border of chips around the entire inside rim of the baking dish.
Top the refried beans with cooked meat.
In a medium bowl, whisk together the mayonnaise, sour cream, salsa, and cumin. Spread this mixture on top of the meat layer.
Sprinkle the chilies, green onions, and avocado over the salsa mixture layer. Then top with the shredded cheddar cheese.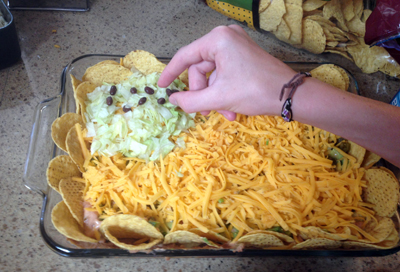 Top the upper left-hand corner of the baking dish (for the star area of the flag) with shredded lettuce, and sprinkle the black beans on top of the lettuce to resemble the stars.
To simulate the stripes, start at the top of the dish and make a stripe of shredded Jack cheese. Next, make a stripe of cherry tomatoes, cut-side down. Then, another stripe of cheese, then tomatoes, etc. for a total of 5 cheese stripes and 4 tomato stripes or enough to reach the bottom edge of the baking dish.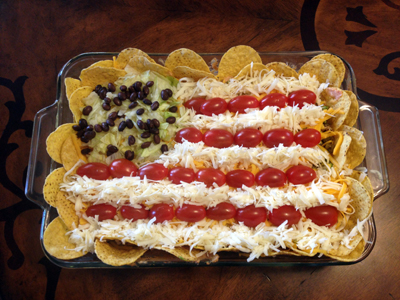 Serve with additional tortilla chips.
Serves a crowd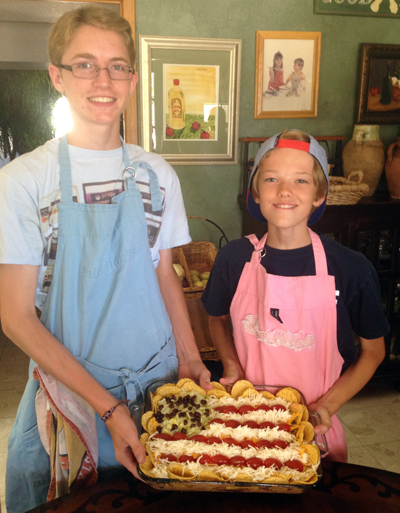 For more 4th of July recipes go to the Complete Recipe Index at the top left of this page and scroll down to Holidays, then to 4th of July.