fall granola
Last week I told you I had nothing new in the way of recipes for  Thanksgiving this year. On second thought, I do have a little something for you.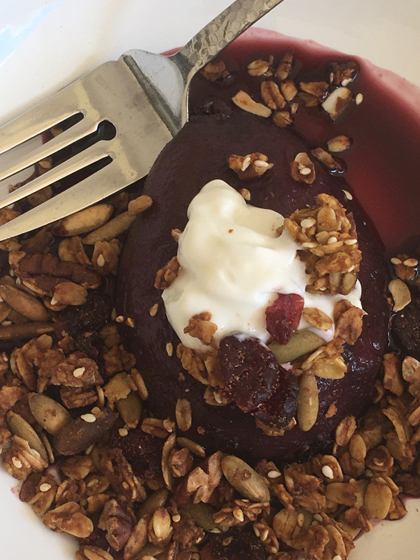 I made delicious pumpkin granola for my "Gifts of Food" class at Les Gourmettes. If you are looking for a last-minute simple and healthy Thanksgiving dessert, this granola, paired with poached pears, fits the bill. Plus, the granola doubles as a great gift to package and give at Christmas.
Pumpkin Spice Granola
Recipe adapted from The Sprouted Kitchen by Sara Forte
1/2 teaspoon sea salt
3/4 teaspoon pumpkin pie spice
1/3 cup Grade B maple syrup
1/3 cup pumpkin purée
3 tablespoons sesame seeds
2 ½ tablespoons melted coconut oil
2 cups old-fashioned rolled oats
1/2 cup roughly chopped pecans
1/2 cup toasted pepitas
3/4 cup dried cranberries
Preheat the oven to 325 degrees.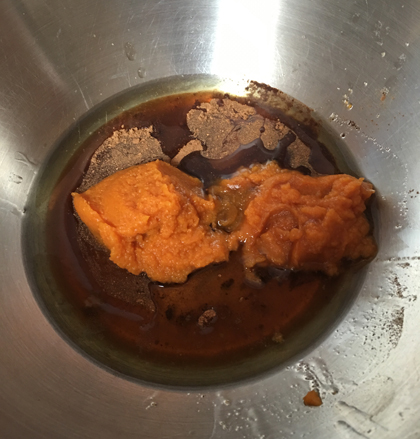 In a large mixing bowl, whisk together salt, pumpkin pie spice, maple syrup, pumpkin purée, and sesame seeds until smooth. Stir in coconut oil.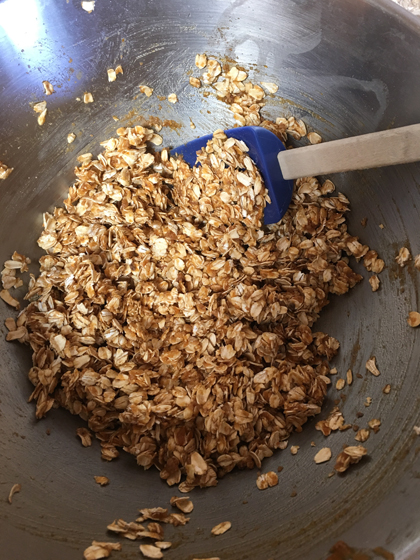 Add in the oats, pecans, and pepitas and stir until well-coated.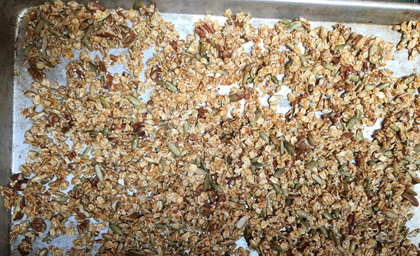 Spread the granola evenly onto a large rimmed baking sheet, trying to keep as many granola clusters intact as possible. Bake in preheated oven for 40 minutes or until the granola is dry and golden-brown in color, stirring every 10 minutes or so by scooping the granola on the edges back into the center and then spreading back out into an even layer.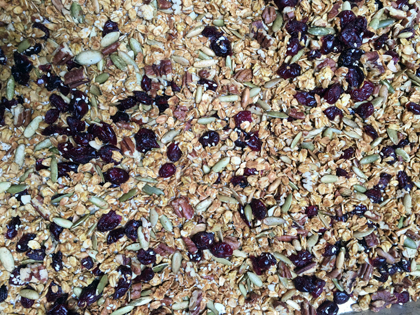 Let the granola cool for a few minutes, then stir in the dried cranberries. Allow to cool completely on baking sheets before transferring to an airtight container for gift giving. The finished granola will keep for about a week at room temperature or 2 weeks if refrigerated.
Makes 3 cups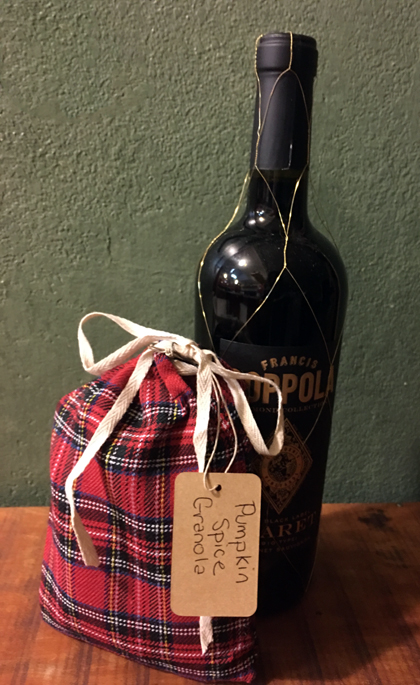 To package; scoop granola into ziplock bags and then place in a decorative bag and tag. Pair with a bottle of red wine and a recipe for the poached pears for a lovely gift.
Red Wine Poached Pears
1 bottle dry red wine
1 star anise
1 cinnamon stick
Julienned zest from 1 orange
2 whole cloves
1/4 cup sugar
3 firm but ripe Bosc pears, stems left on, peeled
Greek yogurt, for serving
Combine all ingredients except the pears in a large saucepan. Bring mixture to a boil and cook for 5 minutes, stirring once or twice. Add pears and cover with a parchment round. Reduce to a simmer and cook until pears are tender 25 to 30 minutes. If necessary, turn pears very gently by rotating them so they cook evenly. Remove pears to a plate, bring poaching liquid to a rapid boil, and reduce by half, about 10 minutes, until slightly syrupy.
Pour reduced syrup over pears and refrigerate, covered, overnight.
Cut pears in half lengthwise and use a small spoon or melon-baller to remove core and seeds.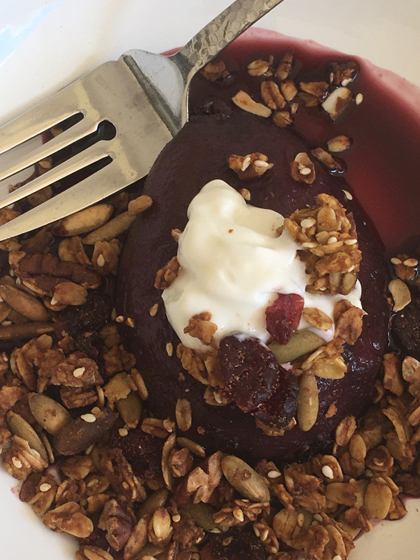 To serve; place a pear halve on a plate or in a shallow bowl, cut side up, and place a dollop of yogurt in the center. Sprinkle with Pumpkin Spice Granola and drizzle with the reduced wine sauce.
Serves 6