an especially beautiful salad
I served this salad on Christmas. I think it's one of the prettiest salads around. It is inspired by a photo I saw on Pinterest.
Easy and Pretty. Now that's a nice combination!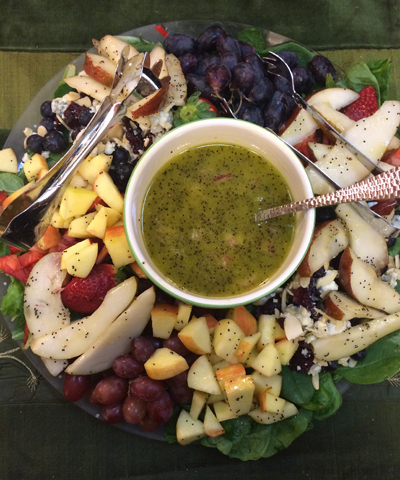 Fruit & Cheese Green Salad Wreath with Lemon Poppy Seed Dressing
Salad
1 small head iceberg lettuce
3 cups mixed greens
1 cup baby spinach leaves
2 small bunches grapes (red and/or purple)
1 small red and 1 small green apple (1 cored and cubed and 1 sliced)
2 pears (1 cored and cubed and 1 sliced)
8 Strawberries (3 left whole for decorating, the rest diced)
1/2 cup dried cranberries
1/2 cup blueberries
1/2 cup crumbled Gorgonzola cheese
1/4 cup sliced almonds
Dressing
Zest of 1 lemon (remove zest and set aside before juicing lemon)
1/3 cup lemon juice
1/3 cup agave nectar
2 teaspoons Dijon mustard
1/2 cup olive oil
2 tablespoons minced red onion
1 tablespoon poppy seeds
Salad: Place the iceberg lettuce and mixed greens in a large bowl and toss to combine. Place a bowl in the center of a large round platter and spread the lettuces around the bowl on the platter. This is your wreath base.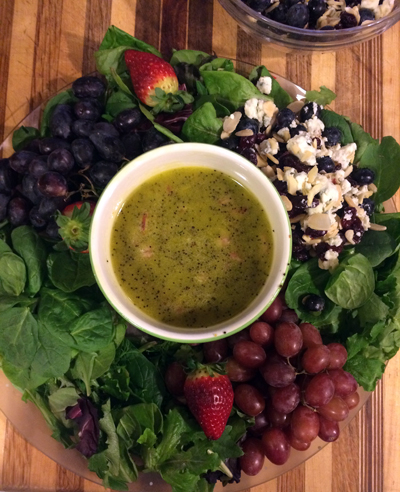 On both sides of the "wreath" make decorative "flowers" with spinach leaves, then add bunches of grapes to each side, fanned pears, and whole strawberries.
To the salad add piles of chopped apples, pears, strawberries, and dried cranberries. In a small bowl, combine the blueberries, Gorgonzola, and almonds together, and then pile on the salad.
Dressing:  Place the lemon juice, agave nectar, and Dijon in a blender, blend until smooth, then add olive oil through the feed tube while the machine is running. Add the zest, red onion, and poppy seeds and pulse until just combined. Pour into the bowl in the center of the platter, drizzle the salad with some of the dressing and serve.
Serves 8