day 3 -take your lunch to work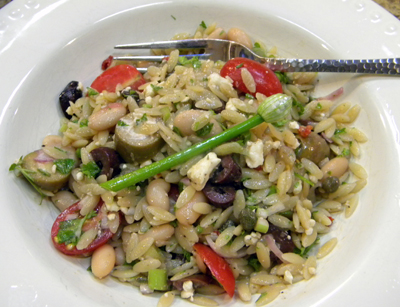 This salad comes together quickly. The pasta takes ten minutes to cook and while that is boiling away, you just have to chop up a few things and then toss it all together in a bowl… and you're done. Easy and quick, right?
You'll only be using half of a can of beans. Refrigerate the rest and add it to another salad later on or mash with a little olive oil, garlic, minced cilantro, salt, and pepper and you have a tasty little bean dip.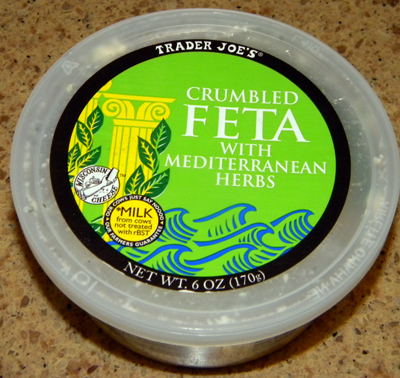 The feta I used is, of course, from Trader Joe's and I love the addition of the Mediterranean herbs. Oh, and crumbled goat cheese would be a lovely cheese to use instead of feta.

Orzo Salad with Cannellini Beans and Mixed Olives
1  1/4 cups orzo pasta
1 cup vegetable broth
2 cups water
1/2 cup pitted and roughly chopped Kalamata olives
1/4 cup roughly chopped stuffed green olives
2 tablespoons capers, rinsed and drained
7 ounces (1/2 can) Cannellini beans, rinsed and drained
2 green onions, thinly sliced (white and green parts)
1/2 cup roughly chopped fresh parsley
1 1/2 cups cherry or teardrop tomatoes, cut in half
Salt and freshly ground black pepper
3/4 cup feta cheese, crumbled
2 tablespoons olive oil
2 teaspoons balsamic vinegar
Bring the broth and water to a boil in a small saucepan over high heat. Add orzo and reduce heat to a simmer. Cook until al dente, about 10 minutes, and drain.
Meanwhile, place both types of olives, capers, Cannellini beans, green onions, parsley, and tomatoes halves in a large bowl.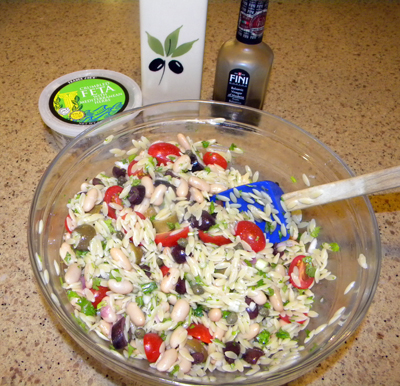 Add orzo and toss to mix well. Season with salt and pepper. Drizzle with olive oil and balsamic vinegar and toss again. Sprinkle with feta and serve warm or at room temperature. Or let come to room temperature before covering, then refrigerate and serve cold later.
Serves 4