crinkle cucumber slicer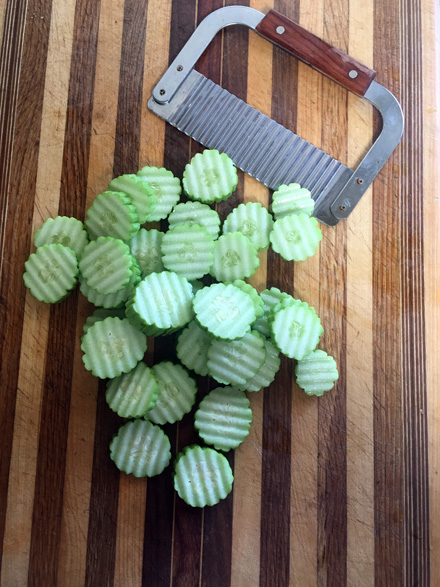 There is a kitchen tool that I have owned for over 20 years which I have used only once. I can't for the life of me tell you when, why or how I acquired it, I just know that it's been hanging around forever. I honestly don't even know the proper name for it but I'm calling it a crinkle cucumber slicer. This past weekend, I used it for a second time.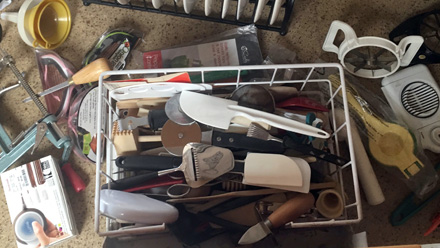 Do you know how most homes have a junk drawer? Yeah, I have one of those too, but sadly, I have a second drawer that I call the kitchen tool junk drawer. It holds an odd variety of tools I seldom, if ever, use. I had to pull out the drawer to get to the bottom to find the slicer.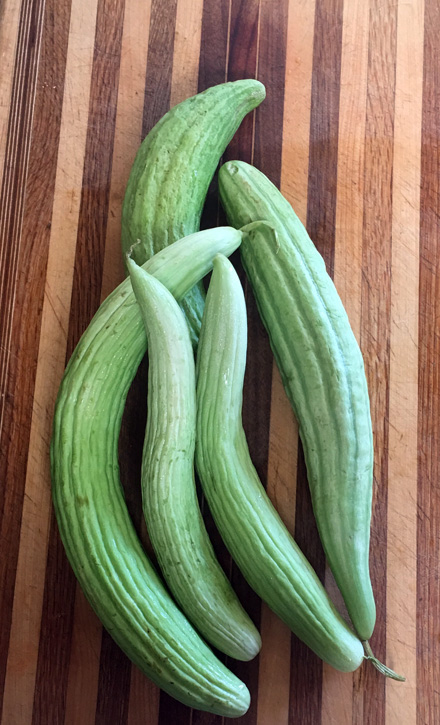 The reason the slicer was rescued from the pit of despair is that my dad brought over crates full of cucumbers, beans, peas, squash, and corn that he received from his friends in Colorado, who he calls his shirt-tail relatives.
My dad asked me to "put up" the cucumbers and some of the green beans for him. Although I have an obsession with Mason jars, I'm not really into canning. I told him I'd quick pickle them and he could give them to his friends at church. He reluctantly agreed to settle on that.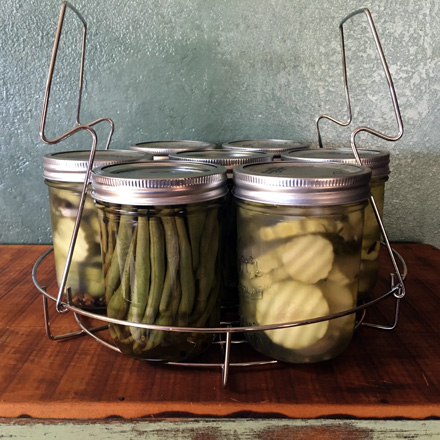 All three of these recipes can be processed for canning. If you'd like to do so, there are plenty of articles online about the canning process. HERE is one that I found for you.
The photos show more jars than the recipes make, that is due to the fact that I doubled and tripled the recipes. The first two are Tyler Florence recipes, the third is one I worked up.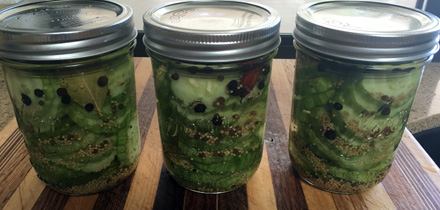 Quick Sweet Pickles
6 pickling (Kirby) or 2 regular cucumbers
1/4 cup kosher salt
1 cup water
1 cup rice vinegar
1/2 cup sugar
1 tablespoon coriander seed
1 tablespoon mustard seed
1 tablespoon whole allspice berries
1 cinnamon stick
3 cloves
1 bay leaf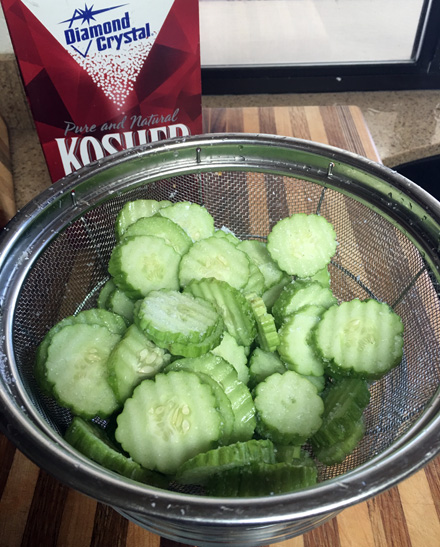 Wash and dry the cucumbers. Using a sharp knife or a crinkle cucumber slicer cut the cucumbers into ½-inch slices and place them in a colander. Sprinkle with salt and toss to coat. Place the colander over a bowl and allow it to sit, covered, for about 1 hour.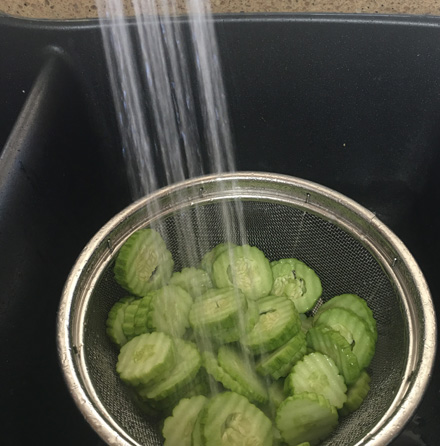 Rinse off the salt and dry the cucumber slices well.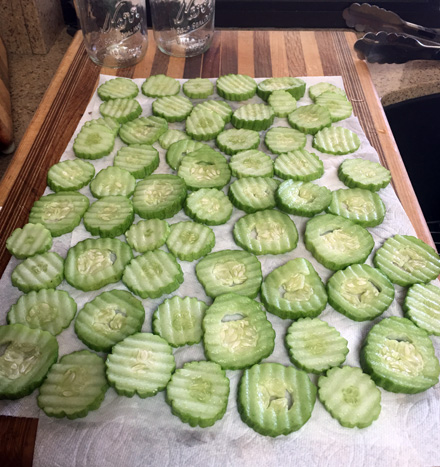 Place them into a sterilized quart jar.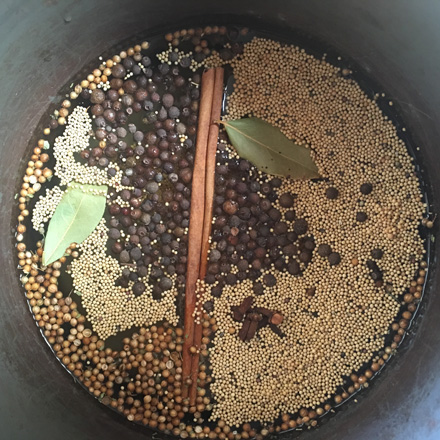 In a small saucepan add the remaining ingredients. Stir to dissolve sugar and bring to a boil.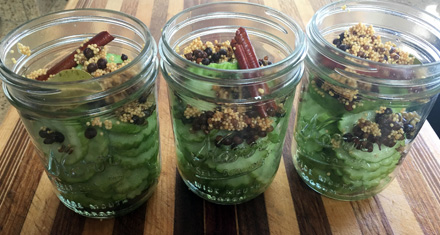 Remove from heat and allow it to cool. Pour the brine over the cucumbers in the jar. Cover and refrigerate for at least 4 hours, preferably overnight. Will keep, refrigerated, for about 2 weeks.

Recipe from Tyler Florence

Bread and Butter Pickles
5 pickling (Kirby) cucumbers
4 slices fresh horseradish, peeled and cut into 1/2-inch slices
4 sprigs fresh dill weed
1 cup white vinegar
1 cup sugar
3 cups water
4 cloves garlic, peeled
2 tablespoons pickling spice
2 teaspoons turmeric
Kosher salt and freshly ground black pepper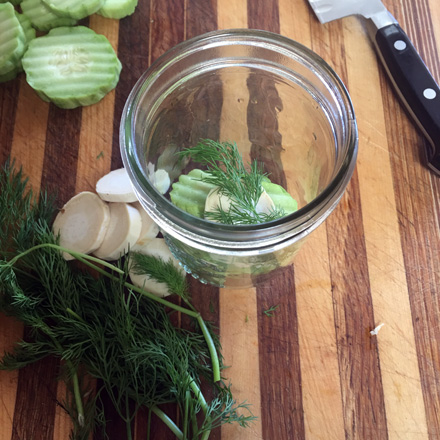 Wash cucumbers, slice them into 1/4-inch thick rounds, and place them in a heated, sterilized mason jar with horseradish and fresh dill weed.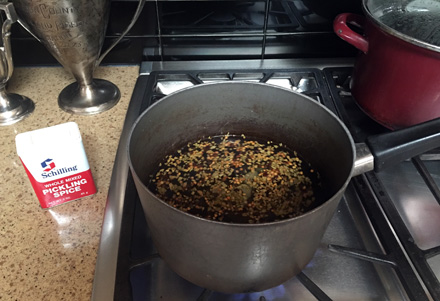 Set a large pot over medium heat and add vinegar, sugar, water, garlic, and pickling spices. Bring the brine to a boil then pour over cucumbers and horseradish in a still-hot mason jar and seal the lid.
Allow to cool to room temperature before refrigerating. You can serve once chilled, but for best flavor serve after the pickles have been left overnight. Will keep, refrigerated, for about 2 weeks.
Recipe from Tyler Florence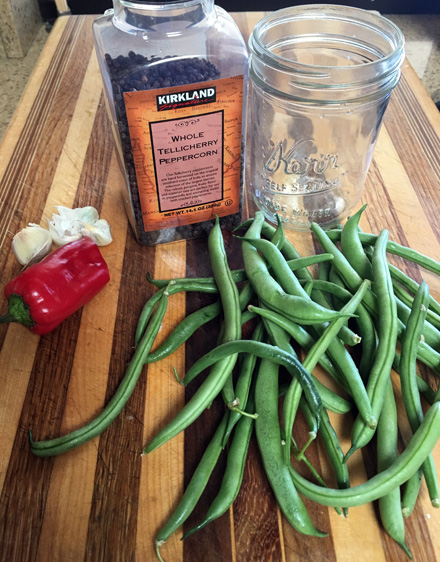 Spicy Pickled Green Beans
1 pound green beans, preferably haricot verts
2 cups white vinegar
1 cup sweet rice wine vinegar
4 garlic cloves, peeled
2 tablespoons salt
1 tablespoon whole black peppercorns
2 tablespoons sugar
4 thin slices fresh Fresno chili, 2 dried red chilies, or 2 teaspoons of red pepper flakes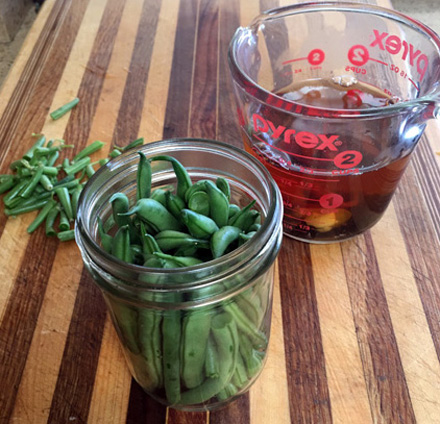 Snap off ends of green beans and then snap to fit into jars upright, then tightly pack green beans in two clean sterilized jars.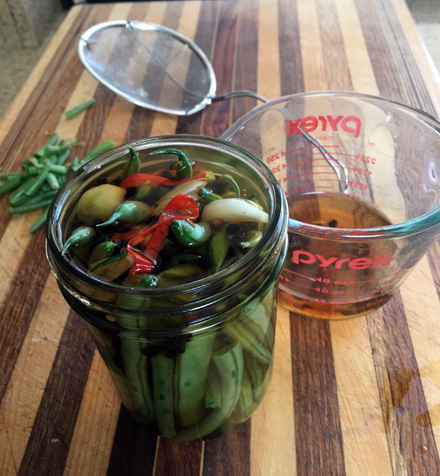 In a saucepan, bring the remaining ingredients to a boil. Carefully pour hot liquid into jars.
Seal the jar and let cool to room temperature before refrigerating. Will keep, refrigerated, for about 2 weeks.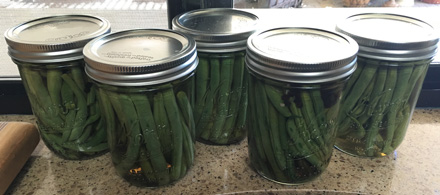 Save
Save
Save
Save