coolness on a hot day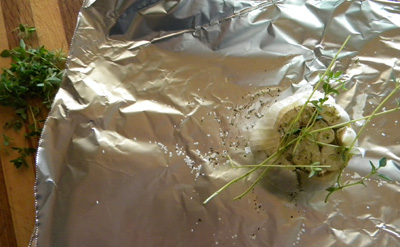 Believe it or not, it's hot again this week in Phoenix/Scottsdale! It had been so nice and cool the last week or so, and I was fooled into thinking we were actually going to have an early fall… but no!  It was up in the 90's today and is expected to hit 101 Saturday, setting a new record for October 17… what the heck?!  For the past three days I've been working at Les Gourmettes Cooking School, assisting Barbara Fenzl with her classes.  The menu is in honor of  Barbara's friend and mentor, the late Julia Child. The food was beyond delicious and the classes were a great success, but after working on Beef Bourguignon and with these hot temps, I need something easy, cool, and refreshing – this salad fits the bill. Note to Barbara: Great classes, looking forward to the next go-round in a couple of weeks! xoxo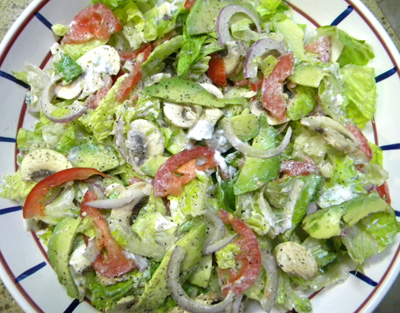 "Too Hot to Cook"  Sliced Tomato and Mushroom Salad with Cool and Creamy Roasted Garlic Dressing
1 head of garlic, unpeeled
Salt and freshly ground black pepper
Olive oil
3 or 4 fresh thyme sprigs, leaves pulled off, stems reserved
3/4 cup 0% Fage Greek yogurt
1 green onion, white and green parts finely diced
2 teaspoons grated lemon zest
1 tablespoon fresh lemon juice
Pinch of sugar
2 hearts of romaine, torn into bite-sized pieces
3 medium ripe tomatoes, cut in half and then thinly sliced
6 to 8 ounces mushrooms, well cleaned, then thinly sliced
1 avocado, thinly sliced
1/4  small red onion, sliced paper-thin
Preheat the oven to 325 degrees.  Slice off the top of the head of garlic. Place, cut side up, on the double-layer square of foil.  Sprinkle with salt and pepper; drizzle with oil. Top with the reserved thyme stems.   Enclose in foil. Roast garlic packet directly on the oven rack until garlic is tender, about 1 hour. Carefully open the foil, poke with the tip of a knife to be sure garlic is tender and roasted through, if not, return to the oven for another 10 minutes and test again; set aside until cool enough to handle.
Squeeze garlic pulp into a medium bowl and mash with a salad fork. Use a fork to stir in yogurt, green onion, lemon zest, lemon juice, thyme leaves, and a pinch of sugar. Taste and season with salt and pepper.  Can be made 1 day ahead. Cover with plastic wrap and refrigerate.
Place romaine lettuce in a large salad bowl.  Top with tomatoes, mushrooms, avocado, and onions.  Add dressing; toss. Taste and season with salt and pepper, as needed.
Serves 4