company softball vs. dinner for one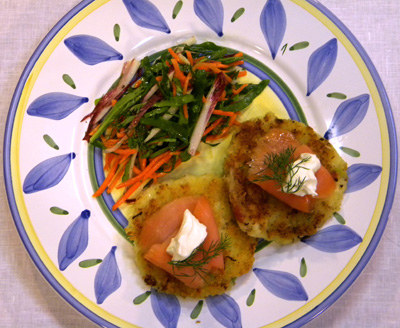 Tonight my husband, Dave, is off at a Company Softball Game. This is a new thing for his office – participating in softball. They played their first game last week and lost. Tonight is a double-header, so there's a 50/50 chance they might win one, right? I don't know, he's the CPA, so my life-long mental handicap in math is kept in business without a need to ever have to do any sort of it that doesn't involve measuring cups, degrees, ounces, and pounds, etc. And I thank God for that on a daily basis! If they do start winning, maybe I'll go watch a game, but there has to be at least a chance of a win for me to get excited enough to go! Something that does excite me?…I went to lunch today my BFF, Peggy, I love, love, love, her and love to spend time with her! So after a lunch out, I needed a light and quick dinner tonight and this one fits the bill. BTW, Peggy had a very yummy Corn Chowder that I will be trying to duplicate for her, so she can make it at home. Look for that in the next week or so. Back to the recipes at hand, here are a few tips and techniques to make this dinner truly quick and easy. Usually I think of Potato Pancakes as a bit heavy, but these really are light and oh so tasty. Part of the secret is adding the 0% Greek yogurt, I keep pushing here, instead of milk and butter for the mashed potatoes. Chilling the mashed potatoes before forming into cakes is also important to the texture of the finished product. I had leftover Brie cheese from the salad a few days ago, so I actually made 4 of the cakes with Brie and the other 4 with Parmesan. Honestly any type of cheese you like or have on hand is fine to use and I couldn't really tell any difference in texture or enough difference in taste between the two versions. Next, what are Panko breadcrumbs? Panko are Japanese breadcrumbs. They are made from crustless bread and are a coarse grind which are more like flakes than crumbs. These fakes have a larger surface area, that not only absorbs flavorings and seasonings well, but absorb far less oil or grease and stay crispy longer. They are readily available in the Asian section or where you would find breadcrumbs in your grocery store. Use them in any and every recipe that calls for dried breadcrumbs, from now on, and you will be a happy camper! Lastly, for the salad, you'll notice that all of the vegetables are julienned. If you don't know what that means, hey, I'm not going to tell you here! You will benefit by going to my July 27 post "the basic kitchen: glossary of cooking terms" and learning about it there. All of the July posts are "the basic kitchen" and are a wealth of information, so check it out! This is a colorful and healthy salad anytime, but especially if you have carrots in your garden or pick them up at a farmer's market. It is "The Best" with fresh carrots! If you don't have access to them, just purchase a bag of shredded carrots (which are the same size and shape as hand-cut julienned) from the grocery store and use them, it is delicious and convenient that way!
Potato Cakes with Smoked Salmon and Dill
1 1/2 pounds small to medium Yukon Gold potatoes
2 tablespoons salt
3/4 cup Fage 0% Greek Yogurt (available at Trader Joe's), divided
Kosher salt and freshly ground black pepper to taste
2 strips bacon, diced
2 green onions, (white and green parts) minced
1/4 cup Parmesan cheese
1/4 cup olive oil, divided
1 cup Panko breadcrumbs
6 ounce package smoked salmon
Fresh dill sprigs
Place whole unpeeled potatoes in a medium saucepan, cover with cold water, add the salt and bring to a boil. Boil for 20 minutes or until cooked through and easily pierced with a knife. Drain and set aside until cool enough to peel with a paring knife.
Place peeled potatoes in a bowl, add only 1/2 cup of the yogurt and mash with either a potato masher or 2 forks, it's OK if the potatoes are still a little bit chunky, not completely smooth. Season with salt and pepper, cover with plastic wrap and refrigerate for at least 8 hours or overnight.
After the chilling time; in a large non-stick skillet fry the bacon until crisp, remove with a slotted spoon to paper towels to drain and then remove all drippings from pan but do not wipe out skillet. Add the onions to the skillet and sauté for 2 minutes or until soft.
Remove mashed potatoes from refrigerator, add crisp bacon, sautéed onion, and cheese to potatoes and mix well with hands. Divide the potato mixture in to 8 equal portions and form into patties. Place the Panko on a plate and coat each potato cake in Panko, pressing the breadcrumbs into the patties.
Heat the same skillet and add 2 tablespoons of the olive oil over medium-high heat. Add four of the potato cakes to the pan and reduce the heat to medium, cook until browned, about 6 to 8 minutes per side. Repeat with remaining 2 tablespoons olive oil and the remaining four cakes.
To serve, place two potato cakes on each dinner plate. Top with a slice of smoked salmon and a tablespoon of yogurt, garnish with a sprig of dill.
Serves 4
These Potato Cakes make wonderful hor d'oeuvres, shape mini-size cakes and drizzle with the Lemon-Dill Vinaigrette below. Place on a platter for a buffet or pass at a cocktail party or Holiday Open House.
Julienned Carrot, Spinach, and Endive Salad
Lemon-Dill Vinaigrette
1 tablespoon grated lemon zest
3 tablespoons fresh lemon juice
1 tablespoon minced fresh dill
1 garlic clove, peeled and finely minced
1 teaspoon sugar
Salt and pepper to taste
1/4 cup olive oil
2 cups peeled and julienned garden fresh or farmer's market carrots (about 6 ounces) or store-bought "ready to use" shredded carrots
2 cups julienned spinach leaves (about 2 ounces)
1 head red Belgium endive, end trimmed off, julienned
1/4 cup minced parsley leaves
Dressing: In a small bowl combine lemon zest, lemon juice, dill, garlic, sugar, salt and pepper. Whisk in olive oil until emulsified.
Toss carrots, spinach, endive and parsley together with dressing. Season with additional salt and pepper if necessary.
Serves 4