comfort in a bowl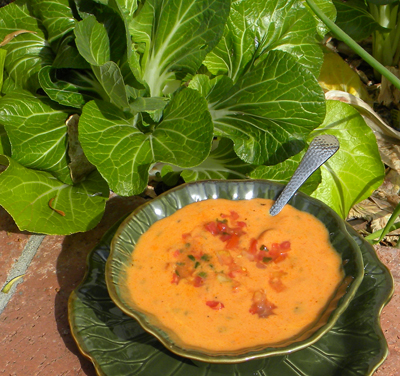 More comfort, more soup, enough said!
Spicy Tomato Soup
2 tablespoons unsalted butter
2 tablespoons olive oil
1 onion, peeled and chopped
1 small carrot, peeled and diced
1 garlic clove, peeled and minced
2 (28 ounce) cans crushed tomatoes
1 tablespoon soy sauce
1 teaspoon sugar
1 cup chicken or vegetable broth
Salt and freshly ground black pepper
1 cup half-and-half
1 cup prepared or homemade pico de gallo
Melt the butter with the oil over low heat in a large pot. Add the onion and carrot; soften over low heat, stirring occasionally for about 8 minutes. Add the garlic during the last minute, stirring.
Add the tomatoes and their juices, the soy sauce, sugar, and broth. Bring to a boil, reduce heat to a simmer, and cover; cook over medium-low heat for 20 minutes. Season with salt and pepper. Remove from heat and cool slightly.
Purée the soup in a blender or food processor. Return to the pot and stir in the half-and-half and pico de gallo.
Warm the soup through before serving.
Serves 6