Christmas side #1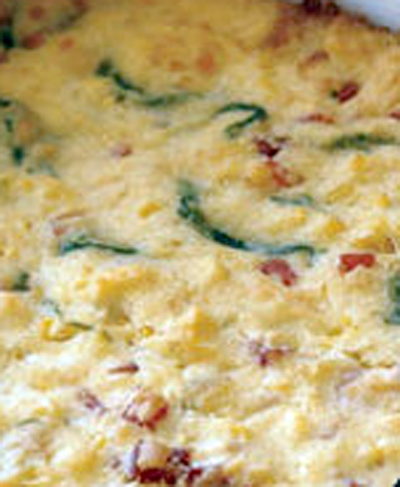 This is one of the two side dishes we had for Christmas Eve dinner to accompany a pork roast.  I also served a pumpkin and chipotle soup. The soup, the second side, and the pork recipes will be posted in the next couple of days, but this corn pudding was, by far, the favorite dish of the night!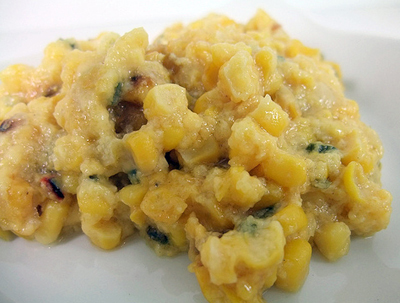 Ham and Poblano Corn Pudding
1 tablespoon unsalted butter, plus 1/2 cup (1 stick), melted, slightly cooled, and additional for buttering the pan, divided
1 small red onion, peeled and diced
1 garlic clove, peeled and minced
3 tablespoons Panko breadcrumbs
2 cups frozen corn, thawed and divided
2 large eggs
1 teaspoon salt
Large pinch of baking powder
1 cup sour cream
1/2 cup heavy whipping cream
1/2 cup yellow cornmeal
1 cup cubed ham (1/4-inch cubes)
1 cup coarsely grated Manchego cheese
2 large poblano peppers, roasted, peeled, seeded, and diced
Melt the 1 tablespoon butter in a small skillet and sauté the onion until soft and translucent, add garlic and sauté for 1 more minute.  Set aside to cool.
Preheat oven to 350 degrees. Generously butter a 13x9x2-inch glass baking dish and then coat with the Panko.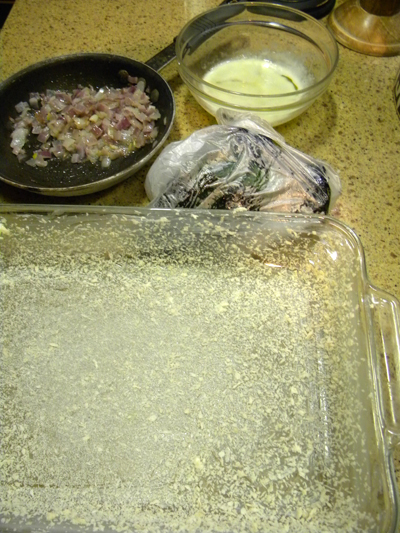 Combine 1 cup of the corn, the eggs, 1/2 cup of melted butter, salt, and baking powder in a blender. Blend until almost smooth. Transfer the mixture to a large bowl.
Add cooled onion mixture, sour cream, whipping cream, and corn meal; stir until blended.  Stir in ham, cheese, peppers, and the remaining 1 cup of corn. Transfer mixture to prepared baking dish.
Bake until corn pudding is puffed and golden brown in spots on top, about 40 to 50 minutes.
Serves 8