Christmas Potluck Recipe 9
I print out little place cards with the name of the recipe and the name of the person/couple who made it for them to grab and place next to their dish when they arrive. The place card for this recipe had Marissa's name on it, but, truth be told, I made it. I had assigned it to her, knowing full well that after traveling the day before with a baby, she'd probably be too tired to cook. I bought huge mushrooms at Costco, so I doubled the filling. So happy I did! There was quite a bit left so the day after the party, I heated it up and tossed it with hot pasta! OMG! So good! Two for one… my favorite way to cook.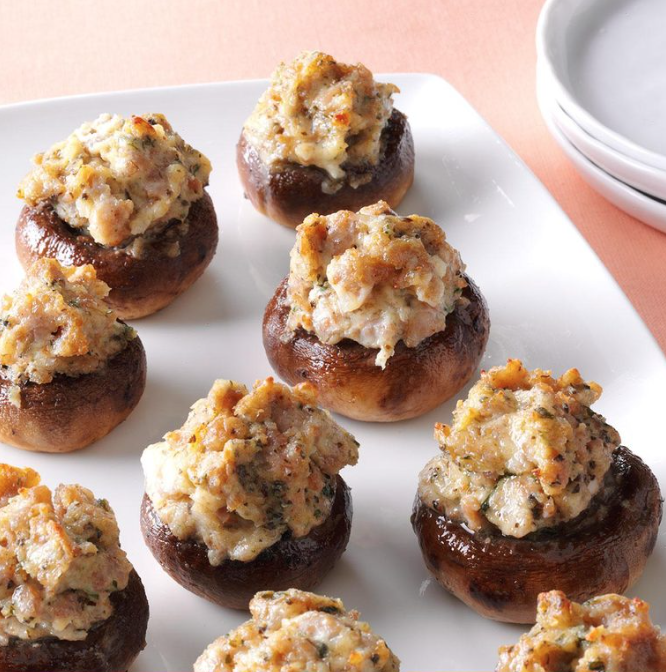 Best Ever Stuffed Mushrooms
1 pound bulk pork sausage
1/4 cup finely chopped onion
1 garlic clove, peeled and minced
8-ounce package cream cheese, softened
1/4 cup shredded Parmesan cheese
3 teaspoons dried basil
1-1/2 teaspoons dried parsley flakes
30 large fresh mushrooms (about 1-1/2 pounds), stems removed
3 tablespoons butter, melted
Preheat oven to 400 degrees. In a large skillet, cook sausage, onion, and garlic over medium heat until sausage is no longer pink and onion is tender, 6-8 minutes, breaking up sausage into crumbles; drain. Add cream cheese and Parmesan cheese; cook and stir until melted. Stir in basil and parsley.
Meanwhile, place mushroom caps in a greased 15-inch x 10-inch baking pan, bottom side up. Brush with butter. Spoon sausage mixture into mushroom caps. Bake, uncovered, until mushrooms are tender, 12-15 minutes.
Makes 30
Recipe and Photo Taste of Home
Little Known Amazing Random Fact: Female cats can be impregnated by multiple males for one litter of kittens.