Christmas Potluck Recipe 12
Just as with the mushroom recipe from last week, I need to give credit where credit is due. I usually report that the female of the couple is the one making the recipe, well, because that is usually how it goes. But when it comes to Tram and Steve. Steve is the one who loves to cook and is the master of the kitchen. Tram gets the credit for picking this recipe to bring but Steve gets all the credit for making it!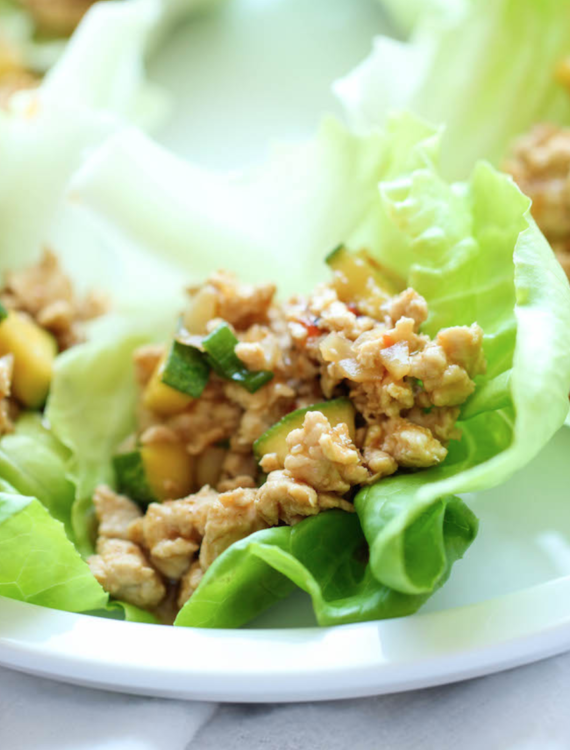 Kung Pao Chicken Lettuce Wraps
Sauce
3 tablespoons soy sauce
2 tablespoons dry sherry
1 tablespoon chili garlic sauce
1 tablespoon brown sugar
2 teaspoons rice vinegar
2 teaspoons cornstarch
1 teaspoon sesame oil
Wraps
1 tablespoon olive oil
1 pound ground chicken
2 cloves garlic, peeled and minced
1 zucchini, diced
8-ounce can whole water chestnuts, drained and diced
2 green onions, thinly sliced
Kosher salt and freshly ground black pepper, to taste
1 head butter lettuce
1/4 cup chopped peanuts
Sauce: In a small bowl, whisk together soy sauce, dry sherry, chili garlic sauce, brown sugar, rice vinegar, cornstarch, sesame oil, and 1/4 cup water; set aside.
Wraps: Heat olive oil in a saucepan over medium-high heat. Add ground chicken and cook until browned, about 3-5 minutes, making sure to crumble the chicken as it cooks; drain excess fat.
Stir in garlic and zucchini until softened, about 1-2 minutes. Stir in the soy sauce mixture until slightly thickened, about 1 minute. Stir in chestnuts and green onions until tender, about 1-2 minutes; season with salt and pepper, to taste.
To serve, spoon several tablespoons of the chicken mixture into the center of a lettuce leaf, taco-style, garnished with peanuts.
Serves 8-10 appetizer portions
Recipe and Photo from Damn Delicious
Little Known Amazing Random Fact: Aphids can be hatched already pregnant.