Christmas Potluck Recipe 11
Lisa made these fluffy triangles of goodness. The adjustment I'm going to make to these is the exact opposite of the adjustment I made to the recipe, also using puff pastry, that Kim made in the last post. For Kim's puff pastry, I adjusted the recipe to make half as many because they were too small and for this recipe, we're going to make twice as many because these were honestly, too big for an appetizer party. Perfect size for a lunch dish though, if you want to make the original recipe and go that route.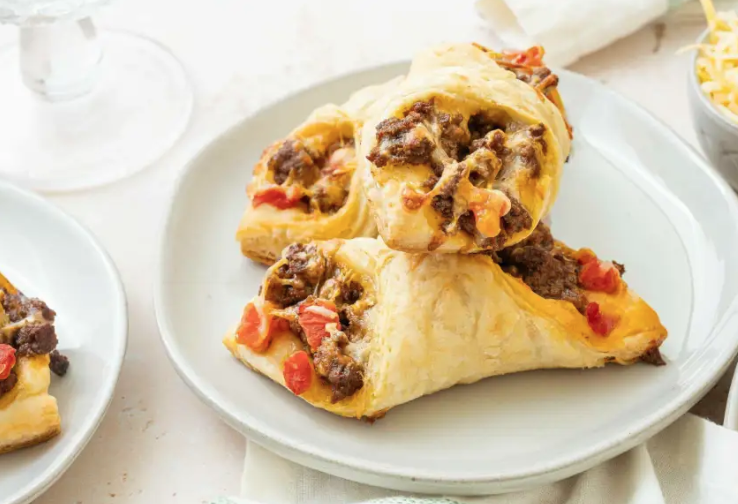 Taco Puffs
1 pound ground beef
1-ounce package taco seasoning
10-ounce can diced tomatoes and green chiles, drained
2/3 cup water
2 cups cheddar cheese, shredded
17.3-ounce package puff pastry, thawed
Preheat the oven to 400 degrees. Line two baking sheets with parchment paper.
In a large skillet over medium-high heat, cook the ground beef until no longer pink, about 5-7 minutes.
Drain the fat from the skillet. Add the taco seasoning, diced tomatoes and green chiles, and the water.
Simmer the mixture over low heat for 5 minutes and then set the skillet aside.
Unfold the pastry sheets. Cut each sheet into 18 even squares.
Arrange the meat mixture down the diagonal center of each pastry sheet square. Sprinkle the meat mixture on the pastry with the cheddar cheese.
Fold the two opposite corners of each pastry square over the filling, making a triangle, and pressing the edges to seal.
Place each folded pastry onto the prepared baking sheet. Bake until golden brown, about 15-18 minutes.
Serve warm.
Makes 36
Recipe and Photo from Cooking Professionally
Little Known Amazing Random Fact: Goat's milk is naturally homogenized, and the fat globules in goat's milk are much smaller than in cow's milk. This is one of the reasons that it is much easier to digest for many people.