achieved but more is good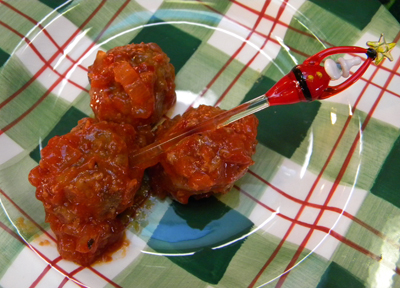 I've been holding out on you, and I do not mean with those special Raincoast crackers. I mean about informing you about reaching my goal. Exactly 2 weeks ago, on November 29th, I asked you to help me reach my goal of 1,027 comments, by the end of the year. You have done it, and we reached that goal several days ago. The current number of comments for this blog is 1,044!
Thank you so much for all the kind words, it means so very much to me. Plus those comments help make me feel a little less sickened by how many spam comments come in every single day. Yes, blogs get a ton of spam. I have a spam blocker, and since the end of June, it has blocked 2,832 comments of spam! That is an average of 17 per day. That's more "real" comments than I get in an entire week! So Annoying (and usually of disgusting nature too!) But enough of that, what I really want to say is Thank You All!
The other things that I used to find annoying were deviled eggs and meatballs. I know, that sounds strange, but when you hear this little tale, you will see why.
I am in the beginning stages of planning an 80th birthday party for my dad. That brings up memories of the 70th birthday party I threw for him. I worked for months; planning the menu, decor, invites, etc. Of course, the food was all "gourmet" and took days to prepare. My gorgeous sister, Sloane, worked long hours but wanted to make something to help. She asked, "Well, could I at least bring some deviled eggs?" I happily replied, "Sure, that would be great!"
She arrived hours early to help set up. The food was all laid out on the buffets; the guests arrived, greeted the birthday boy, chatted, and began to eat. Within minutes, and I do mean just a few minutes, all the deviled eggs were gone, while loads of gourmet food looked untouched! What the heck is it with deviled eggs? Although we didn't serve meatballs at that particular party, the same thing happens with them! I honestly just don't get it. But I will tell you one thing for sure, we will have several dozen deviled eggs and hundreds of meatballs at our dad's birthday party in April, and these are the meatballs I will be serving!
Chipotle Cocktail Meatballs
Meatballs
1 pound ground beef
1 pound ground pork
1 cup Panko bread crumbs
1/2 cup milk
1/2 cup peeled and minced onion
2 eggs
1 chipotle pepper in adobo sauce, finely minced
2 tablespoons extra adobe sauce
1  1/2 teaspoons salt
1 tablespoon olive oil
Sauce
2 tablespoons olive oil
1 cup peeled and finely diced onion
2 teaspoons crushed red pepper flakes
2 cups ketchup
1/4 cup packed brown sugar
2 tablespoons red wine vinegar
1 chipotle pepper in adobo sauce, finely minced
3 tablespoons extra adobe sauce
Meatballs: Preheat the oven to 350 degrees. Line 2 baking sheets with foil.
In a large bowl, mix together all of the meatball ingredients, except the olive oil.  Using wet hands, form the mixture into 1-inch balls.  Place meatballs on prepared baking sheets.  Bake until meatballs are golden brown and cooked through about 35 to 40 minutes.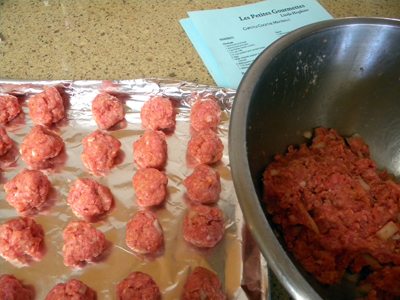 Sauce: Heat olive oil in a large pot over medium-high heat.  Add the onions and sauté until golden brown, about 8 minutes.  Add the crushed red pepper and cook for 1 minute.  Stir in the remaining sauce ingredients and reduce heat to low.
Carefully transfer the browned meatballs to the pot and toss gently to coat with sauce. Place in a chafing dish and serve hot.
Makes about 48 meatballs