Caramel Apple Crêpes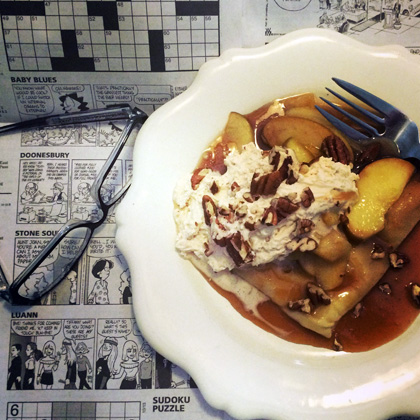 This was the most popular recipe from the Craft Party, not surprising since it's basically a dessert disguised as breakfast food. Tomorrow, I'll post the instructions for one of the most popular crafts that were offered … Cocktail Infusions. Those may not sound exactly crafty, but they are easy to assemble and make great hostess gifts!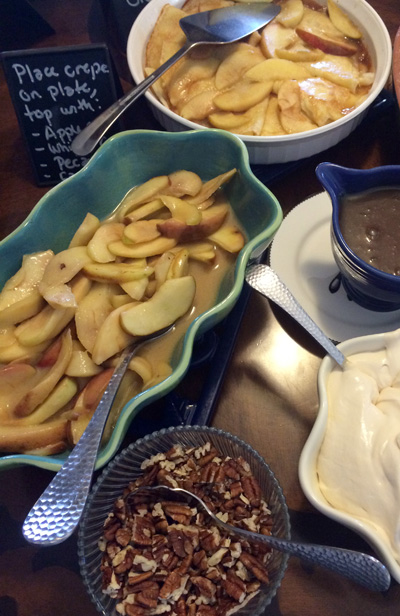 Caramel Apple Crêpes
Crêpes
2 1/2 cups whole milk
5 large eggs
1  1/3 cups flour
6 tablespoons (3/4 stick) unsalted butter, melted, cooled slightly
3/4 teaspoon salt
Additional melted butter
Sauce & Apples
3 tablespoons honey
1 cup packed brown sugar
2 small red delicious and 2 small golden delicious apples
2 tablespoons unsalted butter
Whipped Cream & Pecans
1 cup whipping cream
1/2 cup pecans, toasted and chopped
Crêpes:  Combine all crêpe ingredients in a blender and blend until smooth. Let stand 1 hour at room temperature.  Blend again before using.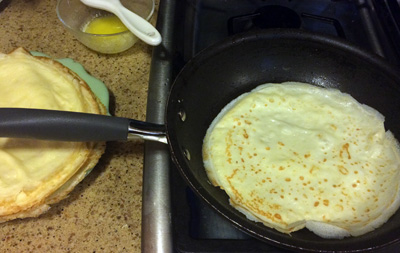 Brush an 8 – to 9-inch-diameter nonstick skillet lightly with melted butter.  Heat over medium-high heat.  Pour a scant 1/4 cupful of batter into the skillet, tilting to allow the batter to coat the bottom of the skillet.  Cook until crêpe is golden on the bottom, about 1 minute.  Turn crêpe over and cook until brown on the bottom, about 45 seconds.  Transfer to a plate.
Repeat with remaining batter, making about 20 crepes. Fold each crêpe in half, browned side out. Fold in half again, forming a triangle. Place crepes on a serving platter.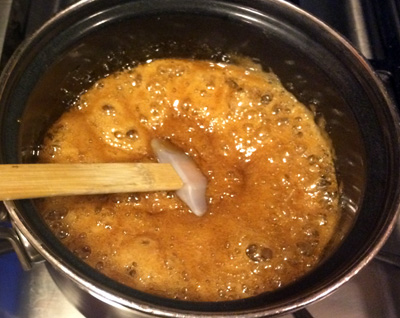 Sauce: In a heavy small saucepan, cook and stir brown sugar and honey over medium-high heat till bubbly. Reduce heat to medium. Boil mixture, uncovered, for 6 minutes, stirring often.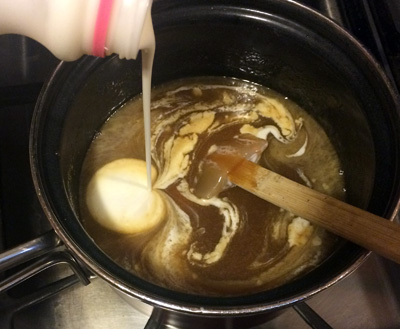 Remove from heat. Slowly and carefully stir in whipping cream (mixture will steam and bubble up).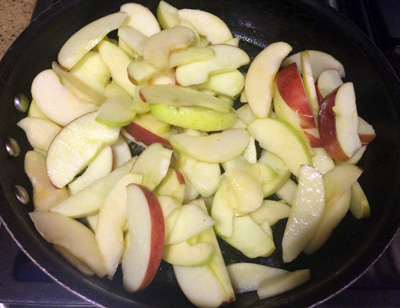 Apples:  Peel one of each variety of apples, leave the other two with the peel on, core, and thinly slice all apples. Melt butter in a medium skillet over medium heat. Add apple slices; cook, uncovered, for 4 to 6 minutes until tender, stirring occasionally. Add 2 tablespoons of the caramel sauce to the apples and remove from heat.

Caramel Whipped Cream: Whip the cream until soft peaks form and then add in 2 tablespoons of the caramel sauce and whip for another 10 to 15 seconds. Chill until ready to serve.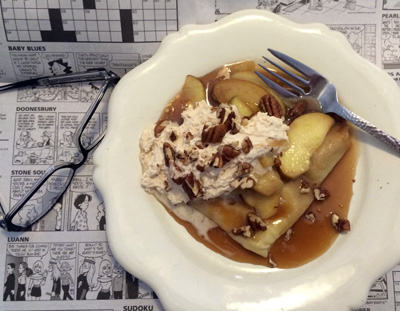 Assemble and Serve: Top crepes with apples. Spoon about 1 tablespoon of caramel sauce over each crêpe. Dollop crêpes with caramel whipped cream and sprinkle with pecans. 
Makes 20
DISCLAIMER: The crêpe above has way too much caramel sauce and way too much whipped cream on it. Please know that I did NOT dish this up… this crêpe belonged to someone else, who prefers to stay anonymous. Someone who really loves caramel sauce and whipped cream!