canning
go by Linda Hopkins

http://cinziamazzamakeup.com/?x=acquistare-viagra-generico-a-Torino About 10 years ago I was completely intimidated by, even the thought of, canning. It had never occurred in my house while growing up and the process of sterilizing the jars seemed like rocket science to me! Then something happened so that I could no longer avoid it. We had a peach tree in our yard and branches were breaking off the tree on a daily basis from the weight of so many ripe and juicy peaches. And guess what? I discovered that not only was canning no big deal or some painstaking process, it was actually fun!
go here This sauce is wonderful when eaten either savory or sweet.  I use it as a glaze and accompaniment for baked ham during the holidays. When heating the sauce to glaze the ham, just stir in one finely minced jalapeno pepper to spice it up a bit.
http://cinziamazzamakeup.com/?x=prezzo-viagra-generico-pagamento-online-a-Milano It is unbelievably delicious and decadent when warmed and spooned over grilled bananas, along with a little warm caramel sauce!
source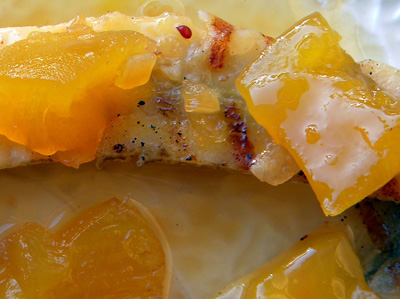 http://www.slccolorado.org/storage/proscar/ Or use it room temperature or cold spooned over ice cream or stirred into plain or vanilla Greek yogurt.
prednisone non-prescription to purchase The darling little canning jars make cute name "place cards" or party gifts to hand out to your guests as they are leaving your home after a special dinner or holiday meal. Happy canning!
our overloaded peach tree!
1 1/2 cups sugar
1 cup water
1 pineapple, peeled, cored, and cut into bite-size cubes
1/4 cup diced crystallized ginger
In a heavy pot combine the sugar and water, bring the mixture to a boil, stirring until the sugar is dissolved, and boil the syrup until it registers 220 degrees on a candy thermometer.
sugar syrup reaches 220 degrees
Stir in the pineapple and the ginger and simmer the mixture, uncovered, stirring occasionally, for 1 hour, or until it registers 220 degrees on a candy thermometer.
and pineapple reaches 220 degrees
Remove the pot from the heat and ladle the sauce into 5 sterilized* 1/2-pint Mason type jars, filling the jars to within 1/4 inch of the tops. Wipe the rims with a dampened towel and seal the jars with the lids. Put the jars in a water bath canner or on a rack set in a deep kettle, add enough hot water to the canner or kettle to cover the jars by 2 inches, and bring to a boil. Process the jars, covered, for 10 minutes, transfer them with tongs to a rack, and let them cool completely. Store the jars in a cool dark place.
Makes 5 cups or 2 1/2 pints
http://cinziamazzamakeup.com/?x=cialis-generico-esiste * To sterilize jars: Wash the jars in hot soapy water and rinse them in scalding water.  Put the jars in a kettle and cover them with hot water. Bring the water to boil, covered, and boil the jars for 15 minutes from the time that steam emerges from the kettle. Turn off the heat and let the jars stand in hot water. Just before they are to be filled invert the jars onto a kitchen towel dry. (The jars should be filled while they are still hot.) Sterilize the jar lids for 5 minutes, or according to the manufacturer's instructions.