candied almonds and a sweet and savory sherry vinaigrette
Today I have a spin on another recipe from Chef Tim McGrath of Cook's Gathering. Tim made a lovely Mixed Greens and Stilton salad with candied pecans and a citrus-sherry vinegar dressing.  What made the dressing remarkable was the fact that the dressing's base was made from the syrupy liquid the pecans were candied in, ingenious!  The moment I tasted the dressing I imagined how wonderful it would be on fresh, hot green beans or sugar snap peas.  The next day in class, Tim suggested using the dressing on freshly steamed asparagus – great minds think alike!
What makes this dressing special besides the syrup base from the candied nuts, is the sherry vinegar. Sherry vinegar is from Spain. It has an assertive yet smooth taste and is perfect for deglazing pans to create flavorful sauces, especially those for meats such as beef, lamb, or duck. You will have a hard time finding sherry vinegar in most regular grocery stores, but it is readily available at gourmet grocers, Cost Plus World Market, Sur la Table, Williams-Sonoma, and other food specialty stores.
I've changed up Tim's original recipe a little by candying almonds instead of pecans for this version, which I think will compliment steamed or blanched vegetables a bit better. I am again using sugar snap peas since I have a pound left over from the 2-pound package I purchased at Costco for the post a couple of days ago, but mix it up and feel free to use green beans, asparagus, snow peas, broccoli, or cauliflower.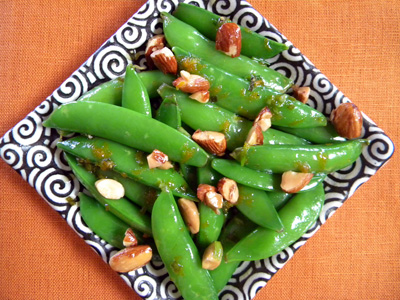 Candied Almonds and Citrus, Sherry, and Chive Vinaigrette for Vegetables
1/2 cup coarsely chopped dry roasted almonds
1/4 cup sugar
1/3 cup water
Zest and juice of 1 medium orange
Zest and juice of 1 lime
1/4 cup sherry vinegar
2 tablespoons minced fresh chives
1/4 cup extra-virgin olive oil or Queen Creek Olive Mill Blood Orange Olive Oil
Salt and freshly ground black pepper
1 pound vegetable of your choice (see suggested list above)
Line a baking sheet with parchment paper or foil and preheat the oven to 350 degrees.
Place sugar and water in a small saucepan and bring to a boil. Boil for 2 minutes. Add almonds and boil for 2 additional minutes. Remove the saucepan from heat and use a slotted spoon to remove almonds from the cooking liquid (now a syrup, which you will reserve) and spread almonds out on the lined baking sheet. Bake for 8 minutes, remove from oven and allow to cool.
Meanwhile, strain the syrup into a bowl to remove any almond skins that may have slipped off the almonds.  Return to pan and add orange and lime zest and juices to syrup and boil until the liquid reduces by half and has a syrupy consistency.  Remove from heat and whisk in vinegar and chives. Slowly add the olive oil, whisking constantly, until the dressing is emulsified. Season with salt and pepper to taste.
Bring a medium saucepan filled with water, 3/4 full, to a boil. Add 1 tablespoon of salt and the vegetable of choice, boil, uncovered, for about 2 to 5 minutes, depending on which vegetable you use.  Drain, then immediately place in a serving bowl and toss with the vinaigrette, sprinkle with candied almonds, and serve immediately.
Serves 6
Save