Caesar Rules!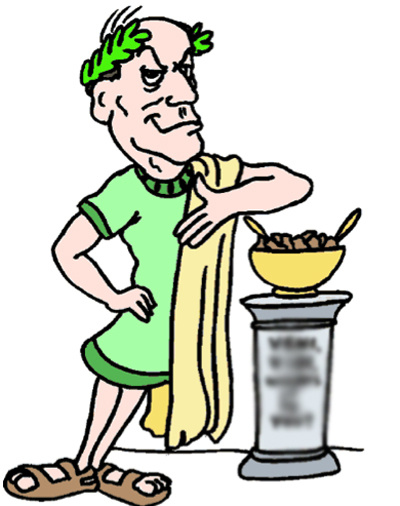 If my husband, Dave, sees the word "Caesar" on a menu, he is immediately drawn to that dish and will most likely order it. It is nearly impossible for him to NOT order Caesar Salad at any new restaurant we visit. He won't pass up the opportunity to see if THIS is the best Caesar Salad ever. More often than not, he is disappointed. The one thing that will make him happy, even if the salad is lacking? If there are anchovies laying there in plain sight on top of the salad. My man loves his anchovies!
I didn't go so far as to lay anchovies over these Caesar green beans, but I did sneak a bit of anchovy paste into the dressing… leave it out if you would like… it is not essential in this particular recipe.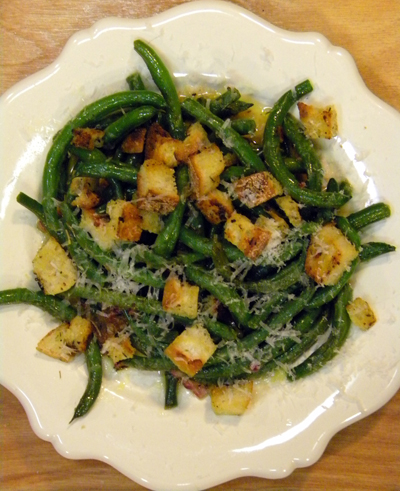 Caesar Green Beans
Croutons
1 tablespoon olive oil
1 garlic clove, peeled and minced
1 teaspoon fresh thyme leaves
1/2 teaspoon fresh rosemary, minced
1 cup French bread cubes
Salt and freshly ground black pepper
1 pound green beans
Dressing
1/4 cup champagne vinegar
2 tablespoons finely minced red onion
1 teaspoon anchovy paste
1/2 teaspoon salt
1/4 teaspoon freshly ground black pepper
1/4 cup olive oil
1/4 cup Parmesan cheese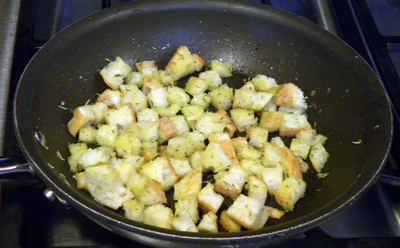 Croutons: Preheat oven to 350 degrees. Heat olive oil in a large skillet over medium heat. Add the garlic, thyme, and rosemary and sauté lightly for about 1 minute. Remove from the heat; add the bread cubes, tossing to coat evenly. Spread the bread cubes on a foil-lined baking sheet and sprinkle with salt and pepper. Bake until the croutons are golden and crisp, turning at least once, about 15 minutes.
Beans: Blanch the green beans in a large pot of boiling salted water for about 5 minutes or until crisp-tender; drain and place in an ice bath to stop the cooking process. Drain, and set aside at room temperature.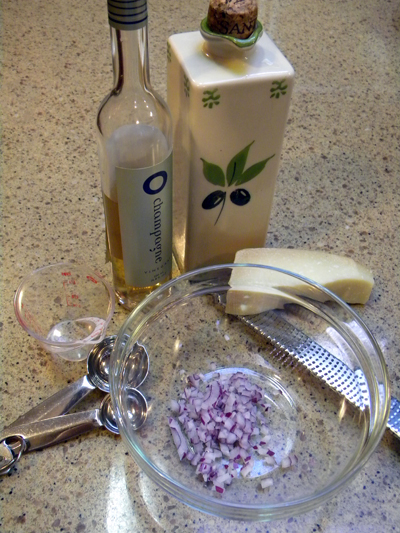 Dressing: Whisk together the vinegar, onion, salt, and pepper. Slowly whisk in the olive oil to combine. Set for 15 minutes to allow the onion to mellow.
Using a small strainer, lift about half of the minced onion out of the dressing and place it in a large skillet over medium-low heat. Once onions begin to sizzle just slightly, add the beans and about half of the dressing to the pan. Toss the beans to evenly distribute the dressing and continue tossing until the beans are heated through about 3 minutes. Remove from the heat and turn onto a serving dish. Sprinkle with the croutons and Parmesan cheese, tossing to combine.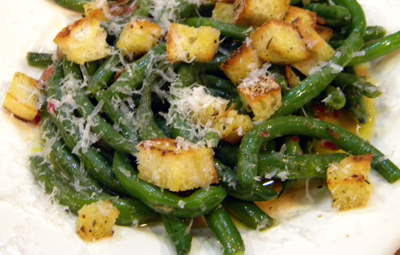 Serve with additional Parmesan cheese on the side.
Serves 4