cabbage soup
For day two of "Kim Week," I am going to go where I have never gone before.  I am going to make and then eat cabbage soup.
Yesterday I said that I trusted Kim's taste 100%. That was put to the test when I discovered that not only did Kim's cabbage soup contain, well – you know – cabbage, but also sauerkraut! I despise sauerkraut!!! Even the smell of it makes me sick, bringing back horrible childhood food memories.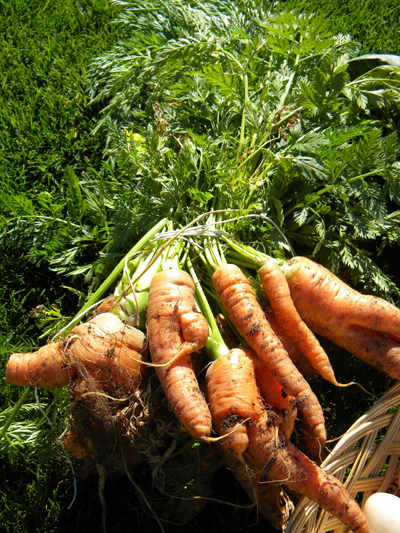 I was over at Kim's house yesterday morning, picking up more bounty from Kim's friend, Chris, who has an urban farm in her backyard. Kim is working on setting up a tour for me! Can not wait!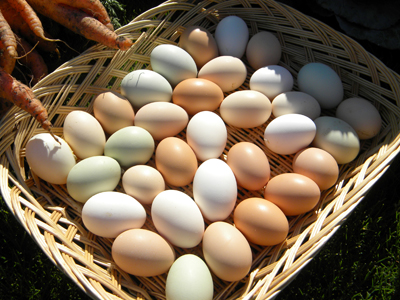 Anyhow, Chris gave Kim a big bunch of carrots, nearly 3 dozen freshly laid eggs, and a bag full of limequats to give to me… oh my, I am over the moon with these generous and fun gifts.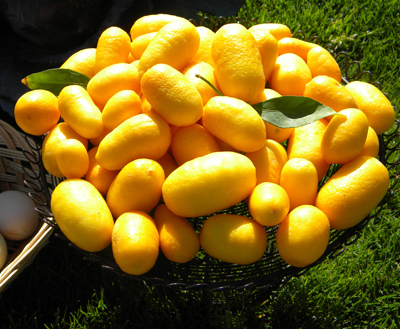 Kim was given the soup recipe years ago by her mother, who in turn, had been given it by her friend, Mrs. Slavin. Kim handed me the cabbage soup recipe to copy. It was handwritten in pencil on the outside of a file folder and here is exactly what it looked like:
Cabbage Soup
Line bottom 3-pound brisket
1 pound onion
1 lemon
2-3 tablespoons syrup or brown sugar
1 jar sauerkraut
1 bottle chili sauce
2-3 pound tomatoes
2-3 cans water
1 head cabbage
Pile in a pot
That was it, no more, no less. After a few questions from me Kim, I found out exactly what all that means and have re-written it more clearly below. The "1 jar sauerkraut" just about did me in, but Kim let me taste the soup and I knew that I would not be leaving the sauerkraut out, which would have been my knee-jerk reaction. Maybe you're wondering how it is that Kim had the soup ready for me to taste?!  That is how this whole thing started, Kim mentioned that she was working on cleaning out her freezer and had taken out a container of cabbage soup to have for dinner the other night. She had just given me a huge head of cabbage, so I said, "I need that recipe!"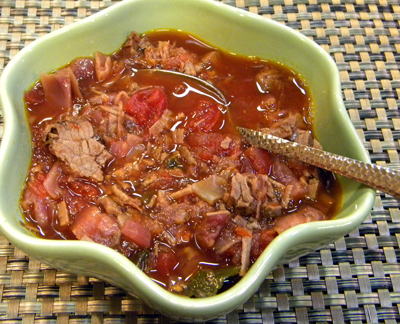 Mrs. Slavin's Cabbage Soup
3 pounds beef brisket, patted dry
Salt and freshly ground black pepper
1 tablespoon olive oil
1 pound of onions, peeled and diced
Juice of 1 large or 2 medium lemons
3 tablespoons brown sugar
14.5-ounce can sauerkraut, rinsed well and drained
12-ounce bottle Heinz chili sauce
3 pounds of tomatoes, chopped
5  1/2 cups water
1 large head purple or green cabbage, cut in half through the stem end, each half cut in half again, and then thinly sliced.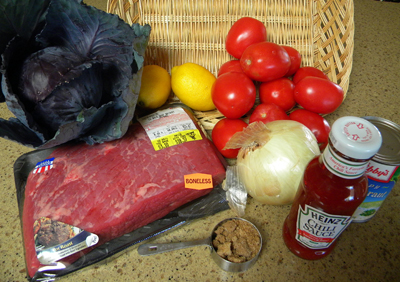 Generously season both sides of the brisket with salt and pepper.
Heat a large soup pot over medium-high heat, add the olive oil, and roll around to cover the bottom of the pot. Brown the beef on both sides.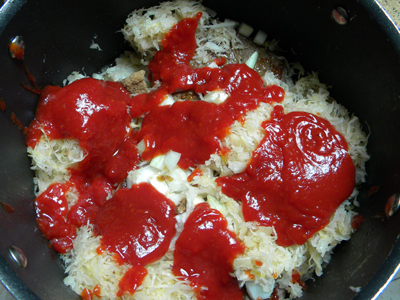 Layer in the remaining ingredients, in the order, listed. First the onion, lemon juice, brown sugar, rinsed and drained sauerkraut, and chili sauce.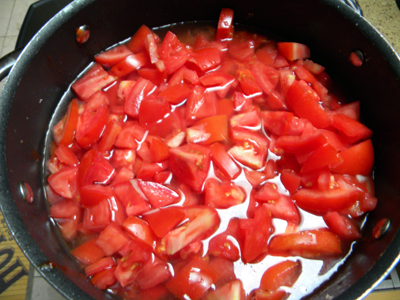 Next, the chopped tomatoes and water.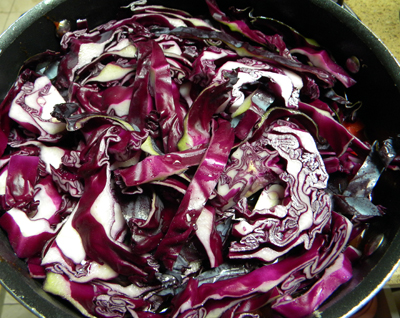 And finally, the cabbage. (that is one full pot!)
Bring to a boil, then reduce heat to a low simmer, cover, and cook until the beef is very tender about 4 hours.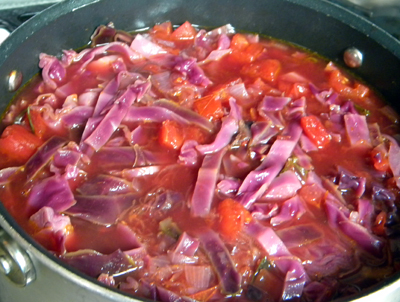 Pull beef from the pot and transfer it to a cutting board. Slice the meat, against the grain. The meat should pretty much fall apart. Return meat to pot and stir to combine.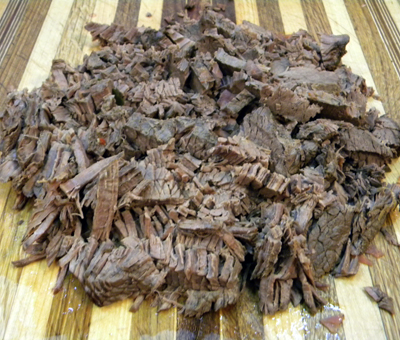 Ladle into soup bowls and serve hot.
This recipe makes a huge pot of soup and can be frozen.
Makes about 8 quarts