buttery shrimp
In the yummy recipe below, I call for U/15 shrimp. This informs you as to the size of shrimp you are shopping for. Shrimp sizes are denoted in numbers, such as U/15 or 21/25. When you see a "U" in the count, it means that there are "under" that number of shrimp in a pound. The slash between numbers denotes a range of shrimp in a pound.
HERE you will find a helpful chart of shrimp sizes.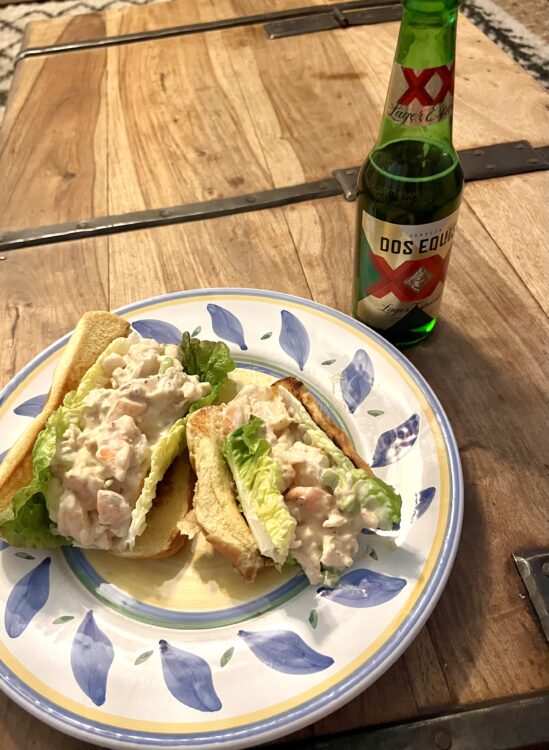 Buttery & Lemony Shrimp Rolls
2 large lemons
2 tablespoons kosher salt
2 pounds U/15 shrimp, peeled and deveined
1/2 cup (8 tablespoons) butter, cut into small pieces
2 garlic cloves, peeled and finely minced
8 hot dog buns, split
2 celery stalks, finely minced
1/4 cup finely minced red onion
1/2 cup mayonnaise
1 tablespoon Dijon mustard
Salt and freshly ground black pepper
1 small head red leaf or butter lettuce, 16 leaves washed and dried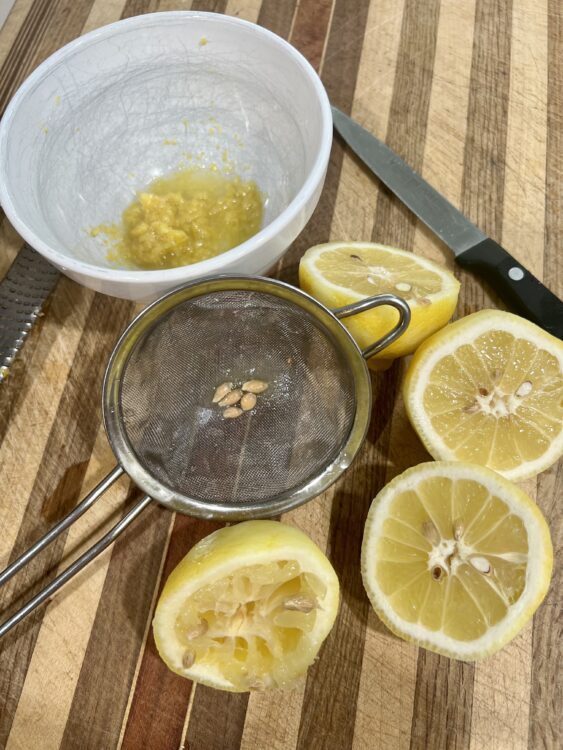 Zest the lemons, cut lemons in half, and squeeze 1 tablespoon of the juice into the bowl with the zest, set aside.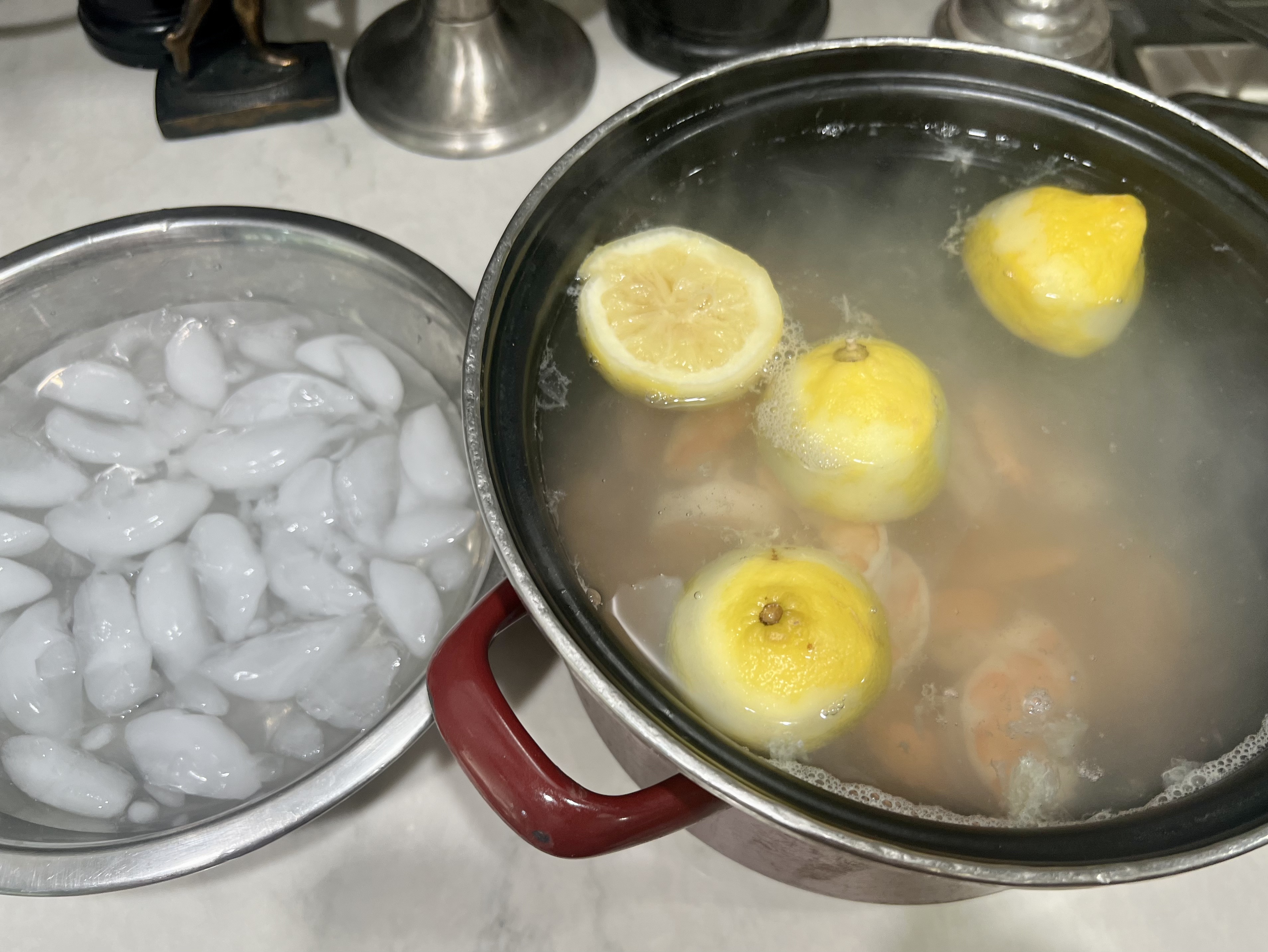 Fill a large pot with water. Squeeze the juice from the rest of the lemon halves into the pot of water through a sieve to catch the seeds. Drop the squeezed lemon halves into the water and bring the water to a boil. Once boiling, season with the salt, stir and remove from heat.
Add the shrimp to the pot, off the heat, and let sit, uncovered, until the shrimp are pink and cooked through, about 1–2 minutes. Using a slotted spoon, transfer shrimp to a medium bowl of ice water. Drain shrimp on paper towels and then coarsely chop.
Meanwhile, heat the butter and garlic in a large microwave-safe bowl until the butter is melted, about 30-45 seconds. Brush the split buns with some of the butter and set the buns aside.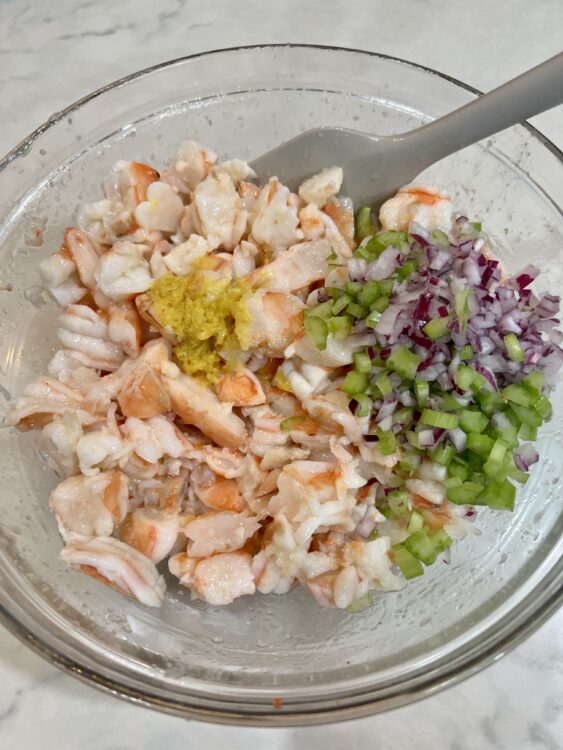 Add the shrimp to the remaining butter in the bowl and toss to coat. Add the reserved zest and juice to the bowl along with the celery, red onion, mayonnaise, and Dijon and toss to coat. Season to taste with salt and pepper. Cover and chill the shrimp mixture while you toast and brown the buns.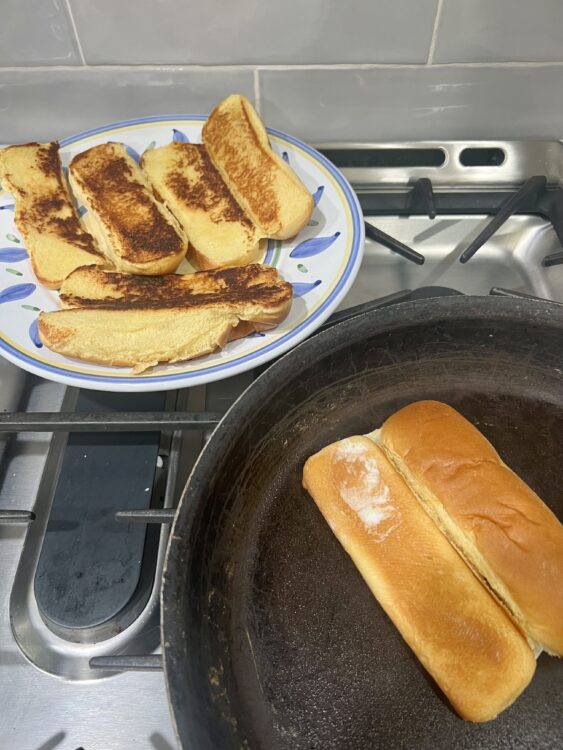 Heat a dry large skillet over medium-high heat. Working in batches, toast the buns, cut side down until golden brown. Remove to a plate or sheet pan. Line both sides of each of the buns with a small lettuce leaf to cover. Then generously fill with the chilled shrimp mixture.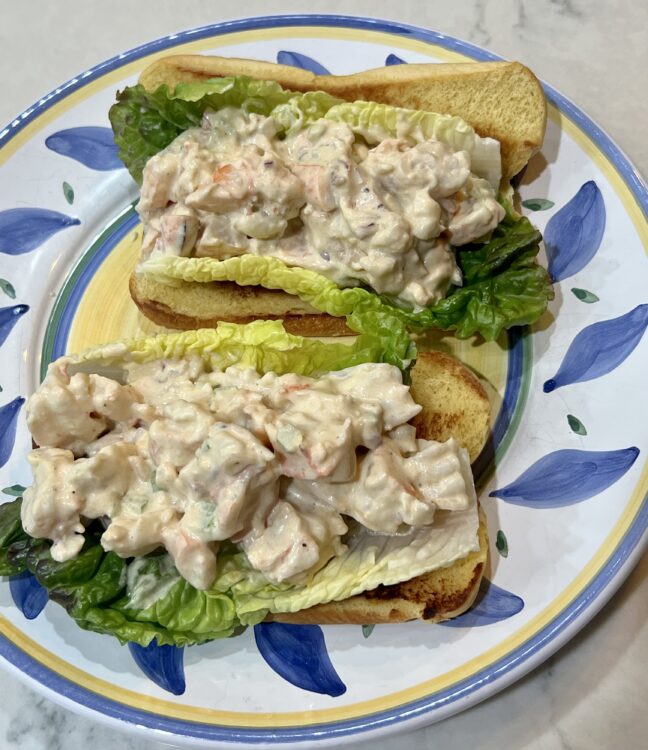 Makes 8 rolls