brunch dish trois
click here by Linda Hopkins
source
source The best thing about the four brunch recipes my friends made is that they can all be fully or partially made ahead. Anne's "overnight" French toast obviously fits the bill. Or if your family enjoys "breakfast for dinner" – throw this together before you head out the door in the morning, take it out when you walk in the door, then pop it in the oven and you'll have dinner (and dessert all-in-one; it's pretty dang sweet!) on the table with almost no effort after a long hard day.
comprare vardenafil Veneto So another guest who made a dish that won't be featured in the four days of brunch recipes, is Amy's http://maientertainmentlaw.com/?search=lasix-before-transfusions Smoked Salmon Platter with Dill Sour Cream. It was one of the "no-cook" recipes and was basically thinly sliced smoked salmon artistically laid out on a platter with minced shallots and capers sprinkled on top and sour cream with fresh chopped dill mixed in – served with bagel chips or sliced baguette on the side.  So easy, SO good, and oh so pretty!
order viagra online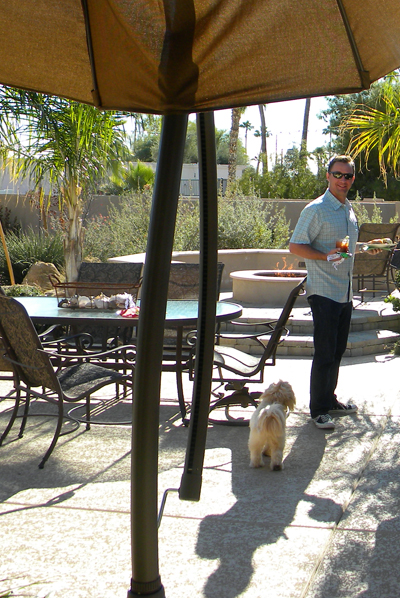 drug like clomid Once again, I didn't get a photo of Amy's dish or even of Amy for that matter, but I did get a nice shot of her hilariously humorous husband, Scott (and Bubo – Sloane's pooch).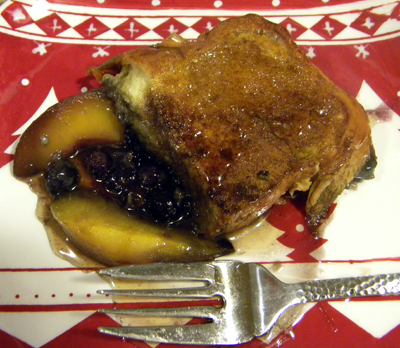 Anne's Overnight Peach-Blueberry French Toast
1 cup packed brown sugar vardenafil generico 20 mg consegna veloce
1/2 cup (1 stick) unsalted butter
2 tablespoons water
29-ounce can sliced peaches, drained and rinsed
1 small bag frozen blueberries
12 (3/4 inch thick) slices day-old Challa bread
5 eggs
2 teaspoons vanilla extract
A couple pinches of ground cinnamon
In a saucepan, stir together the brown sugar, butter, and water. Bring to a boil, then reduce heat to low, and simmer for 10 minutes, stirring frequently.
Pour the brown sugar mixture into a 13x9x2-inch baking dish, and tilt the dish to cover the entire bottom. Place peaches and blueberries over the brown sugar mixture, then top with slices of French bread. In a medium bowl, whisk together the eggs and vanilla. Slowly pour over the bread slices to coat evenly. Sprinkle cinnamon over the top. Cover and refrigerate for 8 hours or overnight.
Remove the dish from the refrigerator about 30 minutes before baking to come to room temperature. Preheat the oven to 350 degrees.
Bake for 25 to 30 minutes in preheated oven, or until the bread is golden brown. Spoon out portions to serve.
Serves 8