bravo Barbara

This recipe comes from my friend, boss, and mentor, Barbara Pool Fenzl, owner of Les Gourmettes Cooking School in Phoenix.  Barb and I have worked together for 22  wonderful years. She made these bars for the classes she taught at the school this year and agreed to allow me to share them with you.
These beautiful and delicious bars are the perfect autumn and holiday treat. They are a gorgeous rich dark and light layered caramel-colored indulgence.
Dulce de leche is a rich caramel sauce that can be found in 13.4-ounce cans in the Hispanic section of most grocery stores.  You will divide and use the entire can for this recipe.
The picture just below and before the recipe is from when the Superbowl was in Arizona for the first time in 1996 at ASU Sun Devil Stadium. Barb was asked to come and cook on the Today Show and she took me along to assist, the picture is with Bryant Gumble, who was the host at that time. In front of the photograph is one of my favorite things in Barb's kitchen – a little clock made from an empty thyme tin can. I am going to dig through my old spice cans and make one for myself… someday!
Dulce de Leche Cheesecake Bars
Crust
2 1/4 cups finely ground graham crackers (about 17 whole crackers)
2 tablespoons sugar
1/4 teaspoon ground cinnamon
10 tablespoons ( 1 1/4 sticks) unsalted butter, melted
Filling
24 ounces (3 packages) cream cheese, room temperature
1 cup sugar
3 large eggs
1/2 cup purchased dulce de leche
2 teaspoons vanilla extract
Glaze
2/3 cup dulce de leche (remainder of the can)
3 tablespoons heavy cream
Preheat the oven to 350 degrees. Spray a 13 x 9 x 2-inch glass baking dish with nonstick spray.
Crust: In a medium bowl, mix together cracker crumbs, sugar, and cinnamon. Add the melted butter and stir until crumbs are moistened.  Pour into the prepared pan and press evenly and firmly into the bottom of the pan.  Bake until the crust is light golden, about 10 minutes.  Cool.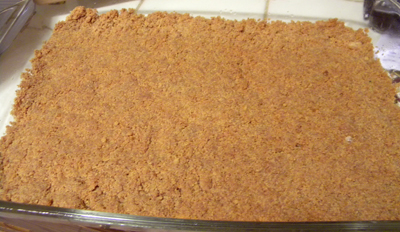 Filling: In a food processor, mix together the cream cheese and sugar until creamy, scrape down the bowl, and blend again.  Add the eggs, one at a time with the machine running, through the feed tube.  Add the dulce de leche and vanilla, and process until completely blended.  Spread evenly over the cooled crust and bake until set in the center and the edges are puffed and slightly cracked about 40 minutes.  Cool completely.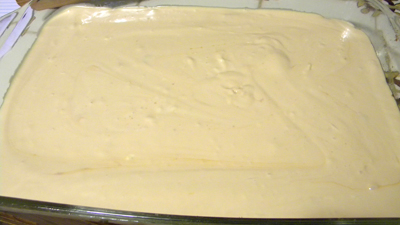 Glaze: Heat the remaining dulce de leche and cream in a microwave-safe bowl for about 1 minute until melted, stir to blend.  Spread the glaze over the cooled cheesecake and refrigerate until chilled, at least one hour.  The bars may be made 2 days ahead of time.  Keep covered and chilled until ready to serve.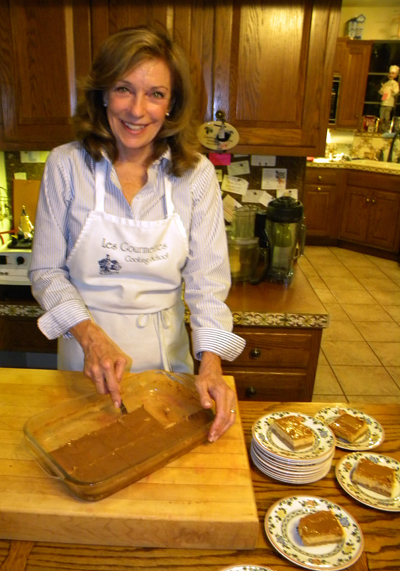 Cut into 36 bars, and just before serving, sprinkle with fleur de sel.
Makes 36