bonus salad and bonus pics
I am naming this "bonus salad" because while creating it, my intention was to include it in the "Take your Lunch to Work Week" that I just wrapped up for my sweet Marissa. But once I got into it, I slowly came to the realization that this takes far too much time and effort than required for an easy lunch to brown bag… that is unless you use it as leftovers… from dinner the night before. In that case, it's perfect!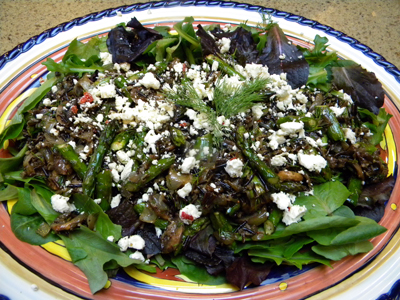 I made this a week ago Sunday and, as with most Sundays, we had my dad over for dinner. Dave and Dad devoured this thing. They loved it so much that they each had not only seconds but thirds!
If you are lucky enough to have leftovers and want to brown-bag them the next day – here is what you do: Pack the greens and the feta together in one container or zip-lock. Pack the mushroom-asparagus-rice mixture in a microwave-safe container. Nuke the mushroom mixture to just warm it through. Place your greens and feta on a plate and top it with warm stuff. Yum… makes me wish I would have had leftovers of my own last Monday. 🙁
The "bonus pics" in the title refer to some iPhone pictures of a few of the beyond delicious courses we had at Binkley's last night. How I love that place! You'll find them below the recipe.
How about this cool photo? Actually, it was a totally blurry and messed-up picture I took. But then I Photoshopped it with an effects feature called "fresco".  Now it looks totally awesome!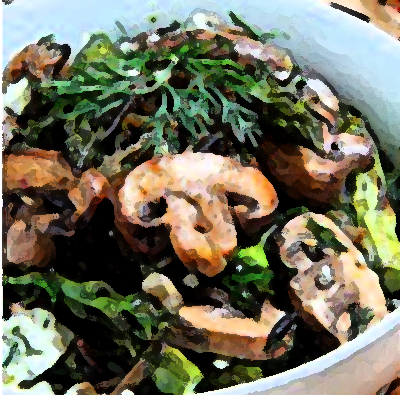 Warm Mushroom, Roasted Asparagus, and Wild Rice Salad with Feta
1/2 cup wild rice, rinsed
1  1/4 cups vegetable broth
2 tablespoons olive oil, divided
1 onion, peeled and diced
2 cloves garlic, peeled and minced
8 ounces mushrooms; cleaned, trimmed, and sliced
Salt and freshly ground black pepper
1 pound asparagus, trimmed and then cut into 2-inch pieces
1/4 cup fresh dill, chopped
1/4 cup balsamic vinaigrette
4 cups mixed baby salad greens
1/4 cup crumbled feta cheese
In a medium saucepan, bring the wild rice and broth to a boil, reduce the heat and simmer covered, until the rice is tender about 50 minutes.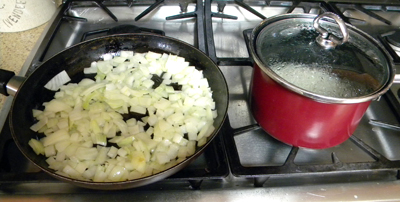 When there are about 30 minutes left of the rice cooking time, heat a large skillet over medium heat. Add 1 tablespoon of olive oil.  Add the onion and sauté until tender, about 3 to 5 minutes. Add the garlic and continue to cook until the onions just begin to caramelize about 12 minutes.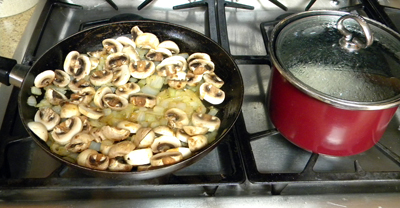 Add the mushrooms and sauté until the mushrooms release their liquid, it evaporates and the mushrooms are lightly caramelized for about 10 to 12 minutes. Season with salt and pepper to taste.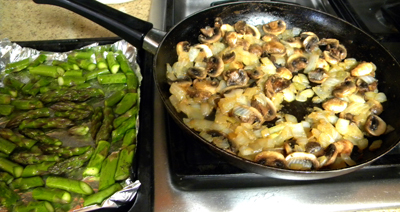 Meanwhile, preheat oven to 400 degrees. Line a baking sheet with foil. On the foil, toss the asparagus with the remaining tablespoon of olive oil. Season with salt and pepper.
Spread the asparagus out in a single layer and roast in a preheated oven until tender, about 10 to 12 minutes, depending on the thickness of the spears.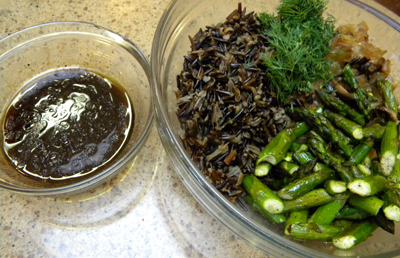 In a large bowl mix together the wild rice, mushrooms, asparagus, dill, and balsamic vinaigrette.
Serve the warm mixture on a bed of cold salad greens, topped with the crumbled feta.
Serves 6 to 8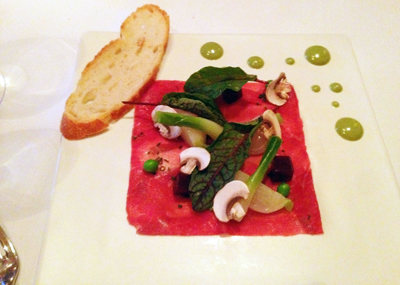 Buffalo Carpaccio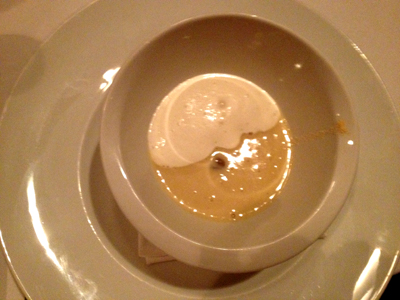 Smoked Oyster Chowder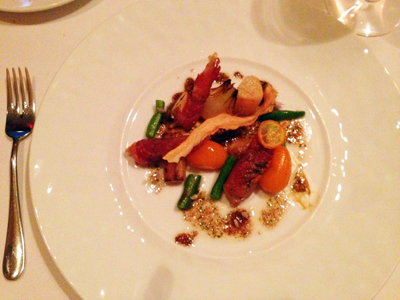 Prosciutto Wrapped Frogs Legs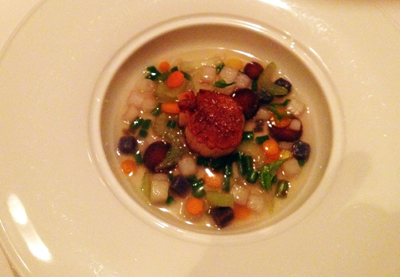 Seared Scallop "Pot au Feu"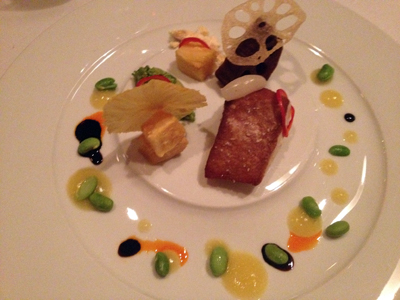 Hawaiian Monchong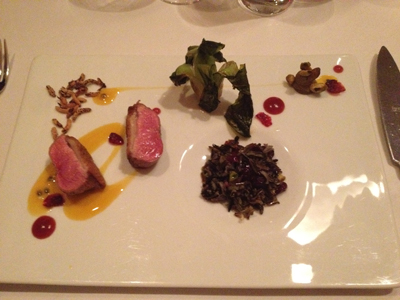 Duck Breast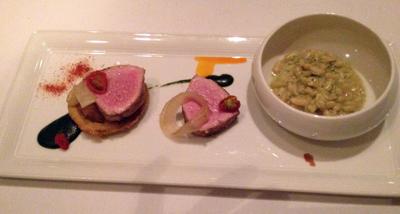 Leg of Veal

When you are at Binkley's to celebrate a special occasion, they always print it on your menu, then tie it up with a pretty bow and present it to you at the end of your perfect evening. Pure taste and class in every well-thought-out detail.