blt salad… and a contest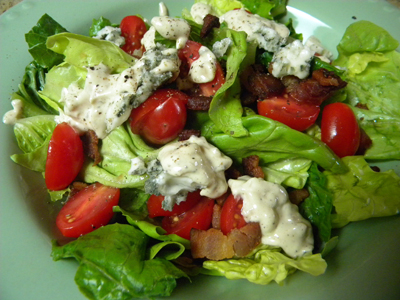 My favorite sandwich, hands down, BLT!
Warm toasted bread, spread with tangy mayonnaise, topped with hot salty bacon, tart juicy tomatoes, and cold crisp lettuce = heaven on your tongue and happiness in your tummy. What is your favorite sandwich? How do you like to eat it? I'd love to hear, really! Leave me a comment here, on this site, not on Facebook or Twitter. I'll draw a name from a big wooden salad bowl on Monday and the winner will be mailed a gift card to Paradise Bakery where they have some of my other favorite sandwiches and salads.  If you don't live in AZ or have a Paradise Bakery nearby… we'll work it out.
My husband, Dave, and his BFF, Jeff (men don't say BFF, do they?) have a boy crush on Travis McGee. He is a fictional character in novels by mystery writer John D. MacDonald. Travis is a detective or actually a self-described "salvage consultant" who recovers others' property for a fee. He eats sandwiches, lots of different sandwiches and he likes to eat them while standing and leaning over the kitchen sink with a couple of cold beers. I've read a few of the books myself (there are 21 featuring McGee) and for some reason, that image has always stuck in my brain.
Correction: Since posting this 12 hours ago, my husband has corrected me saying that his hero Travis McGee would not be so crass as to eat sandwiches over the kitchen sink. That, in fact, the fictional character I'm thinking of is novelist Lawrence Sanders' detective of the "Deadly Sins series", Edward X. Delaney.  That actually makes more sense since I read all of those "Sin" books. I stand corrected!
I'm certain Travis, oops I mean, Detective Delaney would appreciate this terrific salad, as well.  Even though he'll have to sit down and eat it with a fork and knife. By the way, a couple of optional garnishes, which I didn't use only because I didn't have them on hand, would be thinly sliced red onion and homemade garlic croutons.
Side note: If you read this before 4:30 today (9/8/10), I am cooking with Tram Mai on Channel 12 Valley Dish. Main course salmon during the live show and a taped segment from Saturday's Phoenix Cooks. Hope you can tune in…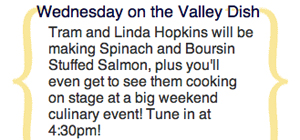 BLT Salad
6 slices bacon, cut into bite-size pieces
2 garlic cloves, peeled and minced
2 shallots, peeled and minced
1/4 cup mayonnaise
1/4 cup sour cream
2 tablespoons sherry or red wine vinegar
Salt and freshly ground black pepper
12 cups mixture torn romaine and butter lettuce
2 cups cherry tomatoes, halved
1/2 cup crumbled Roquefort cheese
Cook bacon in a large skillet over medium heat until crisp; transfer to paper towels to drain.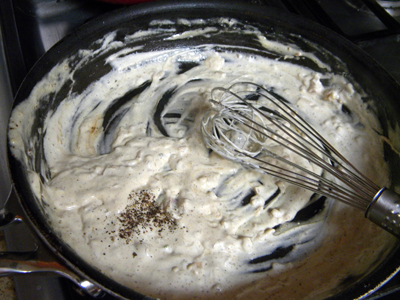 Pour off all but 1 teaspoon of bacon drippings from the skillet. Add the garlic and shallots to the pan and sauté over low heat until just softened. Remove pan from heat and whisk in mayonnaise, sour cream, and vinegar. Taste and season with salt and pepper. You will want to be especially generous with the pepper.
Place lettuce and tomatoes in a large serving bowl. Drizzle or toss with dressing. Sprinkle bacon and cheese on top and serve.
Serves 4