Pumpkin Pie … Not!
Thanksgiving is tomorrow!!! Don't know that I can help you now if you haven't gotten busy yet, but just in case, I give you – Complete Thanksgiving Planning Guide and Timeline.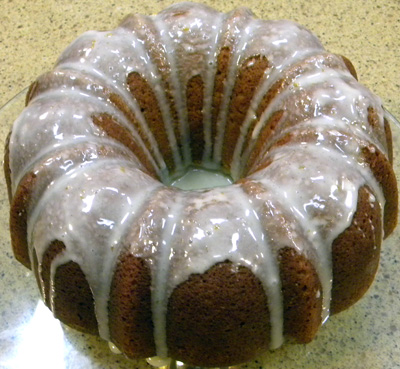 OK, so I have caved and I have made the dough for the potato rolls. How can I not, after The Audrey Files made them for her family and then raved about them on her blog? I'd feel like a heel if I stood my ground on that one. But I must rebel in some small way, so I am NOT going to make a homemade pumpkin pie this year! Instead I am making a pumpkin bundt cake, so take that, my whining family! But, I even felt a little guilty about that, so I purchased a little pumpkin pie at Trader Joe's… oh well.
I do not trust a bundt cake to come out of the bundt pan cleanly. So I never, and I mean never, use Pam to grease it. I always melt plenty of butter and brush it on every visible interior surface and then dust the pan with flour. That usually does the trick, but not every time, sometimes it just sticks in one little spot, just to spite me.
Pumpkin Bundt Cake
Butter and flour for coating of the bundt pan
3  1/3 cups flour
1  1/2 teaspoons baking powder
1/4 teaspoon baking soda
3/4 teaspoon salt
2 teaspoons ground cinnamon
1 teaspoon freshly ground nutmeg
3/4 teaspoon ground ginger
1/2 teaspoon ground allspice
1/8 teaspoon ground cloves
1  1/2 cups granulated sugar
1  1/4 cups brown sugar, packed
1 cup canola oil
15-ounce can unsweetened pumpkin puree
5 large eggs, at room temperature
2/3 cup orange juice
Glaze
1  1/2 cups powdered sugar
2 tablespoons honey
Scant pinch of salt
1/2 teaspoon fresh lemon juice
1/4 teaspoon vanilla extract
2 to 3 tablespoons milk or cream, or as needed
Position the oven rack in the lower third of the oven and preheat to 350 degrees. Melt a couple of tablespoons of butter in the microwave and very generously brush a bundt pan with the butter, then dust with flour and tap out the excess flour.
In a medium bowl, whisk together the flour, baking powder, baking soda, salt, and all the spices.  Set aside.
In the bowl of an electric mixer blend together the granulated and brown sugars. Add the oil, pumpkin, and then the eggs, one at a time, beating until blended. Scrape down the bowl.
With the mixer on the lowest speed, alternately add the orange juice and the flour mixture, beginning and ending with flour. Once everything is blended, scrape down the bowl again, then beat a few seconds longer until the batter is smooth and creamy.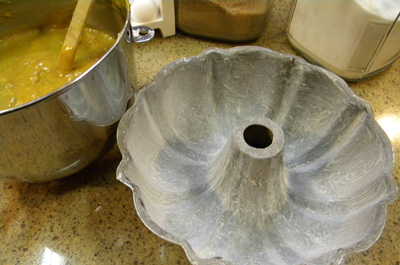 Pour the batter into the prepared bundt pan. Bake for 65 to 70 minutes or until a cake tester inserted in the center comes out dry.  Cool the cake in the pan on a rack for 20 to 25 minutes.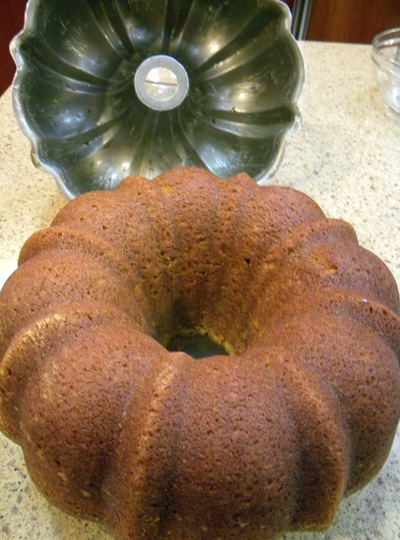 Place a flat cake plate or platter on top of the cake, invert, and lift off the pan. Cool the cake completely on a rack.
Glaze: Do not make the glaze until right before you are ready to use! Whisk together all the ingredients until smooth and creamy. Add more milk if necessary so the glaze has a just slightly runny consistency. Drizzle the glaze on the top of the cake, letting it drip down the sides.  The glaze hardens as it sets.
Serves 12