appetizer or side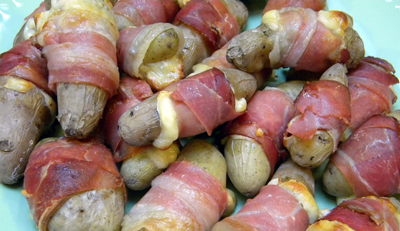 These tasty wrapped little potatoes are perfect to serve as an appetizer with a Sriracha mayonnaise dipping sauce or served without the mayo as a side dish.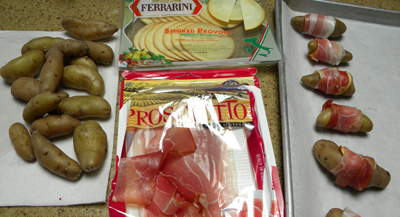 Prosciutto and Smoked Provolone Wrapped Fingerling Potatoes
1 pound fingerling potatoes
Salt
12 thin slices smoked provolone cheese, cut in half
12 think slices prosciutto, cut in half lengthwise
Salt and freshly ground black pepper
Sriracha mayonnaise, if desired
Place potatoes in a pot and fill with water to cover by an inch and salt the water liberally. Bring to a boil and cook for about 20 minutes or until tender when pierced with a paring knife.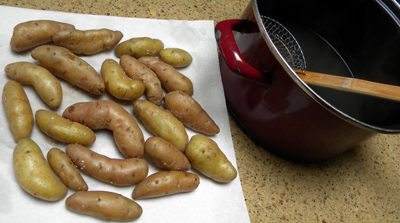 Drain the potatoes and place them on a towel to dry and cool.
Preheat oven to 450 degrees.  Line a baking sheet with parchment paper.
Once the potatoes are cool enough to handle, wrap each one with a half slice of cheese, and then wrap with a half slice of prosciutto, covering the cheese.  Set the wrapped fingerlings on the parchment-lined baking sheet and sprinkle with salt and pepper.
Place in the oven to melt the cheese and crisp the prosciutto, about 15-20 minutes.
Serve warm with Sriracha mayonnaise for dipping, if desired.
Serves 6 as a side dish