in season – any season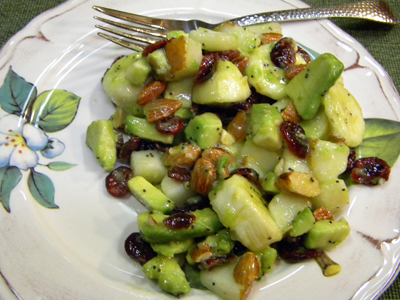 It's nearly summer, and a true summer staple is fruit salad. This is a springboard recipe. Start with this and then add in whatever fruit is fresh and in season. The obvious choices for summer are berries, cherries, mango, kiwi, pineapple, and such. But even in the dead of winter, when those choices are not only out of season but out of range for many pocketbooks, this base recipe will get you going. This was one of the recipes I made on Channel 12 Valley Dish yesterday (you can watch the other dish we made on the "In The News" page at the left).  We added sliced strawberries, kiwi, blackberries, and raspberries. The pictures from the live show were taken by the birthday girl, Sloane. I have no idea why I look so darn serious in the first shot, I was just setting up my stuff, but look at those huge lemons in the foreground, no those are serious!  Get out to a farmer's market this weekend and let your imagination run wild with all the colorful fresh fruit possibilities.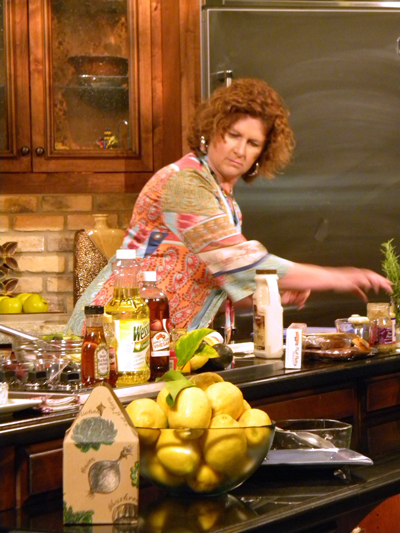 Any Season Fruit Salad
Dressing
1/3 cup agave nectar or honey
1/4 cup freshly squeezed orange juice
1 tablespoon apple cider vinegar
1 1/2 teaspoons poppy seeds
1/4 teaspoon Dijon mustard
Zest of 1 lemon
1/4 cup canola oil
Salad
2 pears, cored and diced
2 bananas, sliced
1 avocado, peeled and diced
Juice 1 lemon
11-ounce can mandarin oranges, drained
1/3 cup dried cranberries
1/3 cup coarsely chopped pecans or almonds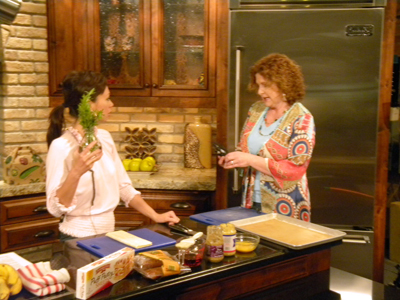 Tram Mai and me pre-show, she loves the fresh rosemary and I'm trying to turn on and put on my microphone
Dressing: Place the honey, orange juice, vinegar, poppy seeds, mustard, and lemon zest in a medium bowl and whisk well to combine. Slowing add the oil while whisking until oil is incorporated into the dressing.
Salad: Place the pear, banana, and avocado in a large glass bowl and toss with the lemon juice to prevent the fruit from oxidizing and turning brown. Add the mandarin oranges, cranberries, and nuts.  Add the dressing and toss gently to coat well.  Serve immediately.
Serves 6
The show is over, time to feed the crew – including producers Matt and Cassie