Anne's birthday salmon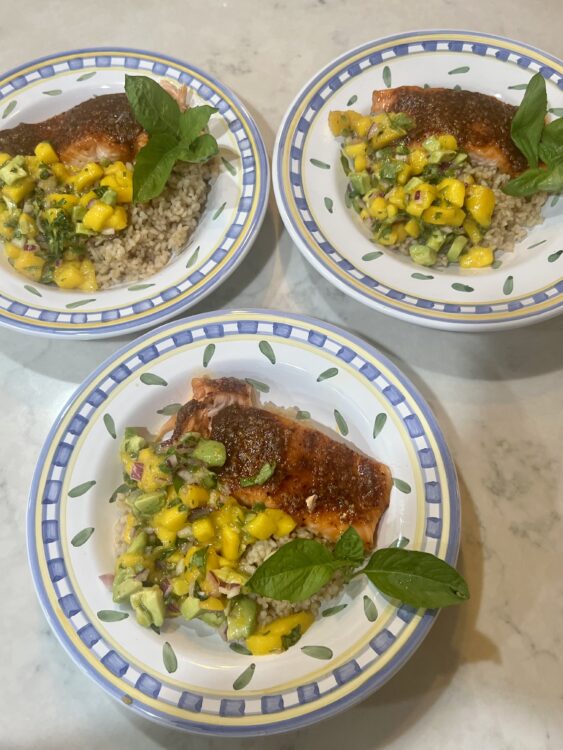 I made salmon bowls for Anne's belated birthday dinner last week. I've been on a salmon kick recently, in excess, since now I'm sick of salmon. I do this more often than I'd like to admit. I think it's simply part of cooking for one. Admittedly, a large part of the problem is that I shop at Costco for my business. While I'm there (several times a week) I will also pick up food for myself. I think we can all agree that shopping at Costco when you're cooking for one, isn't the best strategy. This is another "something" that I need to work on.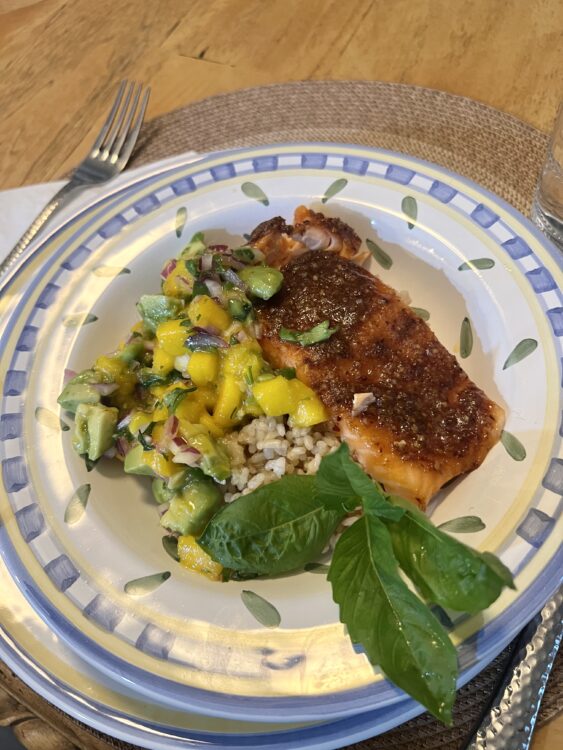 Mango Avocado Salsa – Sugar & Spice Salmon Bowls
Salsa
2 ripe mango, peeled, pitted, and diced
2 ripe avocado, peeled, pitted, and diced
1/4 cup minced cilantro leaves
1/4 cup minced red onion
1 small jalapeno, seeded and minced
2 teaspoons honey
1 lime, zested and juiced
Salt and freshly ground black pepper, to taste
Salmon
2 tablespoons brown sugar, packed
2 teaspoons smoked paprika
2 teaspoons onion powder
1 teaspoon garlic powder
1/2 teaspoon chipotle or Aleppo chili powder
1/2 teaspoon freshly ground black pepper
2 tablespoons olive oil
2 pounds fresh salmon filets
For Serving
Cooked white or brown rice
Salsa: Place all ingredients in a medium bowl and toss to combine, cover and refrigerate until ready to serve.
Salmon: Preheat oven to 425 degrees. Line a baking sheet with a Silpat mat or foil.
Mix the sugar and spices in a small bowl until well combined. Add the oil to form a paste. Place the salmon, skin side down, on the prepared baking sheet, and rub the paste liberally over the top side of the salmon. Bake for 10-12 minutes, depending on the thickness of the salmon and your desired doneness.
To Serve: Pile a generous portion of rice in the bottom of flat bowls. Use a spatula to lift the salmon filet from the skin and place it atop the rice. Spoon on the salsa and garnish with herbs.
Serves 4