a new Thanksgiving recipe!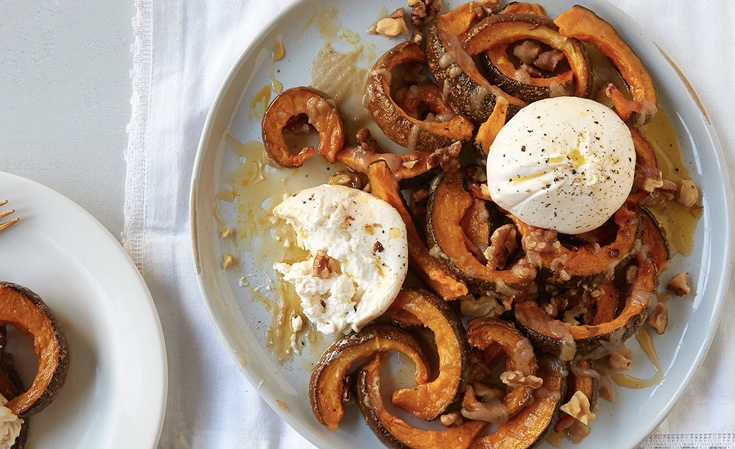 Here we are, 4 days until Christmas and I'm finally posting a Thanksgiving recipe. Obviously, it would be great for Christmas too, so if you're still searching for a new side dish, I highly recommend this one! I found it on Instagram, posted by one of my favorite cheese providers, Murray's Cheese. The recipe calls for hot honey and burrata.
Burrata is an Italian cow's milk cheese made from mozzarella and cream. The outer casing is solid mozzarella, while the inside is stracciatella and cream, making it extremely luxurious and delicious when broken open.
I'm posting both Murray's photo and my own. Murray's used kabocha squash and shows the burrata still in its whole form. While I used acorn squash and broke up my burrata a bit more and scattered mine throughout the platter, ensuring all guests were able to have some on their plates. Also, the lighting in my photo is atrocious, taking on the stove, under the stove light! Terrible!
If you've never had hot honey, you're really missing out! The brand most popular is Mike's Hot Honey, which you can find at most grocery stores. Trader Joe's has their own brand and you can also easily find burrata there.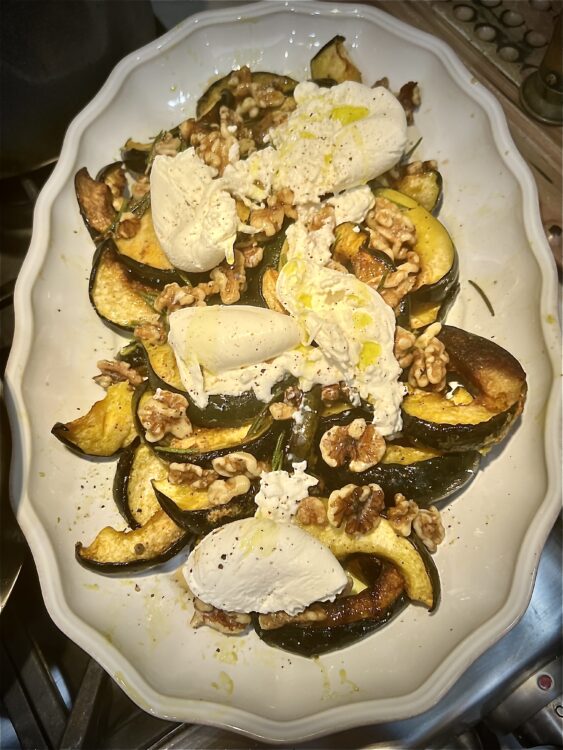 Roasted Squash With Burrata & Hot Honey
4-5 pounds acorn or kabocha squash
4 tablespoons olive oil, divided
1 teaspoon salt
1/2 teaspoon freshly ground black pepper
1 1/4 cups shelled walnuts
3 tablespoons butter
2 sprigs rosemary, leaves removed
Four 4-oz. balls burrata (two packages)
3 tablespoons Hot Honey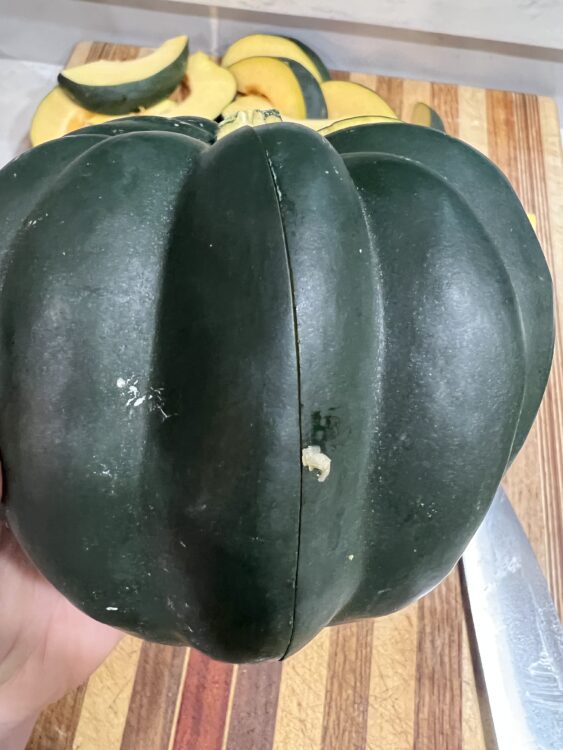 Preheat oven to 425 degrees. Cut the squash in half from top to bottom and use a spoon to scoop out the seeds.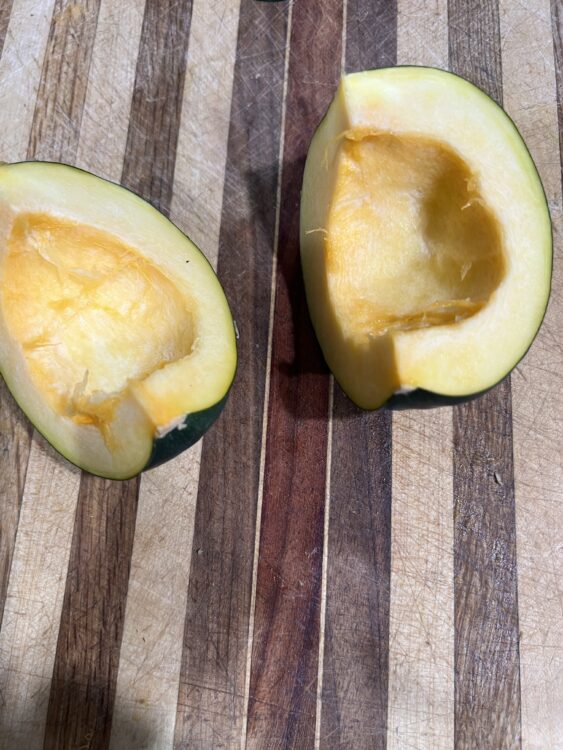 Cut each piece in half from top to bottom again, and cut those pieces into about 4 or 5 crescents of similar thickness.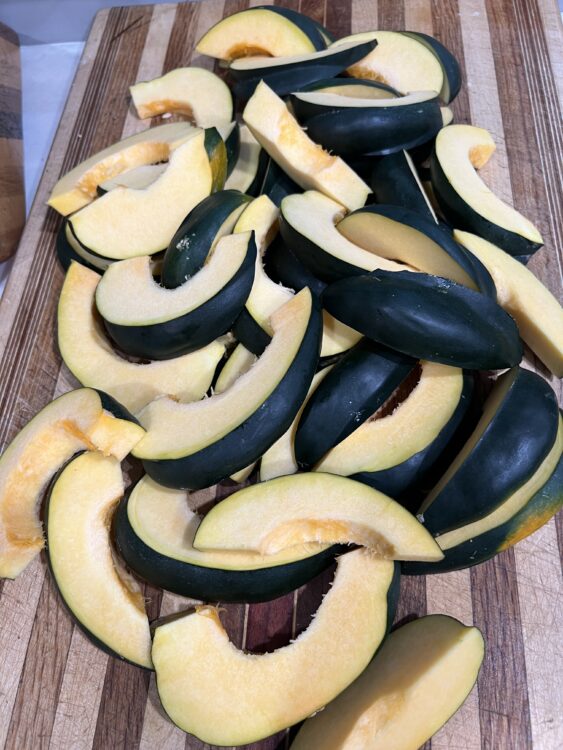 Toss in a bowl with 3 tablespoons of the olive oil, salt, and pepper until fully coated, then transfer to a rack that is set atop a baking sheet, and roast for 15-20 minutes until squash is tender and beginning to brown.
In a small saucepan over medium-low heat, cook the butter until the solids come out and begin to brown. Add the walnuts and a pinch of salt and remove from the heat, stirring continuously to avoid burning the walnuts. Let cool for 5 minutes, then add the rosemary leaves.
In the meantime, drain the liquid from the burrata, and blot the cheese on paper towels to remove any excess moisture.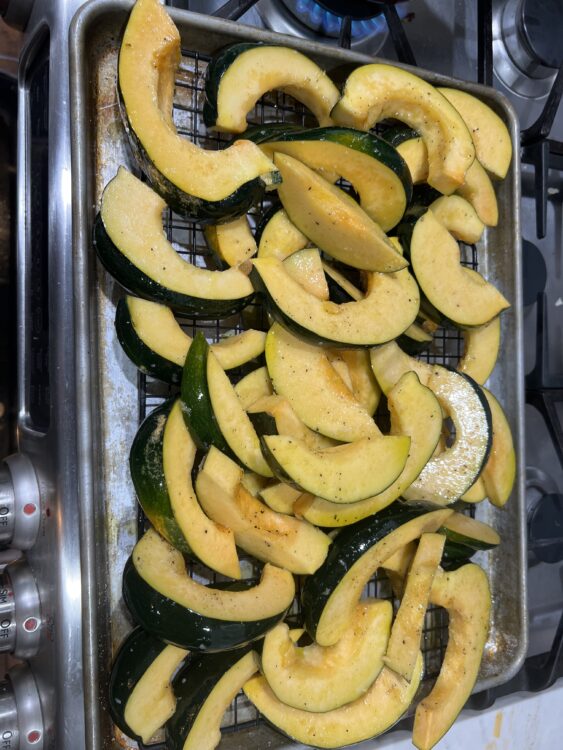 Place the roasted squash on a serving platter, then spoon the butter mixture over the squash and top with the burrata. Season the burrata with salt, freshly cracked pepper, and the remaining tablespoon of olive oil. Drizzle the hot honey evenly over everything, and enjoy this spicy-sweet, hot and cold side dish!
Serves 6-8