a little more "Oscars" popcorn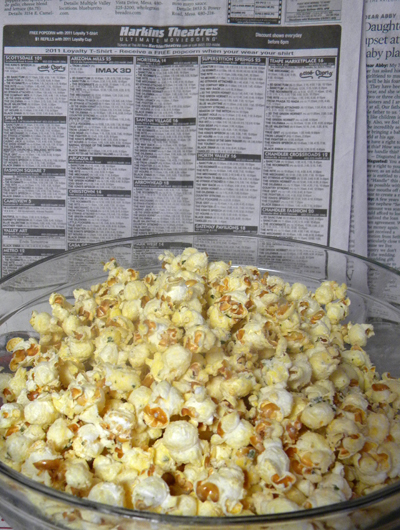 Here is a second "gourmet" popcorn recipe I'm making on the Oscars edition of Valley Dish at the end of the month.

Boursin Garlic and Herb Popcorn
5.2 ounce package Boursin Garlic & Fine Herbs cheese
1 teaspoon very finely minced fresh rosemary
5 ounce bag of popped popcorn*
Salt, to taste
Place the Boursin cheese in a small microwave-safe bowl and heat on high for 1 minute, or until melted and smooth. Stir in the minced rosemary.
Spoon half of the melted cheese mixture into the bottom of a very large bowl. Add one-third of the popcorn and, using your hands, toss to coat well.  Add another third of the popcorn on top of the coated popcorn.  Spoon the remaining melted cheese on top.  Quickly add the remaining one-third of popcorn and toss, with your hands, until all the popcorn is coated with the cheese. Refrigerate any leftover popcorn in a sealed container.
* I prefer Trader Joe's Organic popcorn with olive oil
Makes about 10 cups