84 days till Christmas!
Does that scare you? Yeah, me neither. Because this year is going to be different!
This year, we are going to get ready for the big season early. This year, just like good boy scouts, we are going to be prepared. I'm going to help you get started on that quest. Today I'm going to start you down the path of making awesome homemade gifts of goodness for your loved ones.
It is an easy 3-step process, well maybe a 4-step process if you don't have a cabinet full of booze like I do… and you have to stop at a liquor store to buy the alcohol needed. Please take that into consideration when you map out your steps. Oh, and be sure to read to the bottom, bonus story there for everyone… here we go: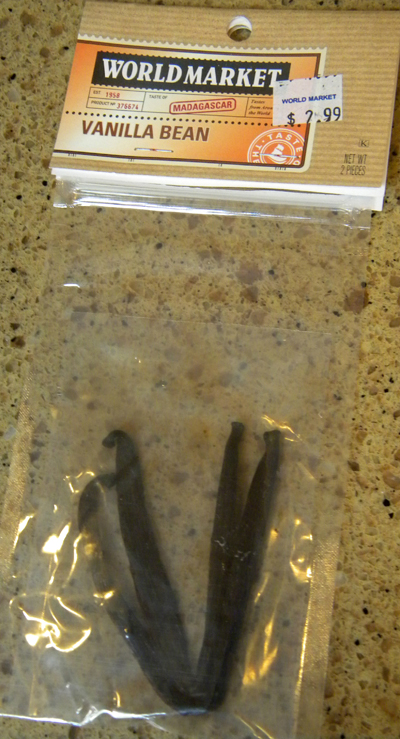 Step 1: Go to Cost Plus World Market and purchase 3 packages of Madagascar vanilla beans (a package of two for $2.99) and 6 cute and decorative little bottles or jars to use for gift-giving, and 6 pretty dish towels for gift wrapping. Each bottle or jar should hold only about 3-ounces of liquid… like I said, cute and little.
Step 2: Come home with your purchases and set those little bottles and dish towels aside, you won't be needing them until Saturday, December 10th. This is what I'm talking about – being prepared! Now make the homemade vanilla extract as instructed below.
Step 3: On Saturday, December 10th it is time to package your little gifts. Using a funnel, divide the homemade vanilla extract evenly between the 6 cute little bottles, and slip one of the soaked vanilla beans into each. Seal and wrap up in the pretty dish towel and tie up with a huge bow and place under your tree to give to the ones you love the most. Maybe include an awesome dessert recipe card that uses real vanilla extract and reminds the loved ones how much you love dessert and how you hope they will love you back by sharing with you.

Homemade Vanilla Extract
6 Madagascar vanilla beans
A 16-ounce airtight sanitized glass bottle or jar (this is NOT one of the little jars you bought, this is one from your cupboard… you know, an empty olive jar or something along those lines… my jar just happens to be super cute!)
2 cups high-proof (at least 80 proof) Bourbon, Rum, or Vodka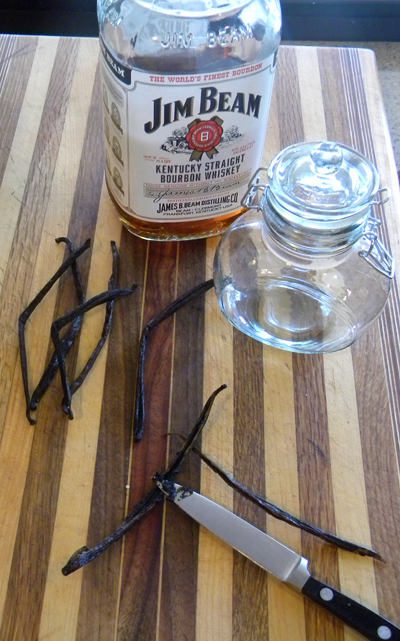 Using a sharp paring knife, split the vanilla beans lengthwise. Place into sanitized bottle or jar. Cover the vanilla beans completely with the alcohol (I prefer bourbon). Tightly cover the jar and shake well. Store in a cool, dark place for 10 weeks. Shake the jar well every week or so.
Hoard all for yourself or divide and give as gifts.
Makes 16-ounces
And for the fun of comparison, a 4-ounce bottle of Nielsen-Massey Pure Madagascar Bourbon Vanilla Extract (which is the best!) costs $13.33 on Amazon.com. You have made six 3-ounce bottles of virtually the same high quality fabulous vanilla extract for so much less and you're giving 6 homemade gifts – The Best! Good job Boy Scouts!
You wanna hear a funny story? Several years ago I made this awesome Christmas ball ornament wreath (just like the one pictured at the top of this page) and gave it to my friend and neighbor, Ronnie, for her birthday… which is just days before Christmas. I mean it was awesome… well, awesome until all the balls started falling off. One after another! Every year, poor Ronnie pulls that damn awesome wreath out of the closet and has to get the glue gun out too… and glue back on all the balls as they drop. The gift that just keeps on giving… that's how I roll! Love you, Ronnie! xoxo