5 ingredients?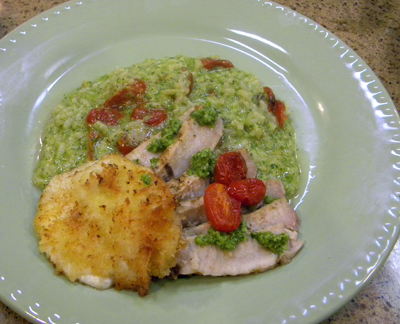 For my upcoming appearance on Valley Dish, I was asked to create a dish out of 5 ingredients which a viewer had suggested. That sounded like fun, and it was, but it wasn't exactly what I would consider 5 ingredients. I was emailed the list from program producer, Cassie, as follows:  Swordfish, Cherry Tomatoes, Risotto, Arugula, and Buffalo Mozzarella. Anyone else see the problem here? The answer – risotto isn't what one would consider an ingredient, but rather a dish that stands alone.
Risotto is a classic Italian dish consisting of rice cooked in broth. The broth is added slowing, so that the rice absorbs it completely, creating a creamy consistency. Parmesan cheese, butter, and onion are the classic additions.
Therefore, rice is the ingredient. Specifically a high-starch, medium to short grain rice. The varieties of choice are Arborio, Baldo, Padano, Roma, Carnaroli, and Vialone Nano. Arborio is the most readily available, while Carnaroli and Vialone Nano are considered the best and not coincidentally the most expensive. Here is the recipe I created and will be making live on Valley Dish (NBC Channel 12) next week. Hope you'll tune in (or TIVO it – as I TIVO absolutely everything I watch) at 3:30 on Tuesday, November 9th.
Pan-Grilled Swordfish atop Arugula Pesto and Roasted Tomato Risotto with Warm Mozzarella Slices
source Roasted Cherry Tomatoes
2 cups cherry or grape tomatoes, halved
2 large garlic cloves, peeled and minced
1 sprig fresh thyme
Olive oil for drizzling
Salt and freshly ground black pepper
enter site Arugula Pesto
4 large garlic cloves, unpeeled
2 cups of packed arugula leaves, stems removed
1/2 cup of walnuts, toasted
1/2 cup shredded Parmesan cheese
1/2 cup olive oil
Salt and freshly ground black pepper
http://cinziamazzamakeup.com/?x=farmacia-online-viagra-generico-25-mg-a-Napoli Risotto
2 tablespoons unsalted butter
1 large shallot, peeled and diced
1 cup Arborio rice
1/3 cup dry white wine
4 cups chicken broth, warmed in a saucepan
1/2 cup freshly shredded Parmesan
Salt and freshly ground black pepper
levitra 20mg information Pan-Grilled Swordfish
1  1/2 to 2 pounds swordfish steaks
2 tablespoons fresh lemon juice
Olive oil
2 teaspoons dried thyme leaves
Salt and freshly ground black pepper
viagra free sample Warm Buffalo Mozzarella
Four 1/2-inch thick slices buffalo mozzarella
1/4 cup flour
1 egg, well beaten in a flat bowl
2/3 cup Panko breadcrumbs
1 tablespoon unsalted butter
1 tablespoon olive oil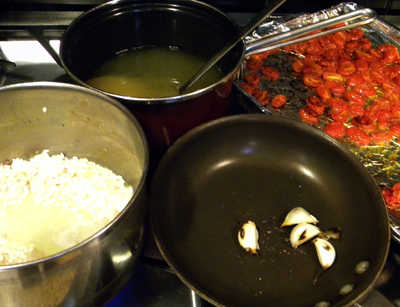 http://cinziamazzamakeup.com/?x=quanto-costa-il-vardenafil-originale-in-italia Roasted Tomatoes: Preheat oven to 400 degrees. Line a rimmed baking sheet with foil. Place tomato halves, cut sides up, in 1 layer on baking sheet. Add garlic and thyme sprig to baking sheet, drizzle with olive oil and sprinkle lightly with salt and pepper. Place on middle rack of preheated oven and roast until tomatoes are slightly browned, about 25 minutes. Discard thyme sprig and set aside.
get link Pesto: Cook the unpeeled garlic cloves in a small dry skillet over medium high heat until the garlic is lightly browned in spots, about 8 minutes. Remove the garlic from the pan, cool, and then remove the skins.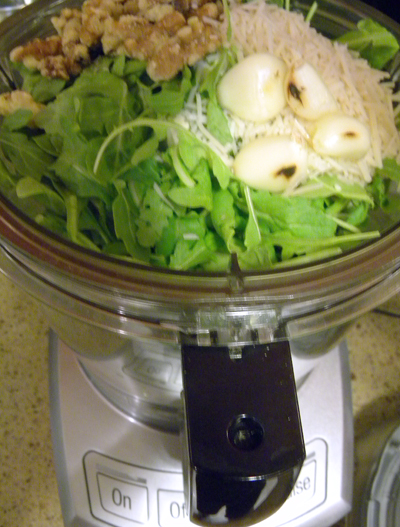 Combine the arugula, walnuts, Parmesan, and garlic into a food processor. Pulse while adding the olive oil through the feed tube in a slow and steady stream. Set aside.
how to buy cheap free cialis Risotto: In large saucepan, melt the butter over medium-high heat. Add shallots and sauté until soft and translucent. Add rice and stir, coating rice with butter. Add wine and simmer until wine is cooked off, about 2 minutes. Add 1/2 cup of the warm chicken broth, and stir occasionally. When the broth is almost completely absorbed, add another 1/2 cup broth. Repeat, stirring ocasionally, until all the broth is absorbed.
Stir in Parmesan, then fold in the all but 1/4 cup of the arugula pesto and all but 12 of the roasted tomato halves (set aside the reserved portions for garnish). Taste risotto and season with salt and pepper, if needed.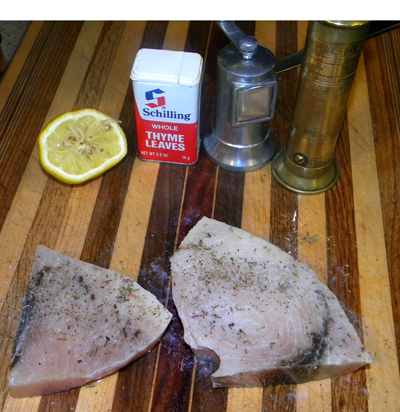 see url Swordfish: Preheat a grill pan over high-heat on stovetop. Lightly brush both sides of swordfish with lemon juice, then with olive oil.  Sprinkle evenly with thyme, then season lightly with salt and pepper. Pan-grill the fish until it is just cooked through about 7 to 8 minutes. Slice against the grain.
http://cinziamazzamakeup.com/?x=levitra-generico-20-mg-durata-effetto Mozzarella: Immediately before ready to serve; dredge the mozzarella slices in the flour, then dip in the beaten egg. Coat slices well with the Panko and place on a plate. Heat a large skillet over medium-high; add butter and olive oil.  Once butter is just melted, add coated cheese slices and lightly brown on both sides.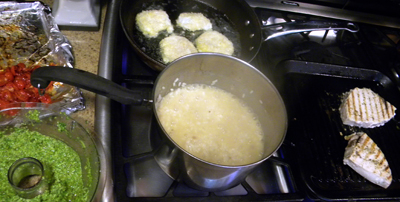 To serve: Place a mound of risotto in the center of four dinner plates. Fan out the swordfish slices atop risotto, dividing evenly between the four plates. Drizzle with the reserved 1/4 cup pesto and top each with 3 roasted tomato halves. Lay one warm mozzarella cheese slice on the side of each risotto mound and serve immediately.
Serves 4