fajita sandwiches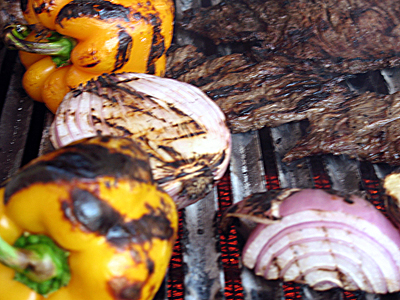 I promised myself that I would post before 10 PM today, and it's a promise I am keeping! I need sleep! I have been obsessed, which is what happens when I get into something new. If I love a book, I don't put it down until it's finished.
For example- a few summers ago, when the 5th Harry Potter book was released on a Friday morning, I bought two copies (well, we always buy 2 copies, one for each of my kids' libraries). One copy went with Dave and the kids on a plane that afternoon back to Illinois to see his family. The other was with me, in bed, which I read straight through, no eating, no sleeping, no anything (except toilet breaks!) until the book was finished. Mind you this is an 800+ page book.
Then on Saturday morning, when I'd finished it, I got dressed and shopped for that next week's classes, came home, and went to bed until the next morning. But that's how it is and that's how it's been with these posts too. I'm going to have to get on a more daylight schedule! Most of today's daylight has been spent putting up links to sites I wanted to share with you. Most are cooking sites or blogs, and some of the others are friends' sites. Then there are sites that are just filled with lovely and artistic photos, many Paris inspired!
Like this gorgeous photo (I have died and gone to heaven!) from The Paris Apartment! So check them out and enjoy! The following recipe was partially inspired by a sandwich I had this summer in California. It was with grilled chicken and had a tasty and unique corn-onion mayonnaise. I haven't been able to get that mayo out of my mind since, and every now and then when friends ask things like "is mayo gluten-free" or "how do I make my own" I end up thinking back to it. I picked up skirt steak with the intention of making fajitas but then found in the newly arrived Sept issue of Bon Appetit a sandwich recipe using…Grilled Corn Mayonnaise! Funny how things like this show up in different places around the same time… so now here is my version…
Fajita Sandwiches with Caramelized Corn-Onion Mayonnaise
Marinade
1/2 cup balsamic vinegar
1/4 cup olive oil
2 tablespoons Worcestershire sauce
2 garlic cloves, peeled
1 shallot, peeled, root cut off and halved
1 tablespoon freshly ground cumin seed
1 teaspoon each; cayenne pepper, kosher
salt, and freshly ground black pepper
2 pounds skirt steak
1 cup frozen petite corn kernels, thawed
1 tablespoon olive oil
1/2 cup peeled and diced red onion
3/4 cup mayonnaise
2 tablespoons white balsamic vinegar
1 tablespoon chopped fresh cilantro
1 tablespoon chopped fresh basil
1 small garlic clove, peeled and minced
1 teaspoon freshly ground cumin seed

Olive oil
4 demi-baguettes, sliced in half
horizontally, and partially hollowed out
2 red, yellow, or orange bell peppers
1 large red onion, peeled and cut in half
Place all nine marinade ingredients in a blender and process until smooth. Pour into a gallon-size zip-lock bag, add the skirt steak, seal the bag and refrigerate for 1 hour. Bring to room temperature before grilling.
Meanwhile, heat a large nonstick skillet over medium-high heat. Add corn; stir until beginning to dry and brown, about 6-7 minutes. Transfer to a small bowl. Add the tablespoon of oil to the skillet. Heat over medium-high heat. Add onion, and sauté until the onion is tender and begins to brown, about 12 minutes. Add onion to the corn in a bowl and season with salt and pepper. Whisk mayonnaise, white balsamic, cilantro, basil, garlic, and cumin in a medium bowl. When the corn-onion mixture is cool, add to mayonnaise, season with salt and pepper then refrigerate until ready to serve.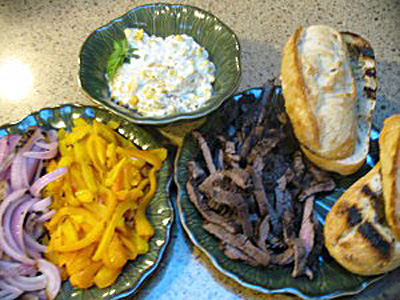 Preheat grill to medium-high. Remove steak from marinade, discard liquid, and pat steaks so they are not dripping in the marinade. Brush inside of the bread, bell peppers, and onion halves with olive oil. Sprinkle with salt and pepper. Place peppers, onion, and steak on barbecue grates and grill until steaks are cooked to medium-rare, about 3 minutes per side. Remove from grill and allow steaks to rest. Grill peppers and onions until charred, about 8 minutes. Place vegetables in a plastic bag and seal to allow them to steam. When cool enough to handle, peel and seed the peppers, then cut peppers and onions into thin strips.
Grill bread; cut side down, until warmed and browned or very lightly charred about 1 minute. Cut steaks diagonally against the grain into 1/3- to 1/2-inch-thick strips.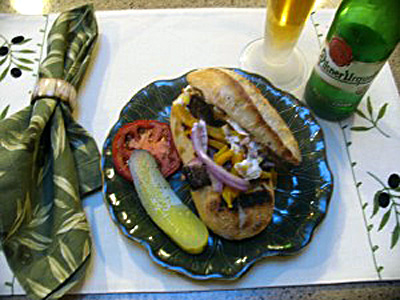 Spread a spoonful of mayo on the bottom halves of the bread, and arrange steak slices, peppers, and onions on top. Spoon additional mayonnaise on the top slice and press the sandwiches together.
Serves 4