muy delicioso!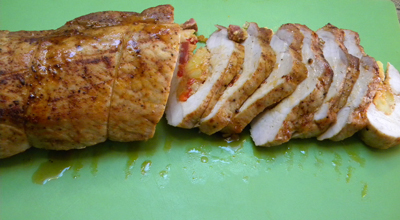 I've taken four of my favorite Spanish ingredients and stuffed them into a pork loin, creating a perfect Sunday supper. I believe you could take Spanish dry-cured chorizo, piquillo pepper, Marcona almonds, and smoked paprika and make just about anything more wonderful than it was before!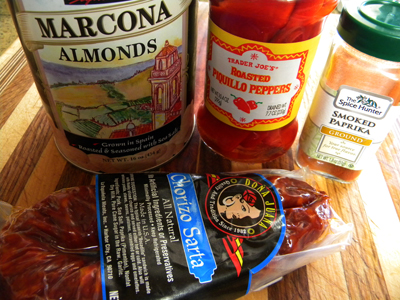 Spanish Stuffed Pork Loin
1/2 pound Yukon Gold potatoes, peeled and cut into 1/2-inch cubes
1 tablespoon salt
4 ounces Spanish (not Mexican) dry-cured chorizo, diced
5 jarred roasted piquillo peppers, diced
1/3 cup Marcona almonds, coarsely ground in a food processor
1 tablespoon smoked paprika, divided
Freshly ground black pepper
2 tablespoons olive oil
3-pound boneless pork loin
Stuffing: Place the potato cubes in a medium saucepan and cover with cold water. Add salt and boil until potatoes are just tender and able to be pierced easily with a paring knife. Drain and place in a medium bowl.  Add chorizo, peppers, ground almonds, and 1/2 of the smoked paprika.  Toss until well combined. Season to taste with black pepper.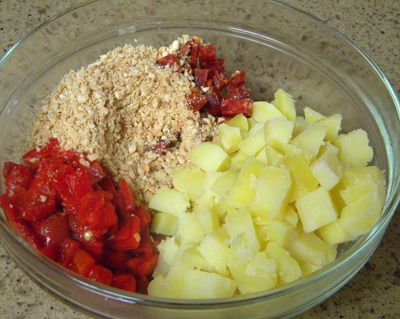 Place the remaining 1/2 tablespoon smoked paprika in a small bowl, add olive oil; stir and set aside.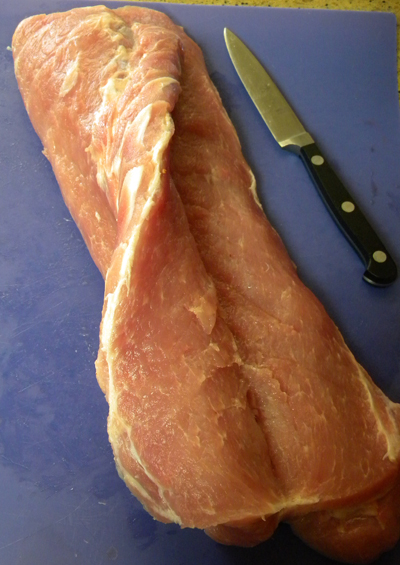 Place pork loin on a work surface. Starting at the top, make a lengthwise incision down the center of the loin, cutting two-thirds of the way through the thickness of the meat (be careful not to cut all the way through). Open loin like you would open a book. Turning the knife horizontally, cut tenderloin open on either side like the flaps of a book jacket, being careful not to cut all the way through.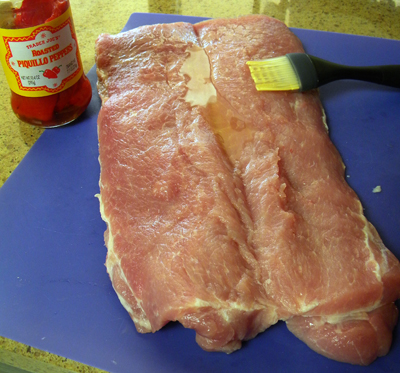 Pour 2 tablespoons of the liquid that the piquillo peppers are packed in and pour onto the cut side of the pork, spread with a brush. Mound the stuffing evenly over meat from the center cut to the edge closest to you, leaving a 1-inch border.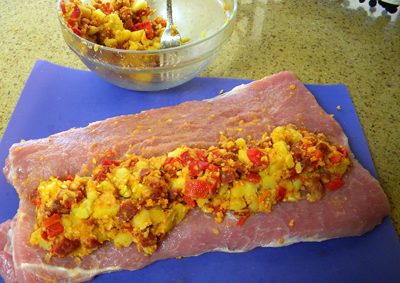 Fold over the top half and press to seal. (You will have about a third of the filling leftover. It is delicious, mixed into scrambled eggs for breakfast, or as a pizza topping for another meal.)
Using kitchen string, tie at 1- to 1 1/2-inch interval. Transfer pork to a rack on a foil-lined baking sheet.  Brush with the reserved paprika oil.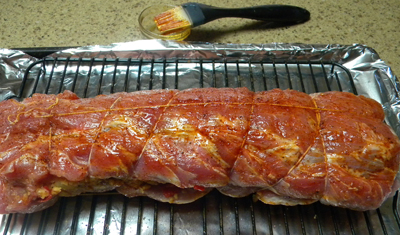 Let pork stand at room temperature for 20 minutes before roasting. While pork comes to room temperature, put the oven rack in the middle position and preheat the oven to 450 degrees.
Roast pork for 25 minutes, then reduce oven temperature to 325 degrees. and continue to roast until the thermometer inserted diagonally into the center of the meat registers 135 degrees, about 30 to 40 minutes. Transfer pork to a cutting board, tent loosely with foil and let stand 10 minutes before slicing.
Serves 8