Eggnog Elegance

If you like cheesecake and you like eggnog, you will L-O-V-E this dessert. And if you think drinking eggs is the most disgusting thing imaginable, so you can't stomach even the thought of eggnog, you'll still love this dessert! The eggs are cooked and this just screams Christmas – so rich and sweet and all nutmeg-y. The miniature cakes make not only a sweet little presentation but the perfect bite-size for a holiday dessert buffet or the just-right pop of sweetness after a big Christmas dinner.  You can purchase the mini-molds HERE.

Mini Eggnog Cheesecakes
Crust
6 whole cinnamon graham crackers, broken into pieces
1/2 cup hazelnuts, toasted and skinned
2 tablespoons brown sugar
1/4 cup (1/2 stick) unsalted butter, melted
2 tablespoons Frangelico (hazelnut liqueur) or Amaretto (almond liqueur)

Filling
24 ounces (3 packages) cream cheese, room temperature
3/4 cup sugar
1/3 cup half and half
1/3 cup heavy cream
2 teaspoons vanilla paste or extract
3 eggs
2 egg yolks
2 tablespoons dark rum
2 tablespoon Cognac
Freshly grated nutmeg
36 whole hazelnuts, for garnish
Crust: Place a large sheet of foil on the lower rack of the oven to catch drips. Preheat the oven to 350 degrees.
Finely grind graham crackers, hazelnuts, and brown sugar in a food processor. Add butter and liqueur and process until crumbs are evenly moistened. Press crumb mixture firmly onto the bottoms of mini-cheesecake molds. Bake for 10 minutes. Cool completely on a rack before filling. Reduce oven temperature to 300 degrees.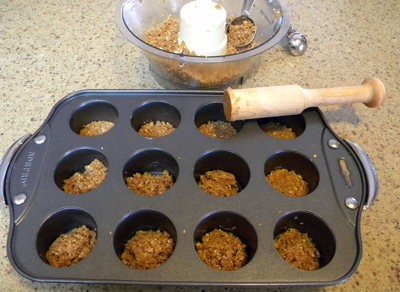 Filling: In the bowl of a standing mixer use the paddle attachment to beat the cream cheese and sugar until fluffy. Add the half and half, cream, and vanilla paste; mix until well combined. On the lowest mixer speed, add the eggs and egg yolk, one at a time, mixing until just combined. Do not overmix. Stir in the rum and Cognac. Pour mixture into a large measuring cup (with a pour spout) and fill cheesecake molds, pouring over baked crusts to about 3/4 full.
Bake for 23 to 26 minutes, or until the center of each cake is firm. Cool in pans at room temperature and then cover with plastic wrap and chill for at least 2 hours before pushing out of molds. Top each cheesecake with a hazelnut.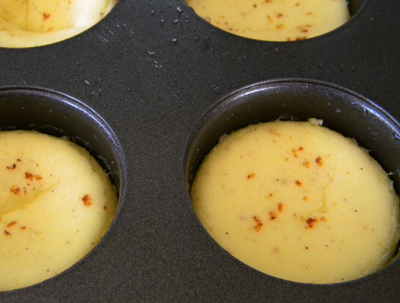 Makes 36 mini cheesecakes
(or one 9-inch cheesecake, baked for 55 to 60 minutes)