wedding weekend – Thursday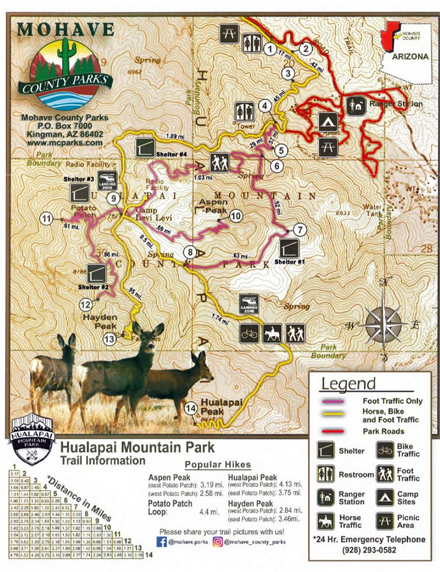 Yesterday, I gave you a lay of the land for the wedding weekend in Hualapai Mountain Park. I failed to mention that this all took place over Mother's Day weekend and that the Hualapai Mountains are just outside Kingman, AZ., in the northwest corner of our beautiful state.
And see those deer in the corner of the map above?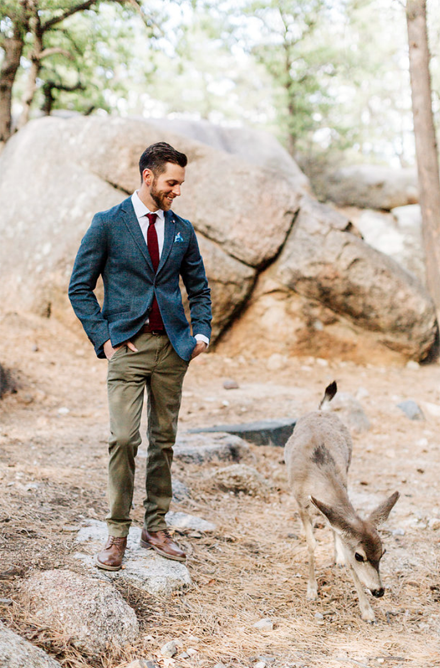 Photo courtesy of griffithimaging.com
Yeah, they are there because the deer are so tame in the park, that they eat out of your hand, walk into kitchens, and pose in wedding photos.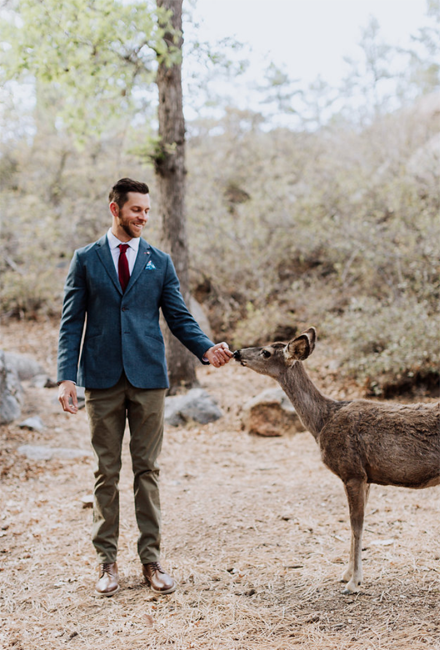 Photo courtesy of griffithimaging.com
As you can see above, that is the handsome groom, Cody, trying to have his wedding photos taken but was interrupted by a curious little deer.  It's lovely when something spontaneous happens that can create a really beautiful image. In this instance, it's obvious that the deer didn't want to be upstaged. Speaking of deer, I too, had a fun encounter with a herd of them… but we'll get to that tomorrow.
First, I want to tell you about the brilliant and life-saving idea my friend and mother of the groom, Kim Howard, had.
A few weeks before the wedding, Kim realized that we had much more food to bring up than we could ever fit into coolers.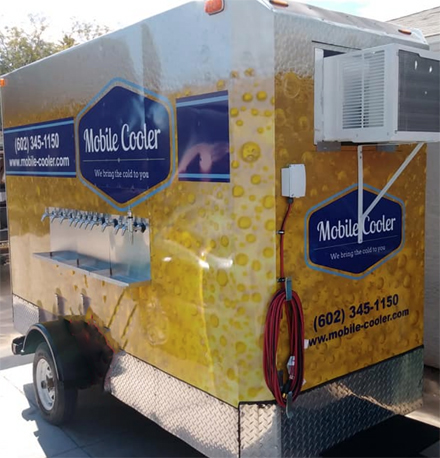 She found the perfect one at Mobile Cooler. I honestly don't know what we would have done without this thing! As you can see, it can be used for beer kegs, but we just used it as a mobile refrigerator.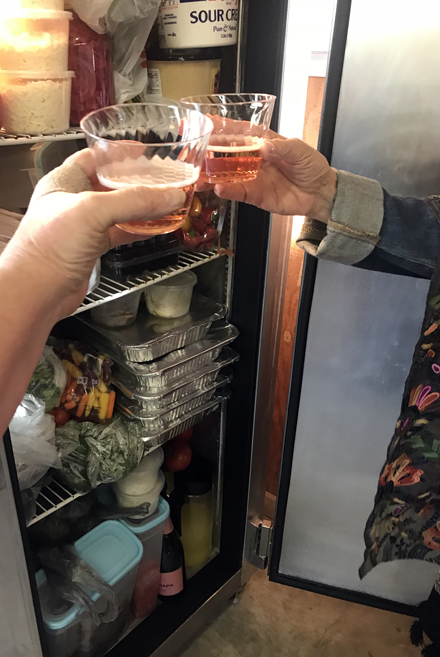 The refrigerator in the Rec. 2 kitchen would not have held a tenth of the food we brought up. In fact, this photo shows us toasting after my first full day of cooking and as you can see, items are nearly falling out… this is nothing compared to what was still in the refrigerated trailer at this point.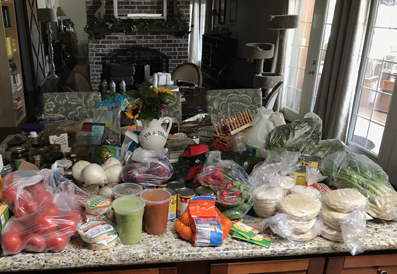 Here is a photo I sent to Kim on the Wednesday before we left. It is my kitchen island after unpacking the goods I bought at Food City. I also shopped at Costco, Safeway, Fry's, Trader Joe's, A.J's, and Smart & Final. I didn't begin shopping for perishables until after the trailer arrived, because I didn't have room in my two refrigerators for it all.
Kim really did save the day. Actually, she saved the weekend!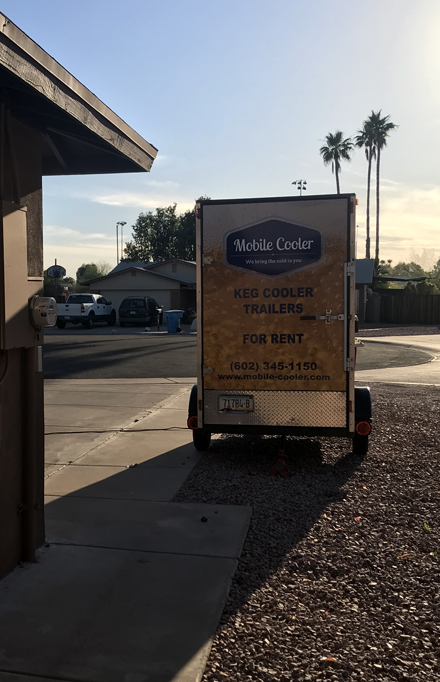 The trailer was delivered to my driveway on Tuesday evening. I plugged it in and it was chilled to the perfect temperature in less than an hour. I began filling it up on Wednesday morning and we had it filled and ready to hitch up to Kim and Paul's mid-size SUV on Thursday morning.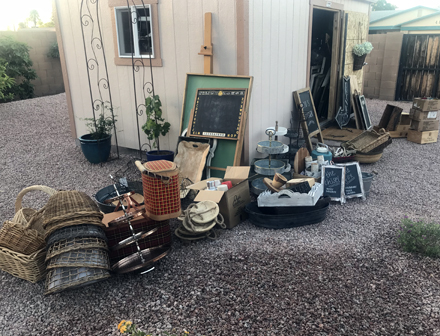 Cody enlisted the help of one of his employees, Eloy, to help get everything up to the site, unload it all and then reload and bring it all home on Sunday. Eloy was the first to arrive at my house on Thursday morning. He had his truck and an open flatbed trailer. He filled both to the brim with the majority of my patio furniture, 20 folding chairs, two 60-inch round, two 6-foot folding tables, an 8-foot folding table, card tables, etc. along with quite a bit of goodies from Miscellany Shed. The photo above shows some of the decor/serving items that went back into the shed on the Monday after the wedding.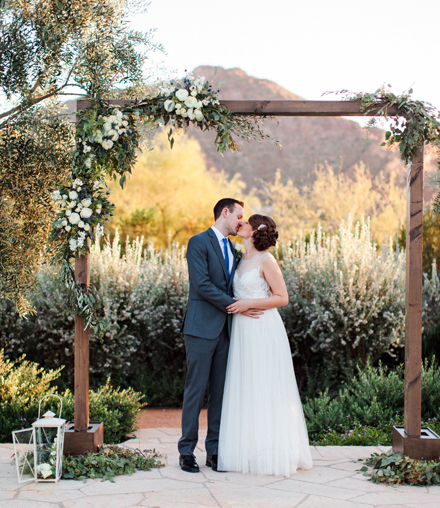 Photo courtesy of Pinkerton Photography
Cody and Chante arrived next with their truck and open flatbed trailer that was overflowing with furniture of their own, plus more wedding necessities and the wedding arch. It is the same arch I had made for Marissa and Jeff's wedding in 2015, as seen above.
Eloy and Cody were on their way at about the same time that Paul and Kim arrived. We loaded up their food (for Sunday breakfast the Howard men were going to be hosting) and hitched up the refrigerated trailer to their fully-loaded car and they were on their way.
I must mention that my car, an Acura MDX that has a ton of cargo space, was stuffed to the gills as well. I had 6 large chafing dishes, serving trays and bowls, serving flatware, pots, pans, Vitamix blender, Cuisinart, cooking utensils, etc. Heck, instead of listing it all, here is a screenshot of a partial list I had made up over the many weeks leading up to the wedding. I added to it daily as things popped into my brain.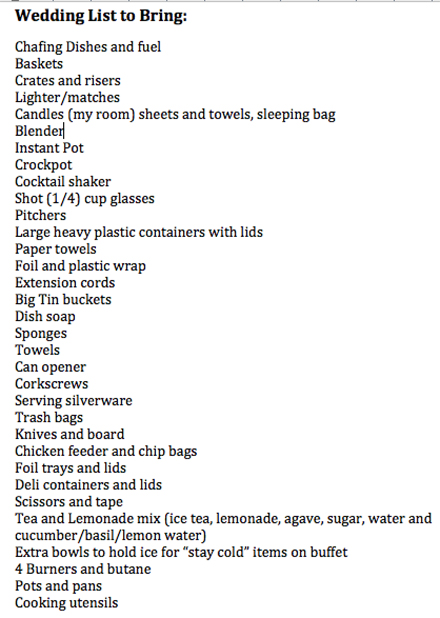 Anyhow, after everyone left, I stayed behind to take a quick shower since I was staying in a "camping cabin" that did not have its own toilet or shower. I wasn't keen on the idea of a public shower. And since it was a cool weekend in the high country, I knew that sponge baths would be just fine and dandy for me.
I thought I'd catch up to everyone in no time since they were all pulling trailers and I was not. Plus, I'm known to have a lead foot. But no! It took me about 2 1/2 hours of the 3-hour drive to catch up to Paul and Kim. I did pass Cody and Chante a little before that, but only because they had pulled over for a bite to eat. None of us ever saw Eloy. It turns out he got a little lost and didn't arrive until about an hour after the rest of us.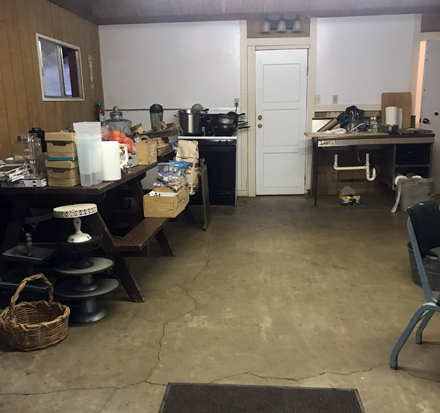 Paul, Kim, and I unloaded into the Rec. 2 kitchen and then drove our cars to our respective cabins and finished unloading there. At about the same time, Cody and Chante arrived and we all unloaded their truck and trailer.
Eloy finally found his way and the guys took care of unloading his truck and trailer. By now a few of the early-bird family members were beginning to check-in. We all got cleaned up and went about a mile down the road to the Hualapai Mountain Resort for dinner.
That was the end of Day 1. The real fun begins on Friday, Day 2. I will get to that tomorrow.