I love this so much!… and this too!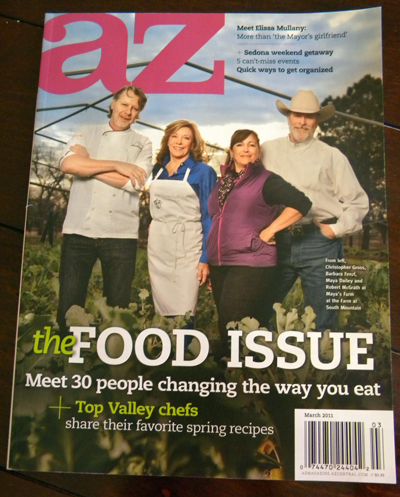 OK, I found the most wonderful thing while surfing through food blogs yesterday. Hey, don't judge – I was specifically instructed, by my doctor, to stay in bed all weekend. Which, of course, I did not do, but a little surfing is kinda like staying in bed.
So why the bed rest? As you know I was up in Flagstaff two weekends ago taking care of my sick boy. A word to the wise – if you spend 60+ hours cooped up in a hotel room with a really sick person, you will probably get sick! I honestly didn't think it would happen, I've taken care of my sick children for the past 23 years and never have gotten sick myself. But taking care of your sick kid while living in a big house and taking care of your sick kid in a small hotel room – completely different!
I came home with a sore throat. That developed into bronchitis (mild- thankfully) and a wicked ear infection, laryngitis, and possibly pneumonia.
When it comes to pneumonia, I'm still hoping that I don't have it. I am still waiting for the x-ray results. One lung looked cloudy, but I really don't believe I have pneumonia because I have had it twice before in my life, and I know that pain. I do not have that sort of pain now.
Wowser, that was a lot of excuse-making and explaining why I was wasting time surfing the web! Point is, it wasn't a waste at all, I found something I just adore. Check this out!!!
Isn't that the greatest thing ever? What would you think if I did something like that? I know it would be totally stealing someone's fabulous idea, but I just love it too much to let it go. There is a downside, my least favorite part of doing this blog is the photos. Taking them, correcting them (and they always need help!) in Photoshop, and then downloading them into the posts. But maybe if it was something as creative and wonderful as that… let me know what you think! The other thing I am really loving is this…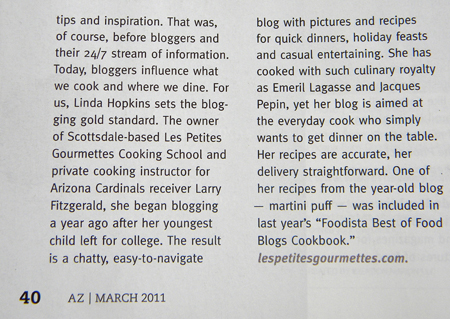 I am so excited and so very honored to be included in the March issue of AZ Magazine, as one of the "30 People Changing the Way You Eat!" To be included with such icons as my own mentor and cover-girl, Barbara Fenzl; plus the likes of Dr. Andrew Weil, Sam Fox, Vincent Guerithault, and Robert McGrath… well, it's just the most wonderful thing!
I want to thank my very sweet neighbor and loyal blog follower, Lisa James, for giving me my first copy of the magazine before it was available in stores. You can pick up a copy at any A.J.'s Market and select Fry's.