banana peels and egg shells
I am trying to avoid the aroma that is currently flowing from my kitchen and filling the entire house… baked sweetness. So instead I shall write about something else that may not seem so sweet at first but truly is… compost.
Some thirteen or fourteen years ago I began composting. I would love to say that I am an avid composter, but honestly, I'm more of a sporadic composter. It all began when I spotted an article in the newspaper stating that the City of Phoenix was recycling old worn-out trash cans into compost bins and all you needed to do was call and they would gladly deliver one to your home … free! I was into gardening so the idea of composting appealed to me and the word "free" – of course, was all it took. The next day a city truck arrived and dropped off my new bin. What they had done was cut off the bottom of the large rubber trash can, cut large holes all around the sides of the can, and take off the hinged lid, leaving an opening where the hinge had been – voila, a compost bin was born.
I was hooked, I immediately began saving kitchen scraps (nitrogen) and adding those, along with dry yard trimmings (carbon), to the bin. I watered my bin and turned the contents with a long-handled 5-tine cultivator a couple of times each week, and in no time my scraps and clippings turned into dark rich dirt – this was (and still is) pure magic to a city girl!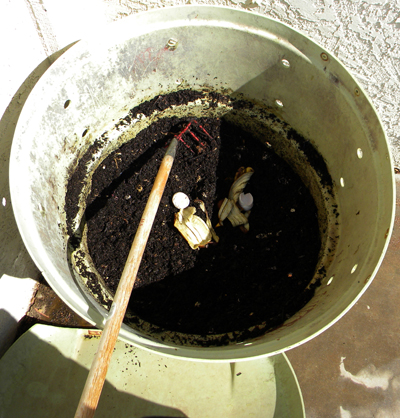 As I said, over the years I have been rather sporadic about composting, but I'm back on track. This summer, all the kitchen scraps from every single kids' class were added to the bin. There were at least two large mixing bowls of eggshells, fruit peelings, vegetable trimmings, tea bags, coffee grounds, and such each day. The difficult part was keeping up the carbon half of the equation. You see you need a balance of nitrogen (produced by kitchen scraps and wet yard trimmings- such as grass clippings) and the carbon (produced by wood ash, shredded paper, newspaper, and dry yard trimmings- such as fallen leaves). That balance should be about one-third nitrogen to two-thirds carbon. In the summer, I don't have many dry leaves or wood ash (usually arrived at by cleaning out the fireplaces) so to get enough carbon, I will tear up newspaper and use the paper shredder on all that annoying junk mail (avoid glossy and colored circulars). When all else fails, I'll purchase a small bag of organic compost from the hardware store or nursery and mix that in as well.
So, what's the point of composting? So, if you cook… and garden, why aren't you composting already? You will divert at least 30% of your household waste from the trash can and landfills. However, some waste materials, admittedly, cannot be composted and must be disposed of by hiring cheap skip bins sydney. But, for those that can be useful in your garden, why not put them to better use? Plus compost is a natural alternative to chemical fertilizers and it helps retain moisture in the soil. It is a wonderful and natural project for you to begin with your kids… "circle of life" sort of thing. And, it's fun and rewarding, really it is! Here is a great website to visit if you have even the slightest bit of interest in learning more and becoming a composter too.
That is the end of my Reduce Reuse Recycle lecture for today… now on to that aroma wafting through the house that is still trying to lure me back to the kitchen… a cooling loaf of banana bread.
You may notice that this banana bread has no butter or shortening, the Nutella fills in for that. I also prefer to use a longer bread loaf pan. The baked loaf looks prettier and produces nicer-sized pieces, plus it bakes a bit more quickly. I left the banana peels and eggshells in the pictures to remind me that this particular post is about composting, not banana bread. A hard thing to keep in mind when this bread is so moist and rich and is more like a cake than bread. That is why I decided to top it with vanilla bean ice cream. Enjoy!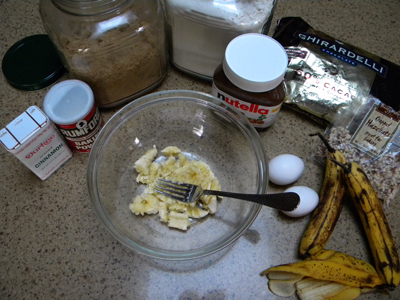 Chocolate-Hazelnut Banana Bread
3 very ripe bananas
1/3 cup Nutella (chocolate-hazelnut spread)
2 eggs
1 cup packed brown sugar
1 1/2 cups flour
1 teaspoon baking powder
1 teaspoon ground cinnamon
1 cup chocolate chips, divided
2/3 cup hazelnuts, toasted, peeled, and chopped
1 tablespoon turbinado sugar (such as Sugar In The Raw)
Real Vanilla Bean Ice Cream, garnish
Preheat the oven to 375 degrees. Grease either a standard 9 x 5-inch or a longer 12 x 4-inch loaf pan. In a large bowl mash the peeled bananas with the Nutella. Stir in the eggs until well combined, then mix in the brown sugar.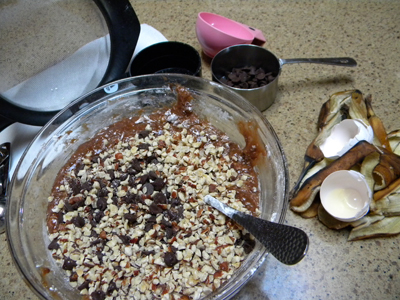 Sift in the flour, baking powder, and cinnamon. Mix until just combined and then stir in 2/3 cup of the chocolate chips and the hazelnuts.
Pour into the prepared loaf pan and sprinkle with the remaining 1/3 cup chocolate chips and then sprinkle on the turbinado sugar.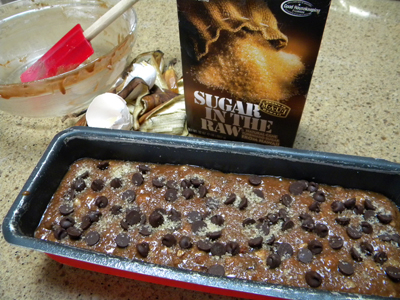 Bake the standard 8 1/2 x 4 1/2-inch pan for 45-50 minutes or the longer 13 x 4 1/2-inch loaf pan for 35 – 40 minutes, or until a toothpick that is inserted into the center comes out clean and the loaf is golden. Remove to a cooling rack and cool in the pan for 15 minutes.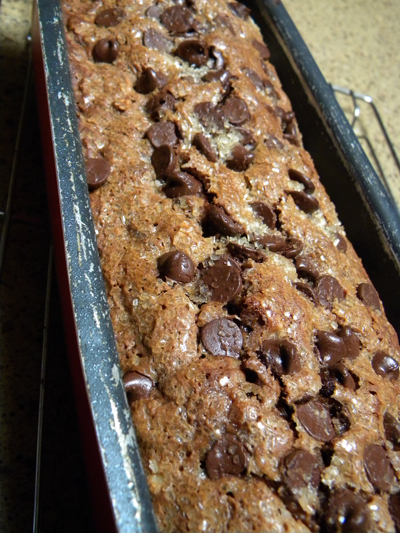 Serve warm straight from the pan or remove bread from the pan, place on the rack, and cool for at least another 30 minutes before slicing. To serve as a dessert; slice, toast, and top with a scoop of vanilla bean ice cream.
Makes 1 loaf