squash soup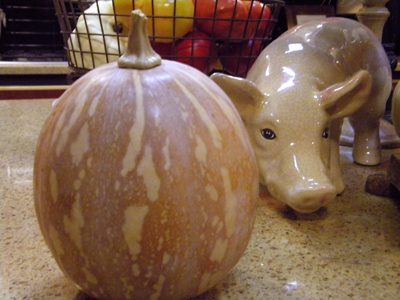 I found this lovely orange Kuri squash at the Phoenix Public Market in downtown Phoenix. It was almost too pretty to use, but I finally caved and made it into an equally lovely soup. Any winter squash will work just as well; butternut, pumpkin, acorn, whatever you find or have on hand.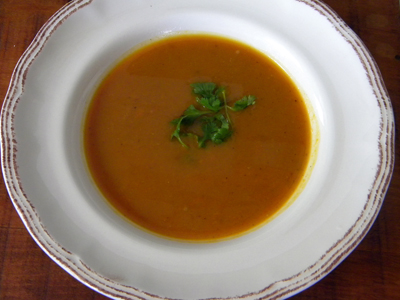 Fall Spiced Orange Kuri Squash & Apple Soup
1 large orange or red Kuri squash
Olive oil
Salt and freshly ground black pepper
2 cups chicken broth
2 cups apple juice
1 tablespoon honey
1/4 teaspoon ground cinnamon
1/4  teaspoon ground ginger
1/4  teaspoon ground allspice
1/4  teaspoon freshly ground nutmeg
1/8 teaspoon red pepper flakes
Cilantro leaves, for garnish

Preheat oven to 425 degrees. Cut the squash in half and use a spoon to pull out the seeds and strings. Cut each half into 4 or 5 chunks.
Rub the flesh with olive oil to coat lightly. Sprinkle generously with salt and pepper.
Roast the squash flesh-side down until soft, about 45 minutes.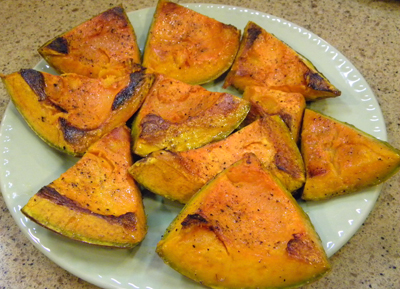 Remove from the oven and let sit until cool enough to handle. Scoop out the flesh with a spoon. Discard the peel. You should have about 3 cups of squash.
Place the squash into the bowl of a food processor, and puree until smooth.
In a large pot, combine the pureed squash, broth, apple juice, honey, and spices. Whisk to combine.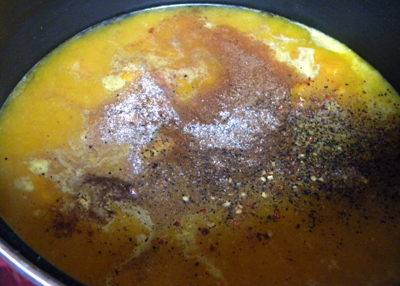 Gently simmer the soup for about 10-15 minutes, until slightly reduced but not too thick. Season to taste with salt. Keep warm over low heat. If soup becomes too thick, thin with additional apple juice.
Ladle into soup bowls and garnish with sprigs of cilantro.
Serves 4 to 6