cheese crisp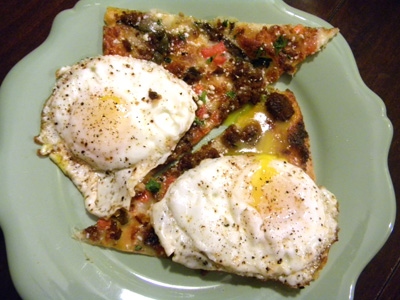 This evening I was helping set up for the Key To The Cure event that is tomorrow morning. My friend and neighbor, Ronnie, and I rode together and afterward stopped for a little something to eat and drink on the way home.  We went to Blanco, a fun "taco & tequila" restaurant, here in Scottsdale, which is another in the wonderful line of Fox Restaurant Concepts, YUM!
I brought home a "doggie bag" with a couple of wedges of leftover cheese crisp and made it into dinner for Dave by topping it with two fried eggs.  I love cheese crisps, as you can see here, they are so easy and versatile. Honestly, they can be breakfast, lunch, snack, or even dinner!  And they can be as simple as a tortilla topped with good old cheddar cheese or dressed up as this one is with fun Mexican and Spanish cheeses and a variety of toppings.  All these cheeses are white and I think it makes for a prettier and more interesting crisp!

Asadero is a semi-firm Mexican cheese that is great for melting; it becomes creamy without giving off any oil, even at very high temperatures. It has a light, fresh, and slightly tangy taste. Manchego is a Spanish sheep's milk cheese; its flavor is very distinctive, slightly salty but not too strong. It is creamy and tastes similar to feta cheese. Oaxaca cheese is a white, semi-hard cheese of Mexican origin, similar to Monterey Jack cheese but with a mozzarella-like texture.
If you need instruction or a reminder on how to roast the poblano pepper, go to "Roasting Peppers" in the Tip Index.
Chorizo, Roasted Poblano & Cilantro Cheese Crisp
2 ounces grated asadero cheese
2 ounces grated manchego cheese
2 ounces grated Oaxaca cheese
1/2 pound chorizo sausage
2 tablespoons vegetable oil, divided
2 large flour tortillas
1 poblano pepper, roasted, peeled, seeded, and thinly sliced
1 large ripe tomato, diced
1/2 cup coarsely chopped fresh cilantro
8 fried or poached eggs
Mix together asadero, manchego, and Oaxaca cheeses in a small bowl.  Preheat the oven to 350 degrees.  Cover a baking sheet with foil and set aside.
Crumble chorizo sausage in a large skillet, stir over medium-high heat, breaking up, until cooked through and browned.  Remove to paper towels with a slotted spoon to drain.  Pour off all fat and wipe the skillet clean with a paper towel.  Return the skillet to the burner and add 1 tablespoon of oil, when hot fry one of the tortillas on each side until golden brown.  Drain well on paper towels.  Repeat with the remaining tablespoon of oil and tortilla. Allow tortillas to cool.
Place crisp tortillas on a foil-covered baking sheet.  Sprinkle each with the cheese mixture. Top each with chorizo, pepper strips, diced tomato, and cilantro.  Bake in preheated oven for 5 minutes or just until cheese is completely melted.  Remove from the oven and use a pizza cutter or large knife to cut into 8 wedges.
Place two wedges on each plate and top each wedge with a fried or poached egg.  Serve immediately.
Serves 4