TX State Capitol
follow url by Linda Hopkins
go On Sunday in Austin, I did something I've done on my last three visits and something I've never done before.
http://maientertainmentlaw.com/?search=viagra-super-active-us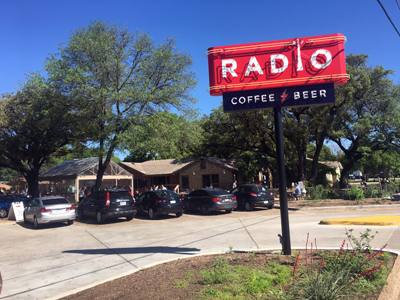 http://cinziamazzamakeup.com/?x=viagra-generico-prezzo-2017 The first outing of the day was our traditional pilgrimage to Radio Coffee & Beer. It is just down the road from Marissa and Jeff's house and we've walked there before, but not this time. It was far too hot and humid for that.
go here I'm sure the coffee is good, I wouldn't know personally since I don't drink coffee. But what we go there for is the food-truck with breakfast tacos.
go to site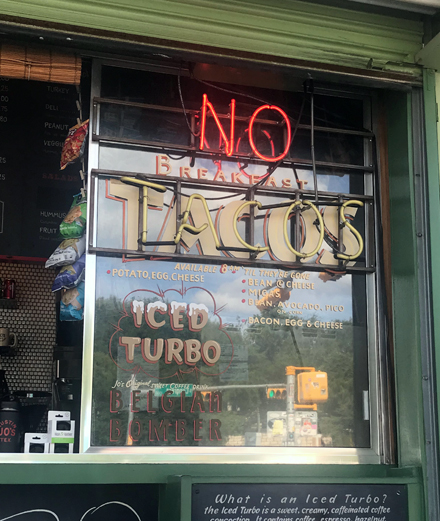 http://cinziamazzamakeup.com/?x=miglior-sito-per-comprare-viagra-generico-100-mg-spedizione-veloce-a-Firenze Breakfast Tacos are a big damn deal in Austin! It's their staple, they obsess over breakfast tacos. So much so, that a taco place on South Congress has a sign out front that clearly states, "No Breakfast Tacos."  I suppose that cuts down on people being disappointed when they read the menu. I mean, you know it's a big deal when you have a sign that says what you DON'T have!
cialis women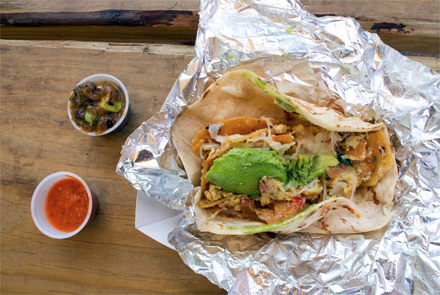 Photo credit: Eater Austin
So yes, Tram got her first taste of one of the favorite of all the breakfast tacos in the city, The Migas, from the Veracruz All Natural food truck.
I posted a recipe for migas back in November 2013, long before I laid my eyes and tongue on the Veracruz version. Since then, I've recreated theirs for an all-taco cooking class I did last fall. I'll need to make that again in the near future and get the recipe up here for y'all.
If you're heading to Austin anytime soon, here is an article with the 22 Essential Breakfast Tacos in Austin.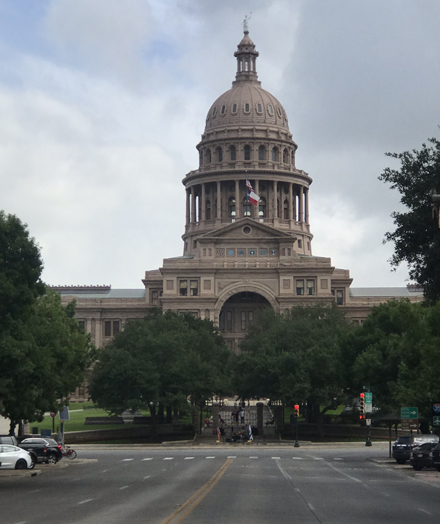 After breakfast we did the new thing. We toured the Texas State Capital. Marissa works right down the street from the Capital, so I see it every time I visit, but have never gone inside. It is beautiful! The building was constructed from 1882 to 1888.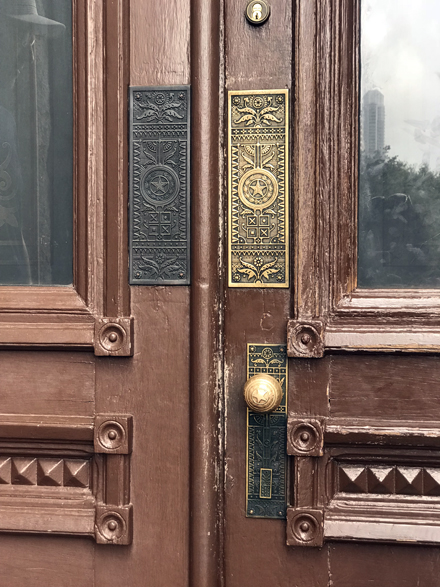 Tram and I went crazy for the gorgeous details. The front door tells you what to expect when you walk inside. That hardware!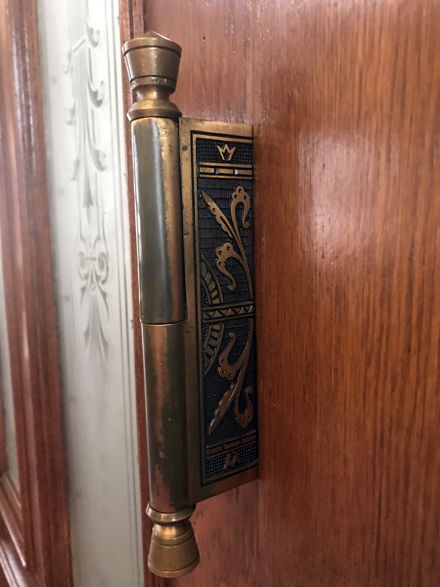 The door hinges were my favorite thing. This bulky heavy piece of metal is beautiful but wait until you see what is revealed when the door is open.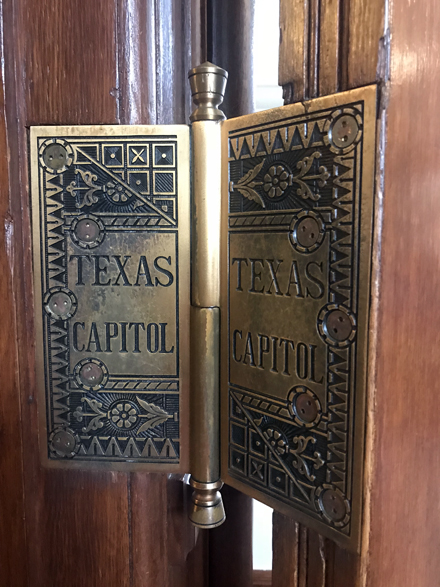 Oh my word!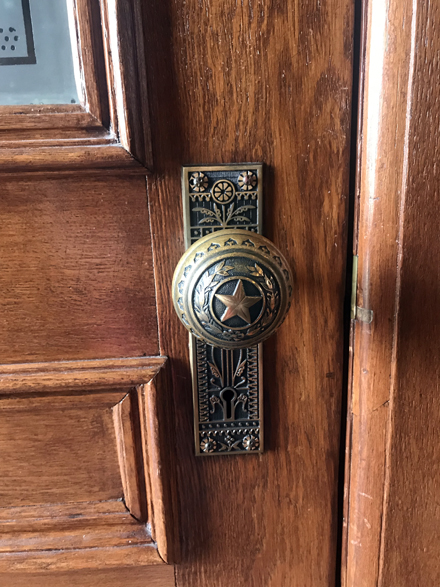 Of course, the Lone Star is everywhere you look, from the doors to the backs of the Congress members' chairs.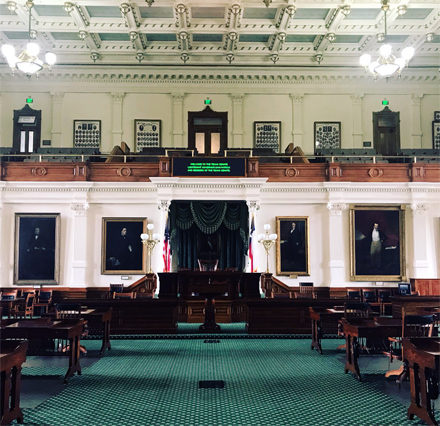 Tram loved the green velvet drapes in the Senate…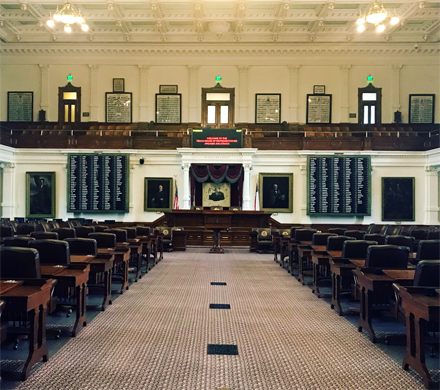 … and the red velvet drapes in the House.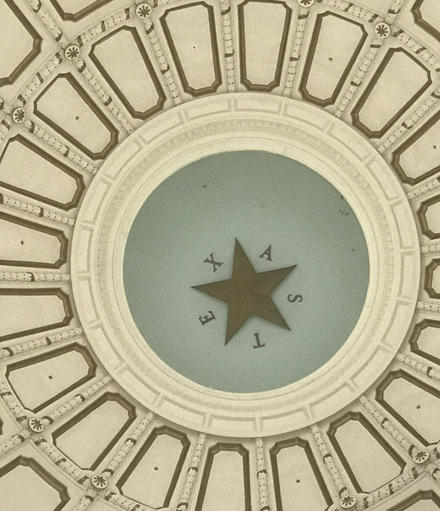 This is the dome…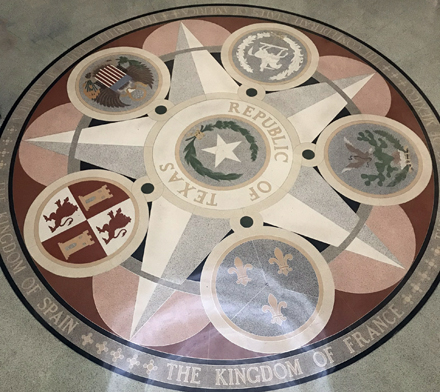 … and this is the floor 218 feet below it. The terrazzo floor features the six seals of the sovereign nations that have governed Texas:
Spain (1519 to 1685; 1690 to 1821)
France (1684 to 1690 for Fort Saint Louis and 1800 to 1803 as French Louisiana)
Mexico (1821 to 1835)
Republic of Texas (1836 to 1845 as the Republic of Texas; since 1845 as the State of Texas)
United States of America (1845 to 1861; 1865 to present)

Confederate States of America (1861 to 1865)
That is six flags that have flown over Texas. Did you know that is what the Six Flags theme parks are named after? I sure didn't!
The grounds of the Capital house 17 monuments. My favorite, by far, was the Tejano Monument which was erected in 2012.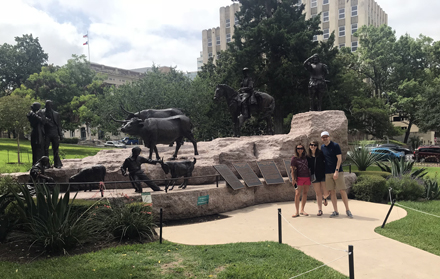 Nine life-size bronze statues stand on a 275-ton Texas Sunset Red Granite base. The monument pays tribute to the contributions by Tejanos to Texas history and culture. Tejanos were the Spanish and Mexican explorers and pioneers who began to settle Texas after the Spanish arrival in the 1500s.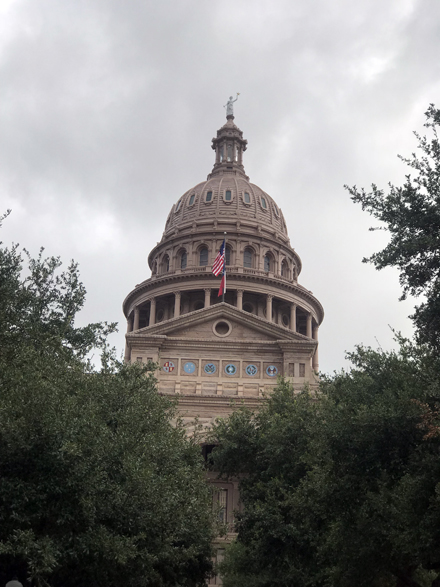 Good-bye Austin… until the next time. <3