huff and puff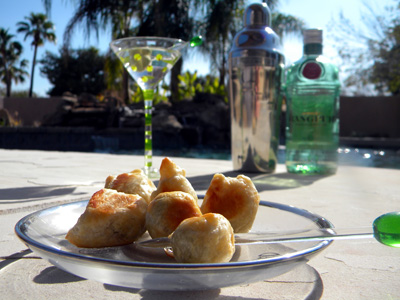 Martinis have always seemed like such a sophisticated drink, probably in the past due to James Bond and nowadays thanks to one of my favorite television shows, Mad Men… Don Draper…deep sigh.
These delectable Martini Puffs are equally upscale and easy to make, as long as you can wait the full week for the olives to marinate. Equally wonderful, they can be assembled and frozen before baking, then go directly from the freezer to the oven for impromptu entertaining.

Martini Puffs
10-ounce jar of large green olives stuffed with jalapeno, garlic, or pimento
3/4 cup Vermouth
1/4 cup high-quality Gin
1 puff pastry sheet
1 egg
1 tablespoon water
Pour olives, along with 1/4 cup of the brine they are packaged in, into a large bowl or jar.  Add Vermouth and Gin, cover, and refrigerate, for 1 to 2 weeks to marinate. Drain olives, reserving marinade for brushing pastry and for future olives batches, if desired.  Pace olives on paper towels to further drain.
Thaw frozen puff pastry at room temperature for 30 minutes. Preheat the oven to 400 degrees. Mix egg and water and set aside.  Line a baking sheet with parchment paper or a Silpat mat.
Unfold pastry on a lightly floured surface.  Roll into a 14-inch square. Cut into 2-inch squares. Place an olive in the center of each square.  Brush the edges of the squares with the marinade. Fold pastry up and around olive and pinch to enclose at the top.  Brush each olive package with egg wash.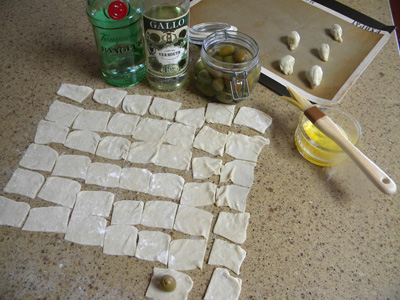 Place 2-inches apart on a lined baking sheet. (May be made to this point, placed on the baking sheet, and placed in the freezer. Freeze for 2 hours uncovered, then remove the individually frozen puffs from the baking sheet and quickly place them in a labeled freezer zip-lock for up to 3 months. Remove as many as desired and bake directly from the freezer, adding 4 minutes to the baking time.)
Bake 15 minutes, or until golden. Allow cooling slightly, about 5 minutes. Serve warm, ideally with an ice-cold dry martini.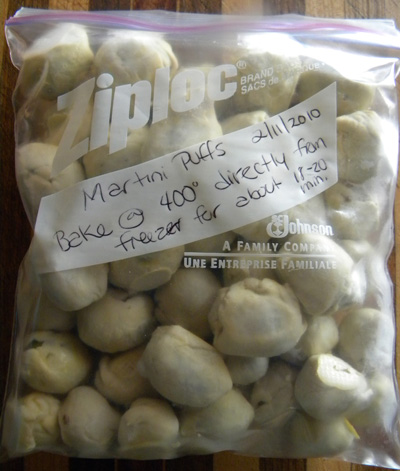 Makes about 4 dozen