invention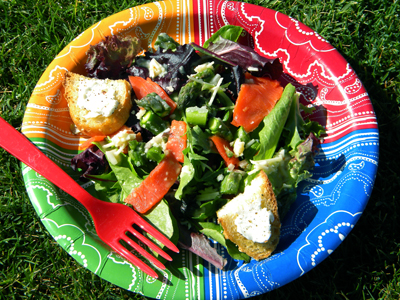 I'm often asked, "How exactly do you come up with new recipes?"  Well, sometimes, it comes from inspiration; such as beautiful fresh produce at the farmer's market, or a new product at Trader Joe's, or even a great sale on a favorite cut of meat at the supermarket. Other times, it is the result of the rule, "Necessity is the mother of invention." That is the case today. Here is a word-for-word text I just received from my husband of nearly 25 years, (May 4th), David. "I forgot I was supposed to bring some kind of side dish to the (company) picnic today 🙂 if you have something you could easily throw together…" This from a man married for, just weeks away from 25 years, yet it sounds more like something that would come out of your 4th grade child's mouth!
If you're a married woman with children, you are thinking, "Yup, no surprise, been there- done that." If you're a man, you are most likely thinking, "What is the big deal, obviously the woman knows how to cook."  Whatever! Of course, I do "have something" and I can "easily throw it together". After all, Dave does know what our refrigerator looks like at any given minute. So here is how side dish for today's picnic got thrown together.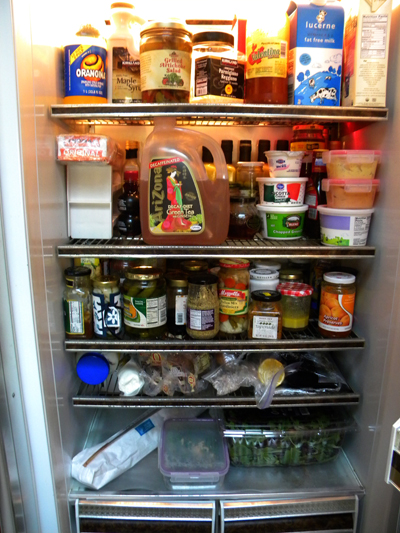 Look in fridge

Big box of greens that we'll never get through before it goes south

Half a package of smoked salmon left over from the Larry Fitzgerald dinner

Container of leftover roasted Parmesan asparagus from last post

Minced shallots

Half lemon

Container of whole-grain mustard-mayo from… I don't remember, but it's still good, so use it up!

Partially used baguette

Goat cheese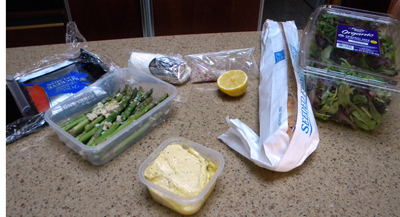 Now all I have to do is thin out the mustard-mayo with the lemon and a little water. Stir in the shallots. Taste, needs pepper, add that. Taste again, needs a bit of sweetness, stir in honey. It still needs something, oh yeah, I have shredded Parmesan, that will compliment the Parmesan on the asparagus, add that. Taste again, good!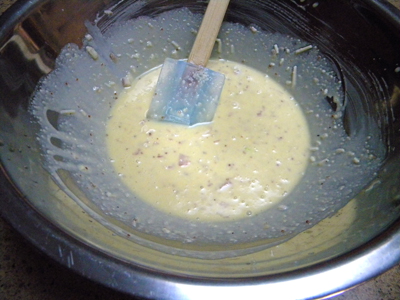 Slice the salmon and the asparagus into bite-size pieces.
Slice the baguette on a diagonal and brush with olive oil, salt, and freshly ground pepper. Broil. Spread about 2/3 of them with goat cheese (believe it or not, everyone doesn't like goat cheese – what's with that?!?) Run those under the broiler again.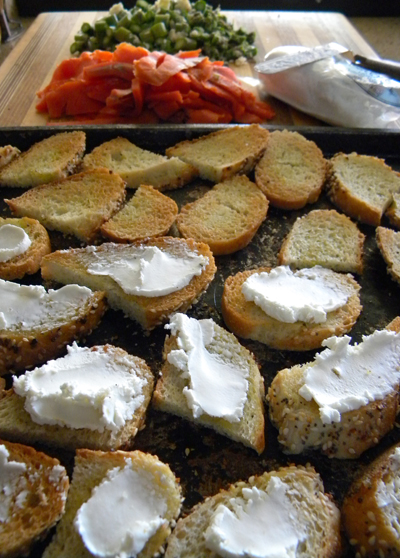 Wash and spin-dry the greens to crisp them up.  Lay them out on a large platter and cover with damp paper towels, place in fridge. Place the salmon in a zip-lock and refrigerate.
Place the asparagus in a ziplock and leave at room temperature, along with the dressing and the croutons, which are on a paper plate covered with plastic wrap. Leave all components separate until ready to send off to picnic with husband whom you do love even if he sometimes acts like a nine year old.