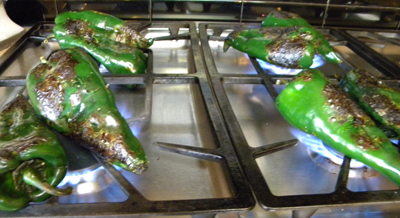 The title should be more like "forgot and found"…
Last weekend when Marissa's friends came up from Tucson, she and I made a grocery run to Food City for inexpensive Mexican food items. I found such a great price on poblanos that I purchased ten of the delicious and versatile peppers. I used 2 last weekend and placed the rest in one of the refrigerator's produce drawers… and promptly forgot about them.
After discovering them yesterday, I quickly roasted, peeled, and seeded all eight. Two were used for these enchiladas and the remaining six will be put to go use in tomorrow's post… stay tuned!
August 7, 2010 1 Comment