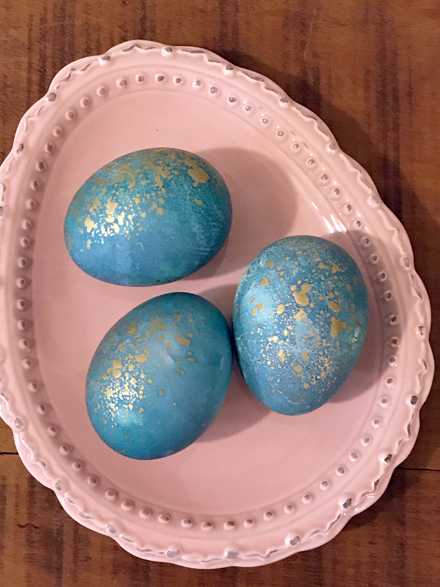 If you haven't dyed your Easter eggs yet, there is still time. Time to do something more creative than the dye kits from the grocery store.
Many years ago, when my now 20-something kids were in grade school and we had our own egg-laying chickens, I tried dyeing our eggs with natural ingredients for Easter.
I used onion skins, beets, coffee, Red-Zinger tea bags, spinach, turmeric, chili powder and red cabbage. The only one I remember turning out as beautiful as the ones I'd seen Martha Stewart do were the eggs dyed with red cabbage. Maybe that is because instead of getting the red or purple eggs one would expect, the cabbage eggs come out a lovely shade of robin's egg blue.
I was inspired to make these gold speckled robin's eggs when I thought back on those red cabbage blue eggs combined with the memory of the Robin's Nest Cake I made last Easter.
This is a "Do as I say – Not as I do" sort of recipe. I didn't use enough cabbage and water to completely cover the eggs.
April 15, 2017 3 Comments