street corn
enter site by Linda Hopkins

http://cinziamazzamakeup.com/?x=cialis-original-x-generico Mexican Street Corn was another of the side dishes for Chanté and Cody's wedding in the woods over Mother's Day weekend.

viagra samples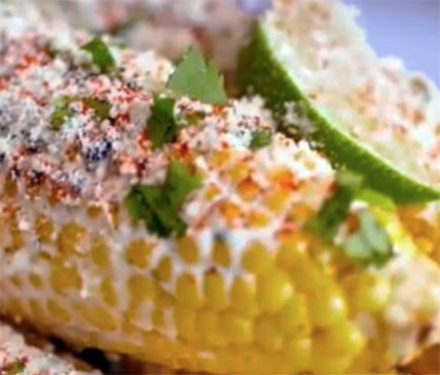 4 ears corn, shucked and each cut into 4 to 6 pieces
2 tablespoons olive oil
Salt and freshly ground black pepper
1/2 cup mayonnaise
 3/4cup sour cream
1 cup crumbled cotija cheese
1/2 cup chopped fresh cilantro leaves
2 tablespoons fresh lime juice, plus lime wedges for serving
Smoked or sweet paprika
source Heat grill or grill pan to medium high heat. In a large bowl, toss the corn pieces with the oil and about 1/2 teaspoon each salt and pepper.
get link Place corn on the preheated grill, do not wash the bowl, set aside. Grill, uncovered, turning often, until corn is charred and tender, about 12 to 15 minutes.
http://maientertainmentlaw.com/?search=buying-now-real-viagra While the corn is on the grill, add the mayonnaise, sour cream and cheese to the bowl.
Transfer the cooked corn to the bowl, then toss with the mayonnaise mixture to coat. Add the cilantro and lime juice and toss again. Transfer to a platter, sprinkled lightly with paprika for color and serve with lime wedges.
Makes about 20 pieces