not as advertised
go to site by Linda Hopkins
go to site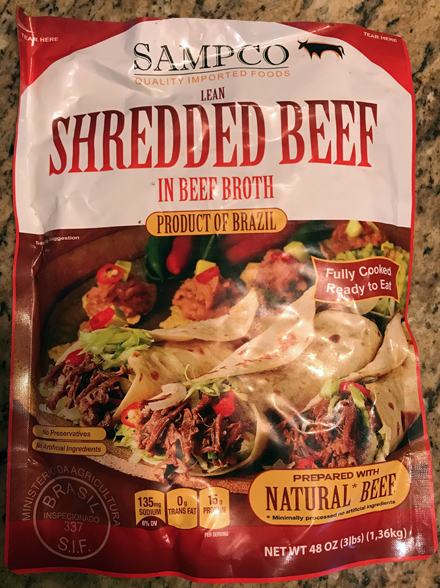 see url A couple of months ago I bought a 3-pound bag of refrigerated shredded beef at Costco. It had a long-away expiration date (March 2018!) and the photo of the beef on the front of the bag looked so good!
go here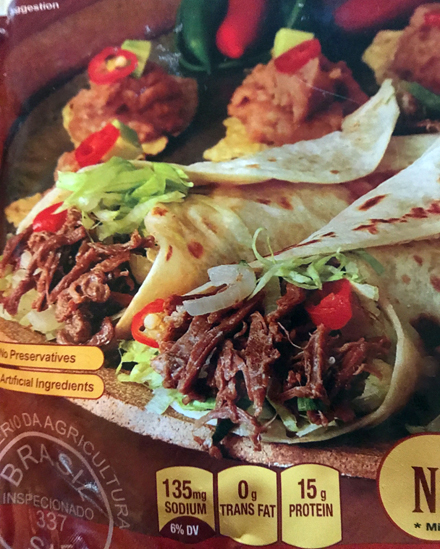 It sat in my refrigerator for a few weeks, then I took it on our trip to Carlsbad in the beginning of August, just in case we decided to make tacos or something. We never opened it, so it came back to Arizona. I finally opened it last week.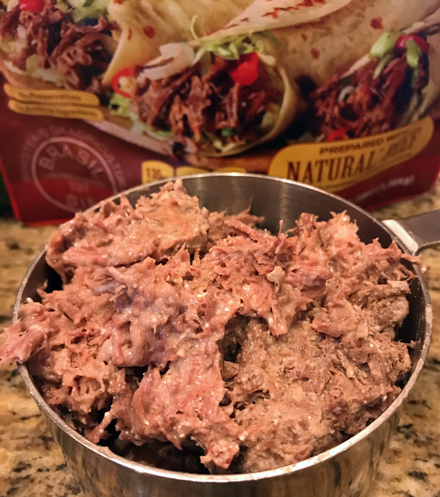 Not at all as pictured on the package. What a disappointment! Costco is known for its thorough vetting process before selecting and selling products. I'm not sure how this product slipped through. It didn't taste all that bad, as I did end up using it for tacos one night, but then decided I'd rather use the rest in some sort of casserole. It tasted much better mixed in with other ingredients. The next time I make this dish, I'll be using leftover beef from a roast.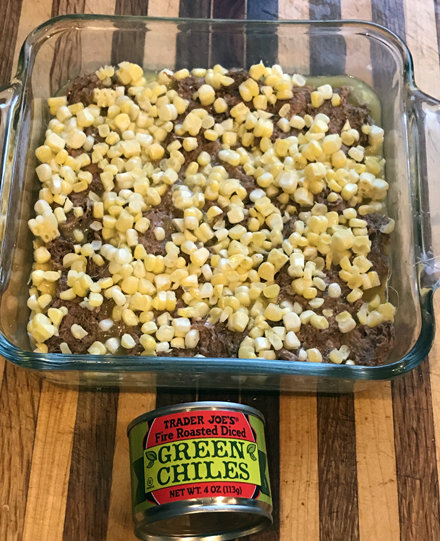 http://cinziamazzamakeup.com/?x=viagra-generico-200-mg-prezzo-piu-basso-a-Roma Note: In a photo of the ingredients below, you may notice that the can of green chiles is missing. That is because I decided to add them as I was assembling the dish.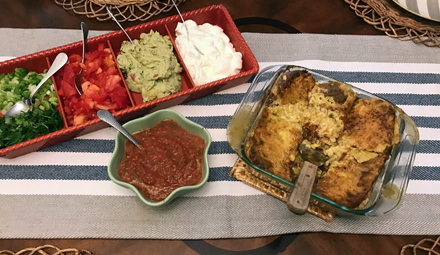 3 cups cooked shredded beef
2 teaspoons chili powder, plus more for sprinkling
1 teaspoon ground cumin, plus more for sprinkling
1/4 teaspoon salt
1/4 teaspoon freshly ground black pepper
Juice of 1 lime
1 3/4 cups green enchilada sauce
8 corn tortillas
2 cups corn kernels, fresh cut from the cobs
4 to 7-ounce can diced green chiles
8 ounces sharp cheddar cheese, shredded
http://cinziamazzamakeup.com/?x=comprare-levitra-Genova Toppings: chopped tomato, avocado or guacamole, cilantro, diced green onions, sour cream and salsa or hot sauce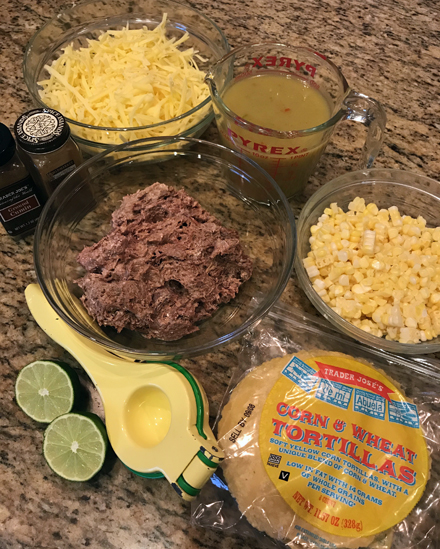 Preheat oven to 350 degrees.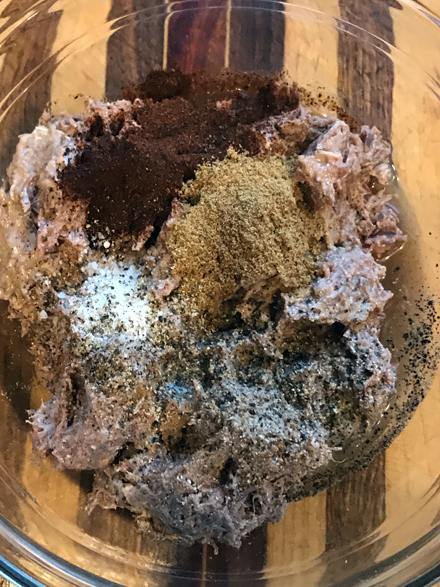 In a medium bowl, combine the shredded beef, chili powder, cumin, salt, pepper and lime juice. Stir to combine.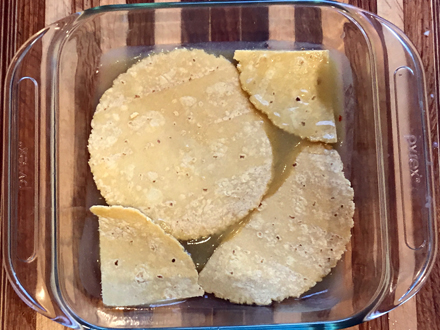 Pour 1/2 cup of the green enchilada sauce in the bottom of an 8×8-inch baking dish and tip the dish around to evenly coat. Use 2 tortillas to cover the sauce, leaving one whole and cutting the other in half. Cut one of the halves in half and place as shown above.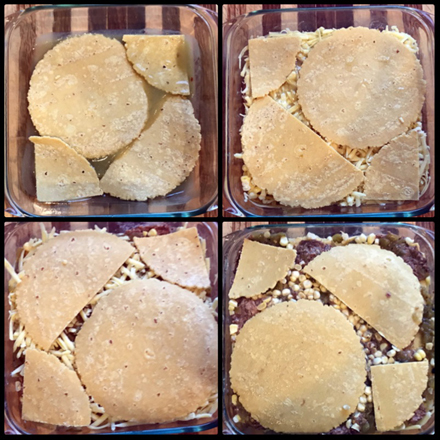 (As you continue to layer the dish and add the remaining 6 tortillas, switch the placement of the whole tortilla as shown above so that the tortillas are evenly distributed throughout the layers.)
Layer a 1/3 of the meat, 1/3 of the corn, 1/3 of the green chiles and 1/4 of the cheese. Top with 1/4 of the remaining sauce.
Repeat in the same order and with the same quantities of the tortillas, meat, corn, chiles, cheese, and sauce.
Repeat one more time; using the rest of the meat, corn and chiles.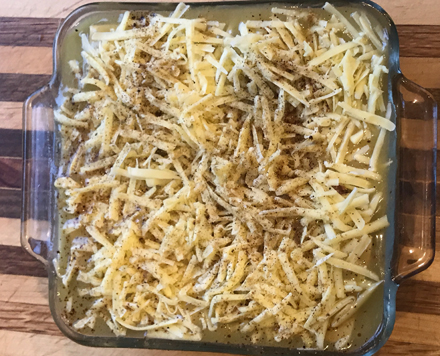 Add a final layer or 2 corn tortillas, the rest of sauce, and top it off with the last of the cheese. Lastly, sprinkle lightly with chili powder and ground cumin.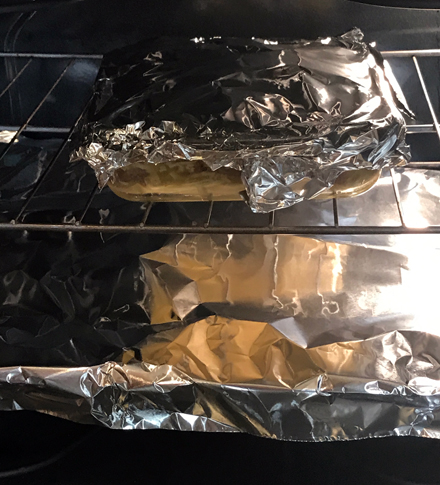 Cover the dish with foil, loosely tenting, so the foil doesn't touch the cheese. Bake for 20 minutes. Carefully remove the foil and bake for an additional 12 to 15 minutes. (Place a sheet of foil on the rack below, just in case there is any spillage.)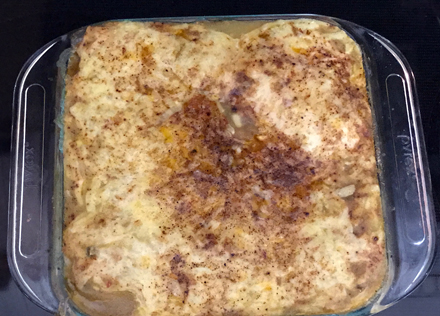 Let cool for 5 minutes before cutting and serving. Serve with chopped tomato, avocado, cilantro, green onions, sour cream and salsa.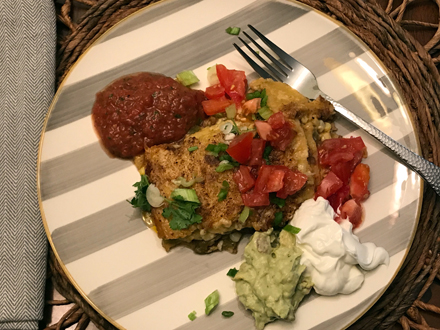 Serves 6
Save
Save
Save
Save
Save
Save
Save