Lisa's famous…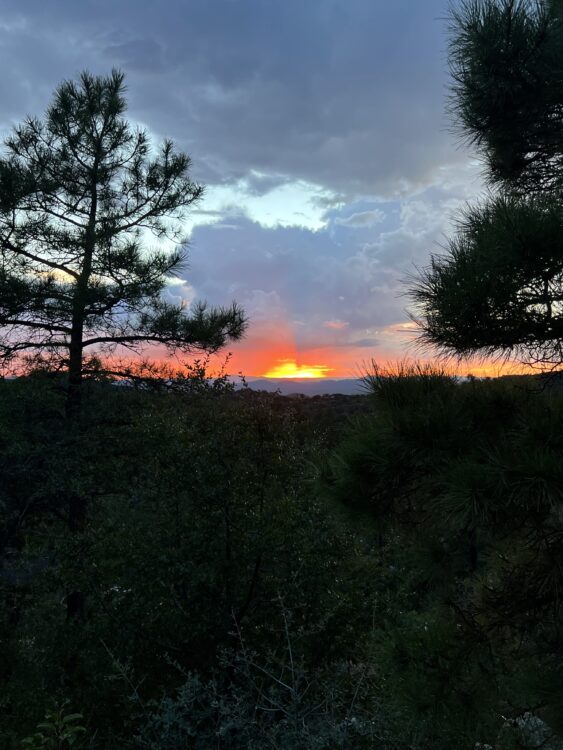 If you have followed this blog for long, maybe as long as *thirteen years, then you may remember Amy's Famous Taco Soup. I posted that wonderfully easy recipe on November 3, 2009, during year one of this blog. Just like Amy, Lisa is a long-time dear friend and a former neighbor in Equestrian Manor. And just as with Amy, Lisa has a recipe that is a family favorite. Lisa has been making this pasta dish several times a month for the last 20 years for her family. They request it often, and she is always happy to oblige. Lisa recalls that she adapted what was to be a pizza topping into a pasta dish. Excellent decision!
Lisa made it for me when I had the pleasure of going to the family cabin outside of Prescott this past weekend. The sunset photos are from that beautiful and magical place. Thank you, Gordon and Lisa, for inviting me, and thank you, Lisa, for agreeing to let me share this gem of a recipe!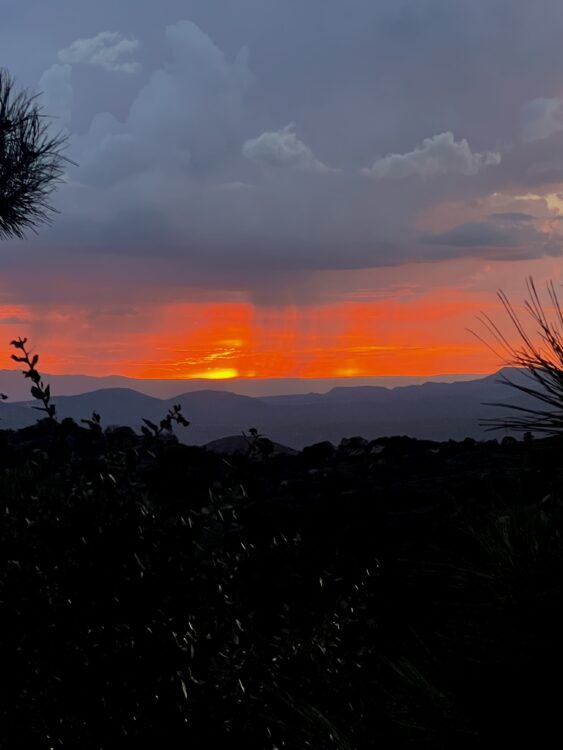 *Today marks 13 years since the first post here at LesPetitesGourmettes.com. In the past, I've made a big deal about my Blogiverasary. That doesn't feel appropriate this year since there have been many gaps, a few very long gaps, especially in the last several years. Yet, this is the 2,084th post. So, all in all, not too shabby. Thanks for hanging in there through it all!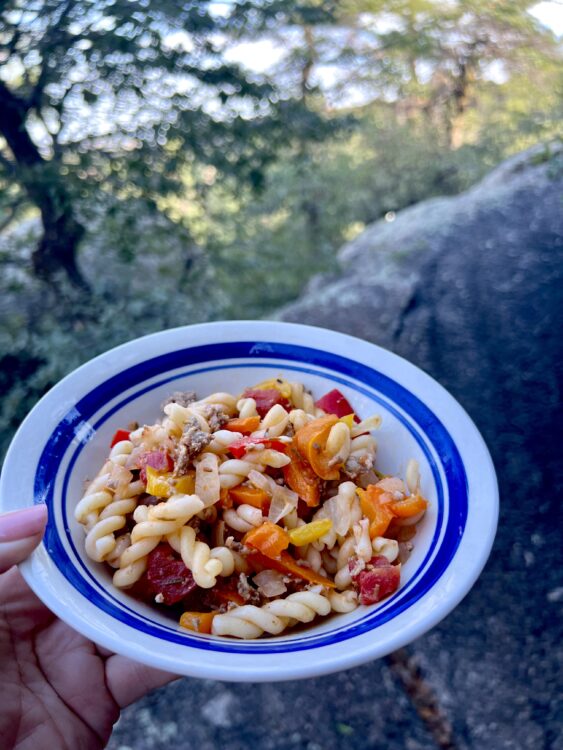 Lisa's Famous Pepper Pasta
16 ounces Jimmy Dean Regular pork sausage or 16 ounces sweet Italian sausage 
1 red, 1 yellow, and 1 orange bell pepper cored, seeded, and sliced
1 medium yellow onion, peeled and diced
1 tablespoon dried rosemary
1/4 cup red wine vinegar
1/2 teaspoon garlic salt 
1 teaspoon Italian seasoning 
14-ounce can diced tomatoes, with juices
Salt
1 package fusilli or penne pasta
Grated Parmesan, for garnish
Bring a large pot of water to a boil.
Heat a large skillet over medium-high heat. Add the sausage, break up and stir until no longer pink. Add the peppers and onion and cook until the onions are soft and translucent. Add the rosemary, vinegar, garlic salt, and Italian seasoning and stir to combine. Add the can of tomatoes and stir until heated through.
Add a tablespoon of salt to the boiling water and add the pasta, cook according to the package directions. Drain and return the pasta to the pot. Pour the pepper-sausage mixture into the pot and stir until the pasta is completely coated. Serve immediately with a generous amount of grated Parmesan on top.
Serve 6