Instant Pot vs. Slow Cooker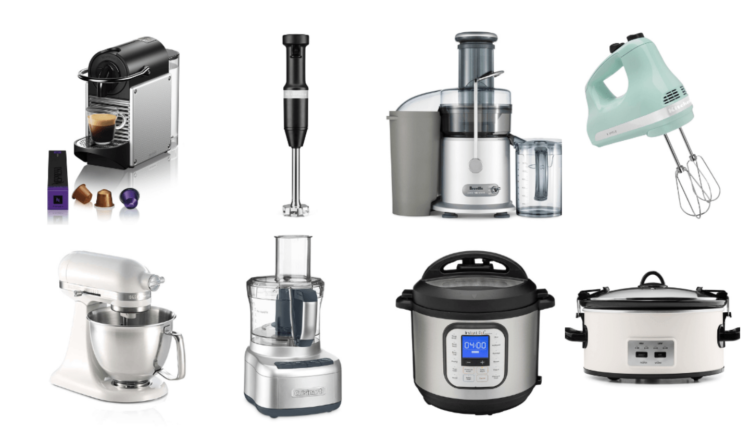 At my house, I have an Instant Pot and a slow cooker, also known by the brand name, Crockpot.
As far as small electric kitchen appliances go, I also have a food dehydrator, an air-fryer, a countertop grill, a rice cooker, a waffle iron, a citrus juicer, an extractor juicer, an immersion blender, a Vitamix blender, a three-bowl hot pot, an ice cream maker, an electric skillet, a Cuisinart food processor, a KitchenAid stand mixer, 2 hand mixers, a deep fryer, a commercial coffee maker, a popcorn popper, an electric kettle, a 4-slot toaster, a Raclette grill, a sous vide, and the list goes on and on.
I bring this up not to brag about my plethora of appliances. The opposite, actually. If I hadn't previously owned a cooking school, this would be embarrassing. The fact that the cooking school has been closed for coming up on 10 years makes it ridiculous! When I return to Arizona I plan to do some purging. One of the first things to go will be the Crockpot. When you have an Instant Pot, the slow cooker becomes redundant. In fact, all of the slow cooker recipes I've been posting these last two weeks have been made in Marissa's Instant Pot on the slow cooker setting. Another thing that will be going to charity will be the popcorn popper. I bet that thing hasn't been used for 25+ years!
As for the recipe below, Marissa and I discussed how to zip it up a bit more and decided that the addition of a diced bell pepper would be a good addition. That is added to the recipe below, though you won't see it in the accompanying photos.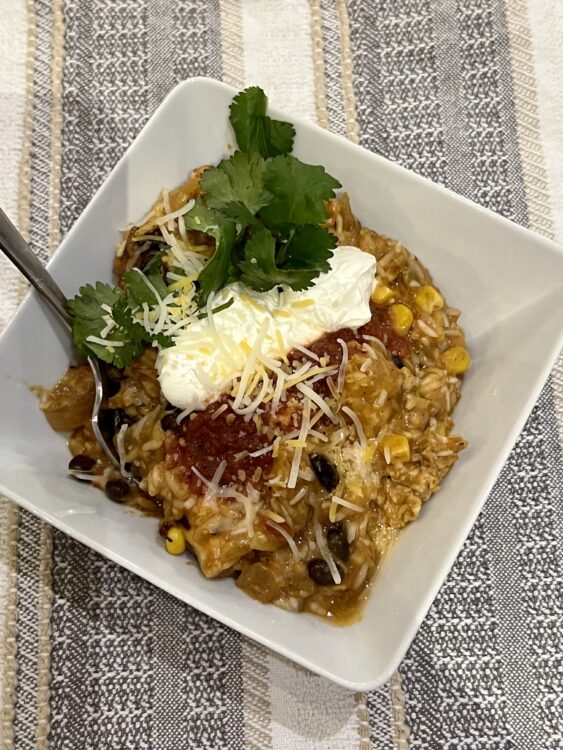 Instant Pot Lickity-Split Chicken Burrito Bowls
1 tablespoon olive oil
1 large onion, peeled and chopped
1 red bell pepper, cored, seeded and chopped
3 garlic cloves peeled and minced
Salt and freshly ground black pepper, to taste
2 pounds boneless, skinless chicken breasts, cut into 1-inch chunks
2 (1.25-ounce) packages taco seasoning
3 cups chicken broth
2 (15-ounce) cans corn kernels, drained
2 (15-ounce) cans black beans, drained and rinsed
2 cups fresh salsa, homemade or store-bought
2 (4.5-ounce) cans chopped green chiles
2 cups long-grain rice
2 cups shredded Mexican blend cheese, additional for garnish
Sour cream, garnish
1 diced tomato, garnish
1 sliced green onion, garnish
Chopped fresh cilantro leaves, garnish
Hot sauce, garnish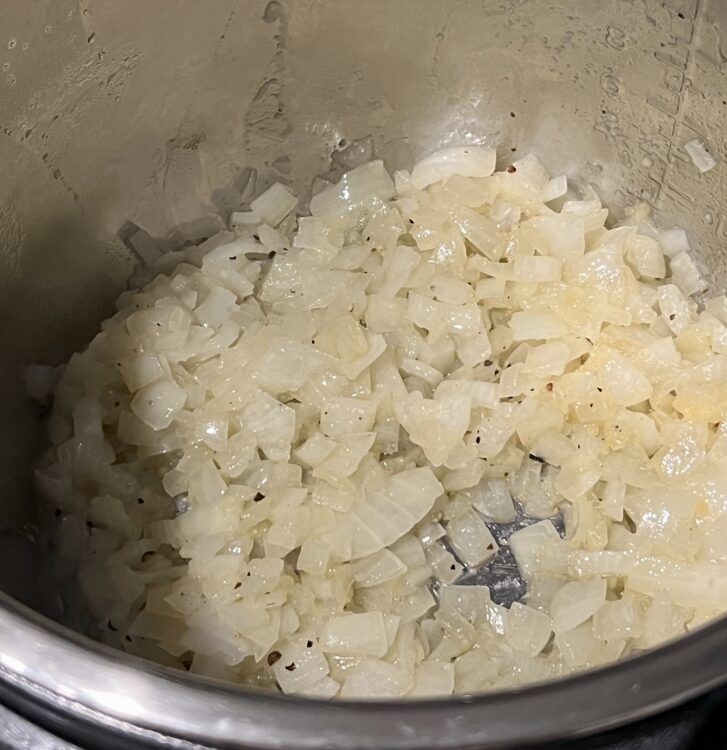 Set a 6-qt Instant Pot to "sauté" and adjust to "high" or "more". Add oil, when heated, add onion and bell pepper and sauté until soft and translucent. Season with salt and pepper, add the garlic, and turn off the pot.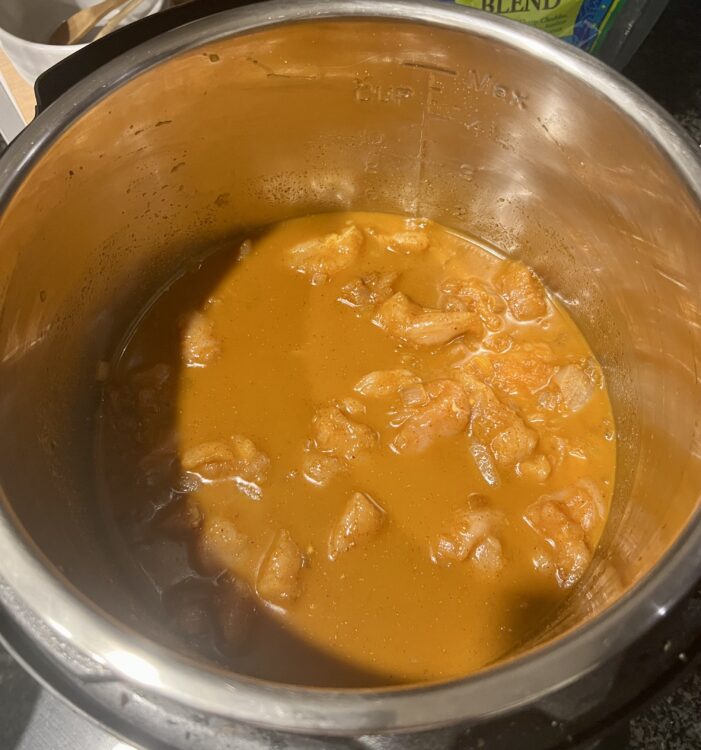 Add the chicken chunks, taco seasoning, and chicken broth to the pot and gently toss to combine.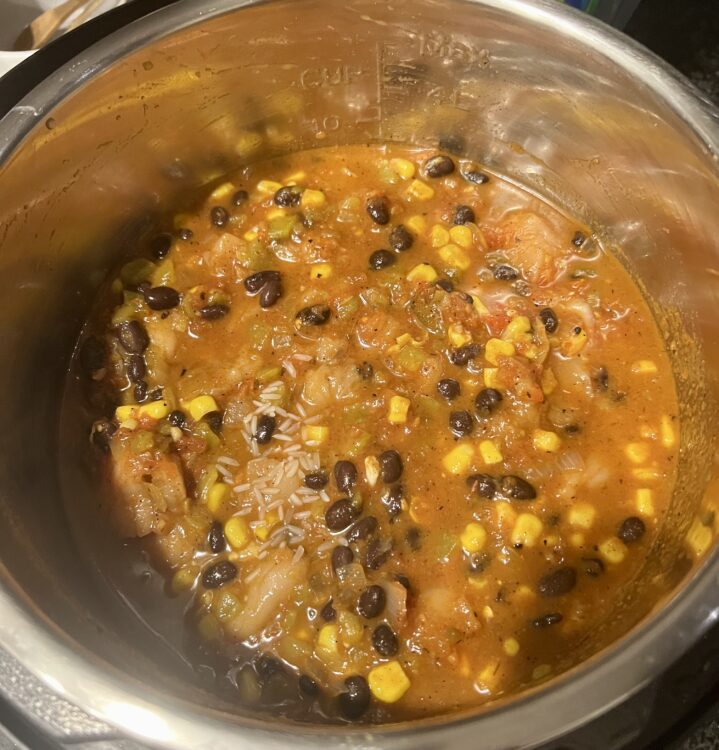 Stir in corn, black beans, salsa, and green chiles.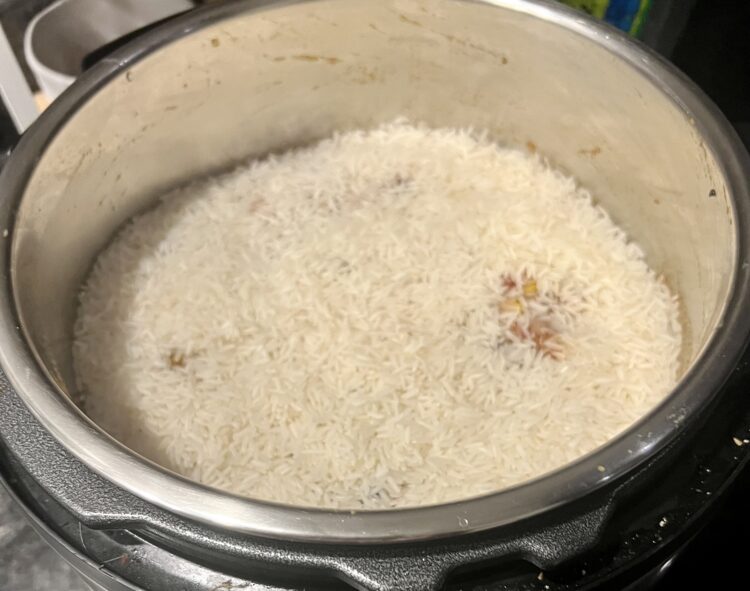 Without stirring, add rice.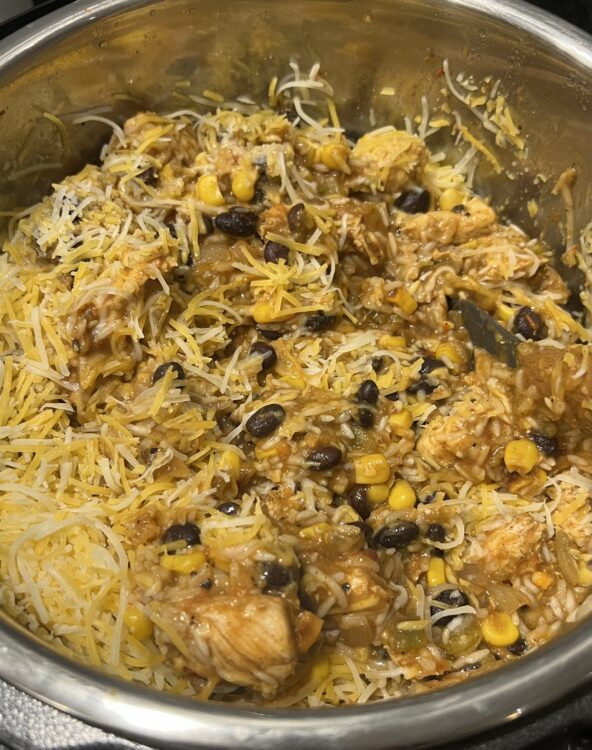 Select the manual setting; adjust the pressure to high, and set the time for 15 minutes. When finished cooking, quick-release pressure according to the manufacturer's directions. Stir in cheese until melted, about 1 minute.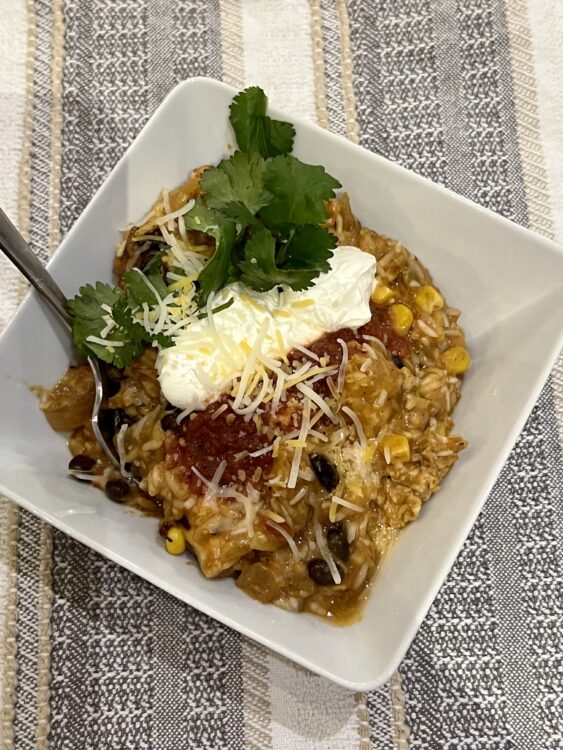 Serve immediately, garnished with, sour cream, tomatoes, green onion, shredded cheese, hot sauce and/or cilantro.
Serves 6