day 4 – week 3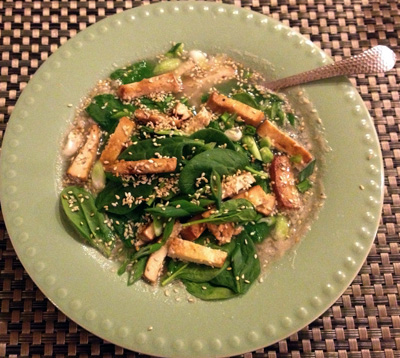 The dinner meal on this forth day of the third week of the "Detox Cuisine" Cleanse was my least favorite meal of the entire cleanse. Additionally this recipe didn't make sense. It originally had you start with 1/2 cup cooked rice and 3 cups of water. What? The end result of that would be 1/2 cup of overcooked soggy rice floating around in 3 cups of water! Even starting with uncooked rice, as I did, resulted in a flavorless rice bowl. The recipe also never told you to heat the tofu before adding to the bowl. Oh, it would be so bad if you didn't.
If you really want to try the recipe, use either the cleaning broth from the first two weeks or vegetable broth…  maybe that would help.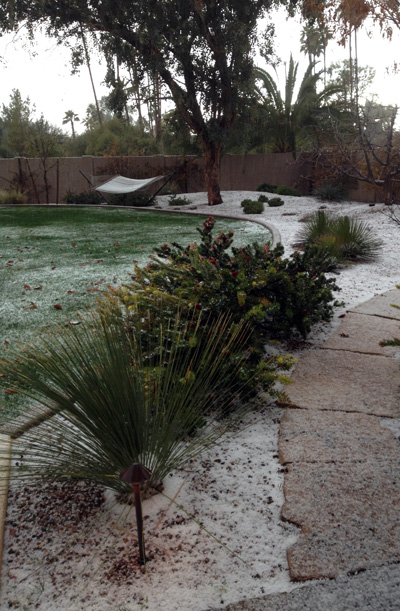 On the plus side – this is the closest thing to a soup this week – and yesterday (when I actually had this for dinner) was the perfect day for it because it was a dark, cold, rainy… and snowy day here in Arizona! Yes, snow in the Valley of the Sun.
The rice bowl is dinner today and is supposed to be lunch again on the final day of the cleanse… not sure I'll give it a second chance.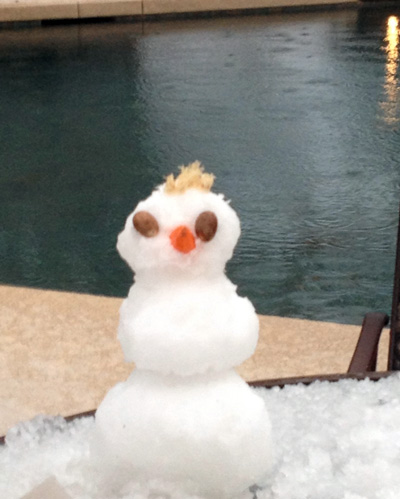 My tabletop Frosty, with his nutmeg eyes and green onion top hair, chilling by the pool on a rare cold snowy day in Scottsdale.
Spinach, Tofu, and Brown Rice Bowl
1/2 cup uncooked short-grain brown rice
2 teaspoons freshly grated peeled ginger
1 garlic clove, peeled and minced
3 cups water or cleansing broth
Coarse salt
1/2 cup thinly sliced Baked Tofu, reheated in a dry skillet until hot throughout
1/2 cup baby spinach leaves
1 green onion, thinly sliced on the diagonal
1 tablespoon toasted sesame seeds
In a medium saucepan, bring rice, ginger, garlic, and water to a boil. Cook, stirring occasionally, until thickened and the rice is cooked through, about 25 to 30 minutes. Season with salt.
Transfer to a bowl and top with tofu, spinach, green onion, and sesame seeds.
Serves 1
Breakfast and Lunch:
Banana-Apple Buckwheat Muffins